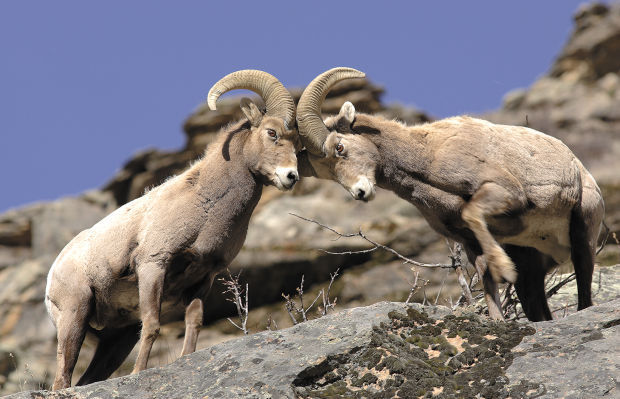 It's spring, so it's time to plan for fall hunting.
The application deadline for Nevada's 2019-20 big game season is coming up April 29 at 11 p.m. All applications are now done online. The draw results will be released May 24.
This week the Nevada Department of Wildlife released their 2019 big game quota recommendations. At their monthly meeting next Tuesday night, the Elko County Advisory Board to Manage Wildlife will be welcoming public comments on the recommendations.
This annual quota discussion draws a lot of public interest. Last year's Elko Wildlife CAB meeting on big game quotas lasted about four hours. A couple of years ago, when there were some controversial recommendations, close to 100 people came to the meeting.
Next weeks' Wildlife CAB meeting will be April 30 at 6 p.m. at the Nannini Administration Building in downtown Elko.
"This is the opportunity for sportsmen and hunters, outdoor enthusiasts, to have input in the process," said Elko County Advisory Board Chairman Jim Cooney. "This is the grassroots point where we take that input. We're representing all of the sportsmen and outdoor enthusiasts in Elko County. And Elko County has a very significant wildlife population, and a lot of people from around the state come up and like to enjoy the resources that we have here."
Cooney said last year someone pointed out that there was rifle hunting and archery elk hunting scheduled for adjacent areas at the same time.
"That was not a good situation, it was a safety concern," Cooney said. "Nobody had caught that before the meeting. So the public comment is very valuable."
The Elko Wildlife CAB will share the public input at the Nevada Board of Wildlife Commissioners' public hearing which will start at 8:30 a.m. May 4 at the Washoe County Commission chambers. Video streaming and teleconferencing of this hearing will be available at the Nevada Department of Wildlife office at 60 Youth Center Road in Elko.
NDOW biologists look at lots of factors to develop each year's quota numbers. Some of the factors that have had big impacts on area wildlife this year are last summer's wildfires and this winter's heavy and late snowfall.
Cooney commented that although the big fires swept across nearly a million acres and burned lots of significant habitat, he is seeing some good recovery this spring.
"Going to Owyhee the other day, I was encouraged to see the amount of bunch grass that's coming back right now, rather than the invasion of the cheatgrass," Cooney said. "That's positive to me that the antelope and the elk especially are going to be experiencing something positive after that devastating fire."
Looking at this year's big game quota recommendations for Elko County, for elk and antelope the numbers are generally down. The mule deer numbers generally are down for the western portion of the county and are up for the eastern part of the county.
There will be some elk depredation hunts to deal with the problems caused by overpopulation. For these hunts, quota numbers are continuing to drop for the northeast corner of the county, but in the Ruby Mountains the antlerless elk depredation quota is going up from 100 last year to a recommended 150 this year.
California bighorn sheep can be hunted in the western portion of the county, and this year's quota recommendation is 14, up from nine last year. The Ruby Mountains are the only place in the state to hunt mountain goats, and this year's quota recommendation is eight, the same as last year's quota.
Another issue the Elko Wildlife CAB is currently working is shed hunting. Last year the Nevada Board of Wildlife Commissioners approved a regulation prohibiting people from taking or gathering shed antlers from public lands in Elko and five other counties from Jan. 1 through April 30.
People came to the Elko Wildlife CAB's February meeting to say that the shed hunting regulations are not working very well. The Wildlife CAB formed a subcommittee which met March 28, and more than 40 members of the public went to that meeting to talk about ways to improve the regulations. People said the current regulations are difficult to enforce, and people from out of state and some hunters who are unaware of the shed hunting prohibitions are still taking sheds during the off season.
Cooney said the Wildlife CAB has put together several proposed changes to the regulations. They are proposing that the shed hunting closure should be shortened to Feb. 1 to March 31, with the option to extend the end date to April 15. They are also suggesting stricter penalties, an ethics course, and a requirement that only people with a resident or non-resident hunting license can hunt sheds.
The Wildlife CAB will talk about these proposed changes at the May 1 Elko County commission meeting and will ask for the commissioners' endorsement. Cooney has also been talking with other county wildlife advisory boards asking for their support.
Cooney said the Elko Wildlife CAB supports two bills which local sportsmen have been involved with and which have been under consideration during the current Nevada legislative session.
Matt Murray, the president of Nevada Outdoorsmen in Wheelchairs, has been involved with AB 474, which would use money from the Wildlife Heritage Account and would authorize a person to transfer his or her big game tag to a qualified organization.
Tyler Ingram, who is Elko County's district attorney, heard about this bill from Murray, and then worked with Assemblywoman Robin Titus to develop AB 404, which would allow a person to transfer his or her big game tag to their child or grandchild. This bill has been extensively amended in the Legislature, making it broader in scope.
The bill now says that under extenuating circumstances, a person would be able to transfer his or her tag to another person, or defer it to the next open season, or return the tag to the state for the restoration of bonus points. Ingram said the new bill still allows a tag to be transferred to a hunter's child, which was his original intent for the bill.
"The reason I was so passionate about this bill," Ingram said, "is because for over two decades I've been applying for desert bighorn sheep and I've yet to draw a tag. It's very possible that I will be of an age where I shouldn't be walking up the mountain before I actually draw my desert bighorn sheep tag, and I thought it would be wonderful to use my, by then, 30-some years of applying, which is not cheap at all, to be able to give my desert bighorn sheep tag to one of my daughters."
At their April 17 meeting, county commissioners approved a motion to write a letter in support of AB 404.
Cooney said that AB 404 and AB 474 are both great ideas which will provide opportunities to get more people involved in the sport of hunting.