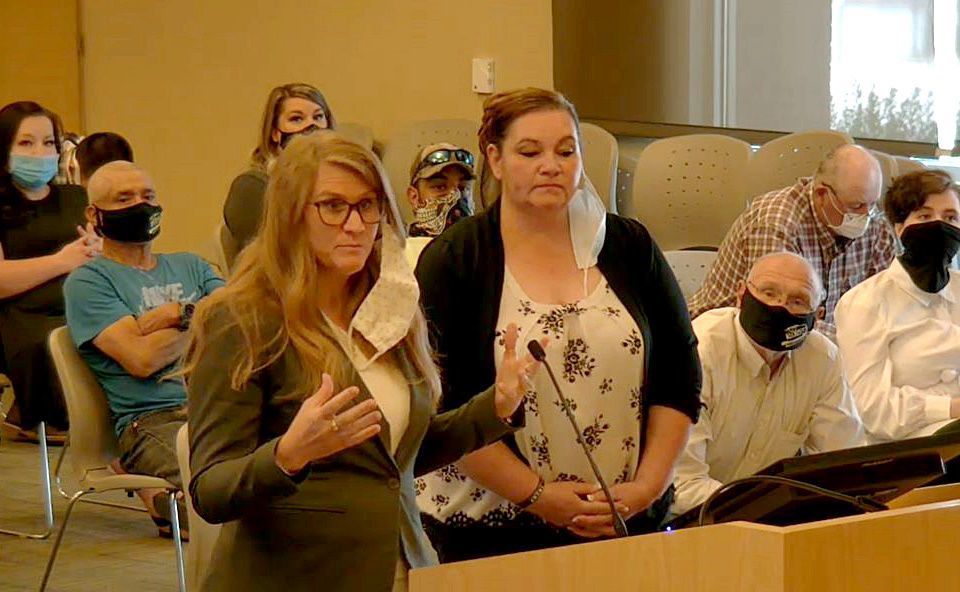 ELKO — Financially strapped Jackpot, hit hard by the coronavirus pandemic, is looking at a potential marijuana dispensary to help ease the monetary pain, and Elko County Commissioners agreed Wednesday to begin the process that could allow one.
"From the bottom of my heart I ask that you guys help us be able to do this. We have a lot of people in need. This would bring jobs to the town and would bring business to the town," said Jackpot Advisory Board Chair Teresa Hugill. "We are at a loss of what to do from here and would appreciate any help you could give us."
Jackpot depends on revenue from hotels and casinos and has hit roadblocks whenever the town seeks new businesses that aren't casino-driven because much of the land in the area is tied up and owners won't sell, said Monica Burt, who is on the advisory board.
She said probably 90% of Jackpot residents have been out of work since the COVID-19 restrictions, although some are now back at work with the limited reopening of casinos.
Town revenue is at historic lows, Burt said.
Commissioners approved asking county staff to draft a resolution that would be specific to Jackpot, which is an unincorporated town on the border with Idaho. Commission Chairman Demar Dahl voted against the motion.
"My position hasn't changed. I don't know whether it will make you lots of money and bless you if it will …. but for me, I'm going to vote against it," he said.
Dahl said that at meetings he has attended where medical experts talk, they all oppose marijuana dispensaries.
Commissioners who voted for drafting the ordinance — which will come back for further consideration and action — said their approval depended upon the ordinance containing stipulations.
Commissioner Cliff Eklund said they can "hash it over when legal brings it back."
Commissioner Delmo Andreozzi said he had met with Jackpot representatives and told them he has a "strong moral conviction" against marijuana dispensaries but was willing to listen. He said he is not "anti-Jackpot. I am anti-pot."
He listed specific assurances he would want to see in an ordinance, including that the dispensary operator pay a 3% donation to Jackpot along with the legal 3% tax to the county, there be "robust residency" requirements, and that the dispensary owner develop real property and pay real property taxes.
Andreozzi also asked that the developer guarantee 40 employees and post a bond or letter of credit of $500,000. Hugill said she had heard there would be 50 to 80 employees for the dispensary.
Commissioner Jon Karr said he didn't agree about the bond requirement but thought an annual renewal stipulation would fulfill the need to be sure the dispensary owner kept promises.
"I don't know it's fair" to put a number on employees, he said, citing as an example if Twin Falls, Idaho, legalized marijuana dispensaries that would cut into the Jackpot business, the Jackpot dispensary might be forced to operate with fewer people.
"I'm saying these are my minimum standards …. anything short of that I'm going to vote no," Andreozzi said.
Eklund said he agreed with Andreozzi about a bond or line of credit, and "another thing I would like to see is a priority" for jobs to Jackpot residents first, Elko County residents second, and third could be Idaho.
Deputy District Attorney Rand Greenburg said the proposed ordinance cannot specify the name of a business for the dispensary but can specify Jackpot.
Although the ordinance would not name a company for the dispensary because licensing is up to the state, Eklund said the company Thrive has a license for Carlin that could be transferred to Jackpot.
The chief executive officer of Thrive Cannabis Marketplace, Mitch Britten, said he would be "very happy" to talk with the county's legal team. He said Strive already operates two of the six licenses it holds in Nevada. According to its website, Thrive has facilities in Las Vegas and Reno.
David Poole of Stateline Liquors in Jackpot told commissioners he is interested in a license for a dispensary. He said Scott Matthews of 420ville, a company out of Oregon, has offered him a chance to buy into that company to open one in Jackpot.
He said Thursday in a telephone interview that he has been hearing from people all day who were surprised Thrive was interested in coming to Jackpot. He said the "whole town wants local owners."
Hannah Roberts, a real estate agent with Bottari and representing 420ville, also told commissioners Wednesday that the community was behind a locally owned dispensary.
Commissioner Rex Steninger said he supports a marijuana dispensary as he has done when the question has come before the county in the past, but he said he didn't "want to hold them hostage at a $500,000 bond. It might be a deal breaker for whatever company wants to come here."
Andreozzi said he was "not stuck on a number" but wanted a bond.
Attorney Rich Barrows of Elko spoke as a representative of Barton's Club 93 in Jackpot, which he said employs roughly 180 people. He said the club supports the drafting of an ordinance allowing a dispensary in the town.
Jackpot's tourism director, Theresa Dimmitt, said a dispensary would bring people to Jackpot. They could spend a weekend gambling and playing golf and "partake" of marijuana in their hotel rooms without breaking the law.
Tommy Shields, a real estate developer new to Jackpot, said the dispensary could be a tipping point to entice investors to Jackpot.
Karr asked the gathering of Jackpot residents in the audience if anyone was opposed to a dispensary, but no one spoke against the proposal.
Elko County currently prohibits marijuana shops outside the limits of cities in the county. Incorporated cities in the county have taken their own action, as has the Elko Band Council of the Te-Moak Tribe of Western Shoshone.
West Wendover and the Elko Indian Colony have dispensaries, and Wells has authorized two marijuana cultivation facilities. Thrive has a dispensary license for Wells, too, according to information provided by Wells City Manager Jolene Supp earlier this year.
Elko City Council has voted down a dispensary.
The proposal for Jackpot is for a dispensary only, not a cultivation facility. A similar request was made in October 2017 but no action was taken.
Get local news delivered to your inbox!
Subscribe to our Daily Headlines newsletter.