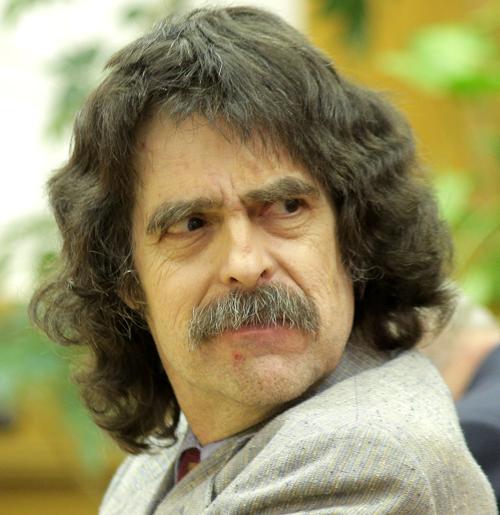 ELKO – Online writings that hinted at a Dec. 20, 2013, shooting before it occurred will be admissible during Ron Culley's trial, who is accused of firing a bullet into another man's foot.
In connection to allegedly shooting Lester Alderman following a confrontation outside a bar in Montello, Culley, 56, was charged with battery with use of a deadly weapon causing substantial bodily harm.
The court took a break in the trial on Wednesday so parties could argue whether words written by Culley and published on the Internet should be shown to the jury.
The Web entries, Deputy District Attorney Tyler Ingram argued Wednesday, indicated Culley didn't fire rounds at Alderman to protect himself.
"You don't talk about shooting someone in the foot, then go do it and hide behind self-defense," he said.
Culley's appointed attorney Gary Woodbury called the writings "bloviating" and asked the court not to allow them to be introduced as evidence.
Furthermore, Woodbury argued, the prosecutor was selectively picking out lines that seemed to imply Culley acted out of revenge, while jettisoning vast portions of the posts providing further context. The victim, for example, wasn't named in the shooting posts, Woodbury said.
"From our point of view, if you let any of the blog in, he has no choice but to enter all the blogs in their entirety," Woodbury said. That way, he added, the defense could explain to the jury why it didn't consider the writings relevant to the case at hand.
But by allowing jurors access to the entire exhibit – including its off-colored comments, obscene language and sacrilege – other biases against Culley could be formed, Woodbury said.
The blog is actually an online forum, used primarily by Australians to discuss all things eBay-related though it contains many general topic discussions, too.
Two links on the first page, including a 118-page thread titled "The Tello Files," were created by Culley and are filled with individual posts attributed to him. Inside the Web pages are various font colors and sizes, animated emoticons and intentional misspellings; the clips of text don't create a clear conversation.
In many posts, Culley addresses things unrelated to the crime. He describes in one his plan to replace shot in a shotgun shell with drywall mixture, red paint and "a modicum of fresh bacon bits for texture," but in no other section of the thread were those things spoken of again.
In other posts, however, he does mention the possibility of violence.
"I'm in a dangerous situation that can only end in bloodshed," he wrote in a post that went online a couple days before the shooting.
That same day, a Culley post claimed that he asked and was granted permission by a sheriff's deputy to "shoot them in the foot."
Woodbury doubted the truth of the statement, which came up during testimony on Tuesday, saying it was highly implausible that a sworn peace officer would tell a resident it was OK to shoot anyone.
During Wednesday's hearing, which took place while jurors were on break, Ingram cited a prior Nevada Supreme Court case that addressed a similar issue.
In that case, the prosecutor said, a rapper's lyrics mirrored a crime he allegedly committed. The court decided the state could present the rap lyrics in court.
District Judge Nancy Porter ruled the posts were relevant. She said the two sides could decide whether the entire document should be introduced. The jury was sent home Wednesday afternoon so the prosecutor and the defense could redact portions of the writings.
On Tuesday afternoon and briefly Wednesday morning, the victim took the stand. Leading up to the incident, he said, Culley had been spreading rumors around town that he had stolen booze from Culley's home. According to the victim, he was at the bar that night having a few drinks when Culley beckoned him outside by widening his eyes.
Alderman confronted Culley, challenging him to fight "mano a mano" or drop the theft allegations.
Culley fired three shots toward his feet, with the last one hitting Alderman, according to the victim.
Alderman said he didn't actually want to fight Culley, and he was seconds away from returning back to the bar before the gunshots.
On Wednesday morning, the prosecution called about a half-dozen witnesses, including Montello folks and law enforcement officers, who each gave short testimonies.
A neighbor who lives near the bar told the court she heard three gunshots that night, followed by Culley's distinct voice call out, "I got it."
The trial is scheduled to continue through Friday.