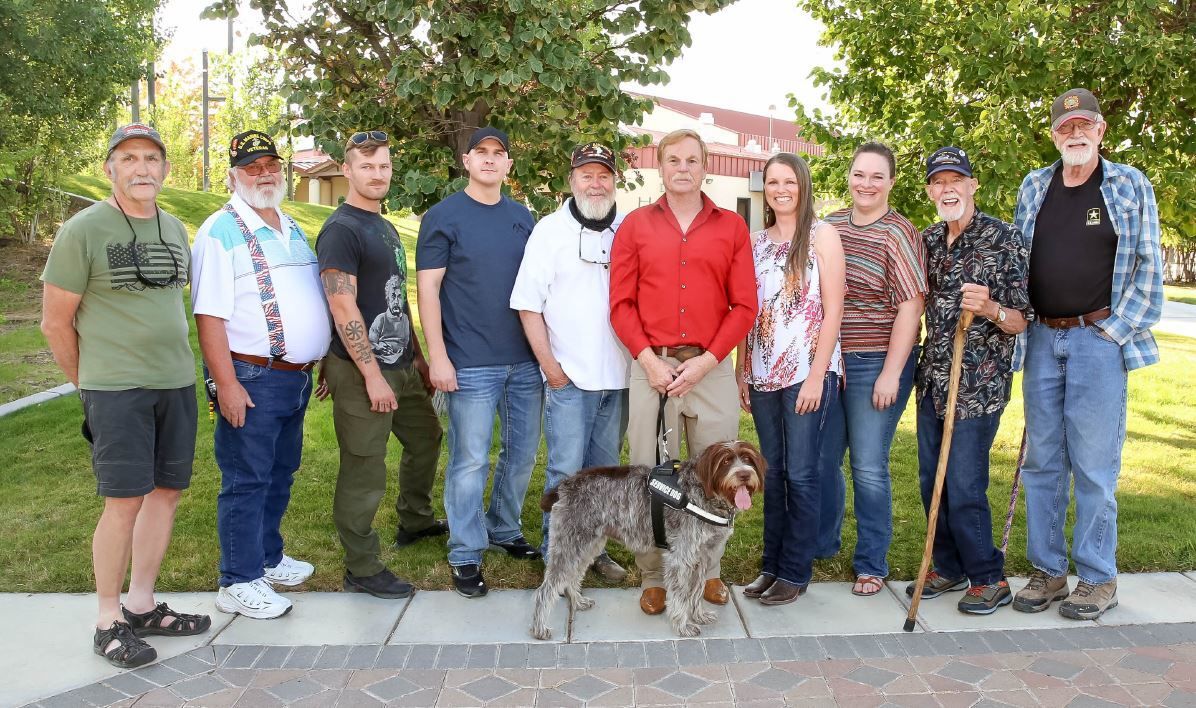 ELKO – A group of local veterans is hoping more people who need help will seek it, as they mark World Suicide Prevention Day on Sept. 10.
The Round Table Support Group has been meeting weekly at the Pace Building, 147 Idaho St., with team leader Cortney Dickenson.
"Suicide is a horrific issue that I hope never has to alter the lives of anyone," said member Jesse Westby. "It leaves a wake of devastation that not only removes valuable lives but impacts loved ones in unimaginable ways."
Westby's daughter, Morgan, said veterans of multiple wars are the single largest group of people facing this affliction, with about 20-22 veterans a day committing suicide in the U.S. Of that number 80% are Vietnam veterans.
"Some may ask themselves, why? We know!" stated the group. "PTSD is a nonvisible wound that tortures the mind affecting so many veterans in so many different ways, often ending tragically. Keeping these horrors of war pent up and not seeking professional help is a disaster waiting to happen."
Dickenson is a licensed social worker and a clinical social worker intern. She is at the meetings each Wednesday at 12:30 p.m. to help any veterans with issues on a professional level. She will also set up help with individual sessions.
Anyone seeking help may call 775-299-0181 and schedule an appointment.
"We lean on each other for support in difficult times," Jesse Westby said. "We are the gate keepers of the past."
"Not one of our group considers themselves as a hero, but as we look into the faces of our friends we see true heroes," he said. "There is nothing special about any of us; like so many others we did what our country asked of us. Nothing more, nothing less. Please help us, as together we can prevent this from being the end."
Each member of the group shared information about their service:
Charlie Ekburg
U.S. Army. Joined in 1966 and was assigned as a truck driver, 574th Transportation Company in Fort Riley, Kansas. Transferred to 23rd Combat Engineer Company, Germany. Retrained to explosives and mines as a deterrent to the Warsaw Pact. Reassigned to a tank Commander CEV. This tank had a 165mm battle gun, .50-cal machine gun and was fully armed so as to protect from invasion on the Czechoslovakian border.
L.A. Jones
U.S. Marine, Vietnam. Assigned as an M-60 machine gunner with a strike unit to assist with extractions. This was an elite unit of hand-picked marines from the Southern United States. 26th Marine Regiment 2/26 Battalion Landing Team F Company. Traveled on missions between Khe Sanh and Danang area.
Braden Wilfong
Originally from West Virginia. U.S. Marines. Stationed in Camp Lejeune, served in Marjah, Afghanistan as a Combat Engineer in 2011.
Nick Beitia
U.S. Marine Infantryman with the 2nd Battalion 1st Marines, deployed with 15th Marine Expeditionary unit. Participated in the invasion of Iraq in March 2003. Served with 1st Battalion 6th Marines, deploying with the 24th Marine Expeditionary Unit to Afghanistan in 2008, participated in Operation Azada Wosa.
Greg Pyatt
U.S. Army 101st Airborn, Vietnam. Assigned to Operation Apache Snow (Hamburger Hill) and assault of fire base Rip Cord. Crew chief gunner on a light observation helicopter white team.
Jesse Westby
U.S. Army, Vietnam. 4th Artillery group. Areas of operation: DMZ, Khe Sanh and A Shau Valley. This battery had four 175 mm field artillery guns that were self-propelled. In photo he is accompanied by his wirehaired pointing griffon, Willow, who has been trained as a service dog since she was a puppy.
Bob Byram
U.S. Navy, Vietnam, operating out of the Mekong Delta. He was the point man on a swift boat, utilizing an M60 machine gun, 81 mm mortar, Mark 19 grenade launcher. He was an operational interpreter of the Vietnamese language and operator of the radar unit.
Lester Morris
U.S. Army, Korea. Charged with two motor pool companies and a Kryptosite with the 7th Infantry operating out of Tong du chon, Camp Casey and the DMZ. The mission was directed at stopping the North Koreans from infiltrating South Korea in conjunction with and to support the Pueblo ship incident that the North Koreans captured.
Cortney Dickenson is a clinical social worker intern who has been in the field for five years and will be a fully licensed for Clinical Social Worker by late summer 2021. Her main focus is assisting Elko-area Veterans who require help with behavioral health counseling, individual, group, or couple/family in collaboration with the Reno Veterans Center.
Dickenson accepts all clients, private pay or Blue Cross Blue Shield through LifeQuest Behavioral Health Care, 1515 Seventh St. in Elko. She has been with these veterans in a support group since 2016 and an Elko resident since 1991. She received her bachelor's and master's degrees from the University of Nevada, Reno.
She is assisted by Brittney Plaisted, a social worker student studying for her bachelor's degree. Plaisted will continue on to her master's degree with one and half years left to finish, while earning credits working with this group. She has been a valuable asset to the group since 2017.