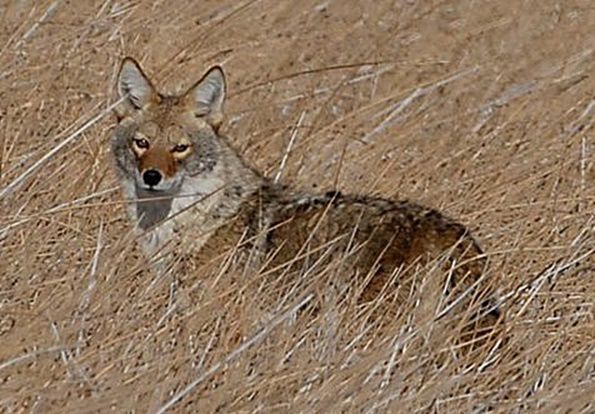 ELKO – Local hunters, gathered in opposition to a proposed statewide ban on coyote hunting contests, described the predators as menaces to other wild animals, pets and schoolchildren.
State wildlife regulators will debate the merits of the petition spearheaded by Northern Nevada residents Don Molde and Fred Voltz at a meeting in Carson City on Friday. After taking public comment Monday evening, the local wildlife advisory board voted against the measure.
A document submitted by petitioners asserts that the public is against coyote hunting contests, and argued that hunters tarnished their reputations by competing in such events.
"Sportsmen are made to look bad when they participate or stand mute," it states.
The economic impact, it continues, of outlawing coyote killing contests would be beneficial.
But locals who spoke Monday, many of whom participate and organize hunting contests, disagreed.
The gas, food, hospitality and supplies purchased by visiting sportsmen are a boon to rural economies, many said, although the petitioners argued the same could be achieved by having participants shoot coyotes with cameras instead of guns.
Trapper Jason James addressed a concern by some who claim that once killed, the animal is left to rot and waste.
"The furs are used, the skulls are used, the glands are used and part of the carcasses I use to make bait for other things," he said.
Furthermore, he said, coyote populations are robust to the point that the animals are causing problems in rural and urban centers in Nevada.
James cited a 2012 story about a Clark County elementary school lockdown caused by a coyote that wandered onto campus.
Henry Krenka with the Nevada Outfitters and Guide Association noted that coyotes have been known to prey on sage grouse nests. County officials believe a key to keeping sage grouse off the endangered species list is through vigorous predator control.
"Why would you want to protect a predator that kills newborn and young wildlife?" Krenka asked.
Randall Stoeberl viewed the proposed ban on coyote hunting contests as a step toward eliminating all coyote hunting, as well as other hunting contests in the state.
Although those who spoke Monday evening were overwhelmingly against the proposed ban, at least one resident not in attendance – who made a distinction between hunting and "needless slaughter" – sided with those behind the petition.
A letter written by Meadow Stahl criticized coyote killing contests and the Nevada Department of Wildlife for what she called "a lack of respect and compassion for wildlife" by failing to acknowledge inherent value in the lives of animals.
Based on the pelts and skulls displayed in NDOW's offices, she continued, a more suitable name for the department would be the "Nevada Department of Wild Death" or "Nevada Department of Killing Wildlife."
"Protecting wildlife does not seem to be what the department values in its lobby nor in its policy," she wrote.