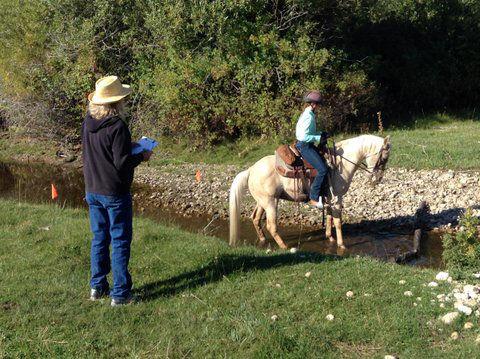 LAMOILLE – The jury is still out on which is the champion: man or mule. The annual Man-Mule race in Lamoille is now in its 41st year, and it's time for people to sign up.
The race is a multifaceted fundraiser for the Ruby Mountain Riding for the Handicapped Association. It will take place Sept. 28 in Lamoille.
The race began in 1978 as a wager between a long distance runner, Tony Lamort, and a mule rider, Fred Harris. They made a bet on who could travel the 20 miles between Elko and Lamoille in the shortest time, event coordinator Carolyn Steninger said. As rumors of the wager spread throughout the community it was decided that the proceeds would be donated to the newly formed therapeutic riding program.
As the community grew and changed, so did the race. Expanding to include all forms of non-motorized transportation, the race also changed its route several times. When Lamoille Highway became too big and too busy to safely race on, it was decided to keep the event in Lamoille and ride and run on the roads and foothills of this idyllic small town.
Eventually those involved decided that racing horses and mules on roads was too risky and the mounted participants began doing a poker ride instead of a race.
You have free articles remaining.
This year, for the 12th year in a row, horse and mule riders can participate in an American Trail Trial Association sanctioned trail trial, or a poker ride. A "trail trial" is an organized trail ride that includes obstacles and situations horse and rider might encounter on a trail ride. Riders are judged individually, and strictly on how well they negotiate their horse through and over obstacles, with an emphasis on safety and calmness. All equestrians will have the opportunity to ride through some of the most beautiful pastures and riparian areas in Elko County.
Runners will compete over a nine-mile course of country roads, and walkers will go a distance of six miles. Mountain bikers will ride a loop up into the foothills of the Ruby Mountains and around through the town. They can choose a 10-mile beginner course, a 15-mile "sport" course, or an additional advanced course that includes a 2700' elevation gain and is 15.2 miles. The road bike portion, "race to the outhouse," which goes up to the top of Lamoille Canyon, will depend on the condition of that road on the day of the race.
"And, just so no one is left out, there is a roughly two-mile "boy-burro fun run" leaving the grove and making a loop past the church," said Steninger. "All ages and all forms of non-motorized transportation are welcome."
Following the event, an awards ceremony and lunch will take place. Ruby Mountain Spring Creek Lions Club is providing the lunch. There will be a raffle of items donated by local businesses.
For more information contact Carolyn Steninger at 777-5877 and leave a voice message. Entries can be picked up at IFA, J.M. Capriola Co., and T-Rix Bikes, or found online at www.steninger.us