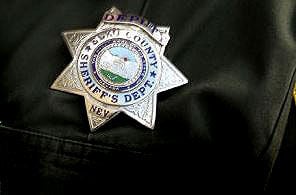 SPRING CREEK – Three male suspects are being sought by the Elko County Sheriff's Office after two women reported being abducted at gunpoint Thursday on the south side of Elko and later released in Spring Creek.
The women provided a description of the vehicle and it was located by a Nevada Highway Patrol unit. The trooper attempted to initiate a traffic stop but the driver fled and the vehicle was later abandoned by the suspects in the Pleasant Valley area, where it was seized.
Officers with the Nevada Highway Patrol, the Elko County Sheriff's Office, the Elko Police Department, the South Fork Tribal Police and Elko School Resource Officers established a perimeter. Canine units and the Elko Special Response Team were called out to conduct a search.
No suspects were located during this search, the sheriff's office reported Friday morning.
Earlier, Sheriff Jim Pitts identified a man arrested on Pleasant Valley Road as a possible suspect who would be interviewed by deputies. He was booked on a parole violation.
Suspect 1 is described as being a tall white male adult, bald, with tattoos on both shoulders and arms, wearing a white tank top and khaki shorts.
Suspect 2 is described as a medium height white male adult, bald, wearing a black t-shirt and jeans.