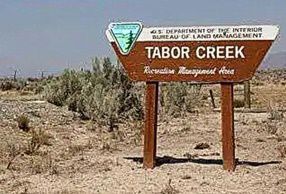 Following Sunday's spill of mine waste into the headwaters of Tabor Creek north of Wells, the creek has been monitored to check for effects from the spill.
The Big Ledge Mine, which is no longer in operation and is being closed, reported this week that a burst pipe spilled about 26,250 gallons of three-to-one mine waste into Tabor Creek. The pipe was shut off as soon as the break was discovered.
John Elliott, Nevada Department of Wildlife fisheries supervisor for the eastern region, said a fisheries biologist went to the Tabor Creek Campground Wednesday to check the creek.
"He did not find any signs of stressed or dead fish," Elliott said. "He took a pH sample right there at the campground, and it was right around 7.5, which is pretty normal. So either whatever has been released hasn't made it there, or it could have already flushed through."
You have free articles remaining.
"That doesn't mean something couldn't be trapped up there under snow or on top of snow or ice and could come out in the spring runoff," Elliott said. "We just don't know."
He said that most likely the mine waste spill had a very low pH, "which can definitely have an effect on fish populations. We'll be keeping an eye on it, and hopefully it will dilute itself before it gets down to where people can access and fish."
Elliott said the Big Ledge Mine is on one of the tributary forks that flow into the Tabor Creek, and is quite a ways up above the campground. He said there is private land between the campground and the mine, and the campground provides the best access for monitoring the water.
NDOW stocks the creek with fish near the campground in the spring, and the fish live in the creek year-round.
The Big Ledge Mine was cited in 2016 for having low pH seepage from a waste rock facility into the Tabor Creek tributary, and the mine has been taking corrective actions to deal with this issue. Elliott said NDOW has not found any effects from that seepage on the fish populations at the campground.
Samantha Thompson, public information officer with the Nevada Department of Conservation and Natural Resources, said the Nevada Division of Environmental Protection is monitoring the situation with the spill from the Big Ledge Mine, and more information may be available Thursday. She said NDEP regularly samples water from Tabor Creek, so there is a baseline for determining if there are changes to the creek. She also said Sunday's spill has not had impacts to drinking water systems in the area.