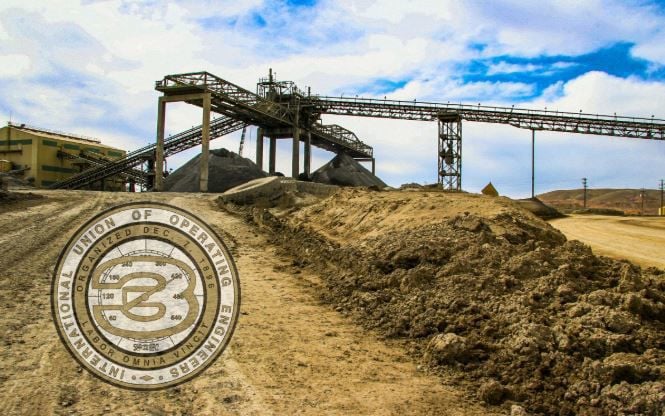 ELKO – A union representing more than 1,000 miners is planning a Miners' Rights Expo next week, claiming the two large mining companies that own Nevada Gold Mines are trying to end collective bargaining.
"Following the merger between Newmont Mining Corp. and Barrick Gold Corp. into Nevada Gold Mines aggressive steps have been taken to reduce labor costs, from cashing out retirement plans and changing job classifications to opposing workplace safety requirements and increasing out-of-pocket costs for benefits," stated a release from Operating Engineers Local 3 (OE3), which represents approximately 1,300 employees at mines that were formerly operated by Newmont on the Carlin trend.
Newmont and Barrick each had about 3,500 employees working for the northern Nevada mines which are now part of Nevada Gold Mines, for a total of about 7,000 current employees.
"Union representatives believe mine owners are positioning NGM for a future without collective bargaining," continued the release. "As a result, mine workers are experiencing fear and uncertainty about their future and that of the union wages, benefits and protections they and the local economy have relied on since 1965."
Nevada Gold Mines did not respond to the claims by press time Wednesday.
In the past, Newmont had a higher percentage of union member employees than Barrick. However, Barrick Gold merged with Randgold Resources on Jan. 2, 2019, and Randgold had a high percentage of employees who were union members, so now the percentage employees who are members of unions or collective bargaining agreements is almost as high for Barrick as it is for Newmont.
When Barrick and Randgold merged, Mark Bristow, who had been the CEO of Randgold, became the new CEO of Barrick. Bristow was asked about the joint venture's stance toward unions during a visit to Elko on March 11, and he spoke positively about their benefits.
"Randgold is the only gold company in the world that invites union leadership onto our operating boards," Bristow said. "I don't see that as a challenge at all, because if we are good employers and we are investing in our people, unionized work forces make it much easier to interface with your work force.
"The point is that it's got to be a constructive relationship. Work is about trading effort for reward. It's about education, being transparent, taking away the tension of not knowing what are the real facts of the business. One of the first things we'll be doing is to sit down with our workers and tell them our business model, our business formula. In all our companies we share the results on a monthly and quarterly basis. We want our workforce to be part of the value creating change, rather than some sort of entity that believes we are exploiting them. It's good to be honest, open and transparent."
OE3 President Steve Ingersoll said, "Local 3 has represented Newmont workers for the last 50 years, and we are doing all in our power to make sure these workers continue to enjoy the benefits of that representation."
Part of that effort includes an upcoming Miners' Rights Expo planned at the Elko Convention Center on Feb. 7.
"Representatives from OE3 are inviting all mine workers to come and ask questions about the negative changes many of them have experienced, and learn what they can do about it," stated the union.
"Newmont has continuously refused to meet and confer with the union over the effects of the corporate change from Newmont to NGM," stated the union. "On Dec. 3, 2019, the union sent Newmont and NGM a demand to bargain and a request for approximately 19 items of information. To this date, neither company has responded to a single item."
OE3 said it filed an Unfair Labor Practice charge with the National Labor Relations Board in December stating that NGM failed to recognize the union, provide information to union representatives, or to bargain over the effects of the transition and the terms and conditions of employment.
"Newmont and Barrick want to present themselves as good employers, but the truth is that collective bargaining rights and an enforceable union contract is the only thing that has kept these companies mindful of workplace safety and responsive to the needs of workers," said OE3 Director of Organizing Bruce Noel. "If miners don't know their rights, they risk losing the ability to hold their employer accountable. We only need to look at how these companies treat unorganized workers elsewhere in the world to see what that can lead to."
The Miners' Rights Expo will begin at 7 a.m. and continue throughout the day, along with food and raffle prizes. For further information, contact OE3 at 775- 753-8761 or visit the union Hall at 555 West Silver St., Ste. 104 in Elko.
What will happen with the agreement?
The OE3 union represents most of the people working at the former Newmont mines in the Carlin Trend north of Carlin. Scott Fullerton, the union's district representative for northern Nevada, said these mines had about 1,350 employees, and about 1,300 were covered under the collectively bargained agreement. Only management and some other employees were not part of it.
Fullerton said the union's latest collective bargaining agreement for the Carlin Trend employees was reached in January 2019 and went in to effect Feb. 1, 2019. Shortly after that, talk began of Barrick attempting to take over Newmont, which then led to the joint venture agreement. As events progressed the union contacted Newmont.
"We were reassured that our successor language and everything we had was applicable, and the contract was going to be recognized," Fullerton said. "As a matter of fact, Nevada Gold Mines sent out memos to the employees in July stating the exact same thing."
The joint venture went into effect July 1. People working for the joint venture remained employees of either Barrick or Newmont until Dec. 23, when they became employees of Nevada Gold Mines.
Fullerton said the union's primary goal is to continue the collectively bargained agreement for the employees at the former Newmont mines in the Carlin Trend.
A June 30, 2019 amendment to the Barrick – Newmont joint venture agreement includes one paragraph which does not commit the joint venture to continuing the collectively bargained agreement. The paragraph says, "During the Newmont Employee Lease Period, Newmont shall cause Newmont USA Limited to comply with that certain 2019 Agreement between Newmont USA Limited and Operating Engineers Local Union #3 of the International Union of Operating Engineers AFL-CIO with respect to Newmont JV Personnel that are covered by the 2019 Agreement. Upon the expiration or termination of the Newmont Employee Lease Period, the JV Company shall be permitted to assess its own legal obligations and goals with respect to any obligations that it may have, if any, under the 2019 Agreement or other applicable Law."
Get local news delivered to your inbox!
Subscribe to our Daily Headlines newsletter.