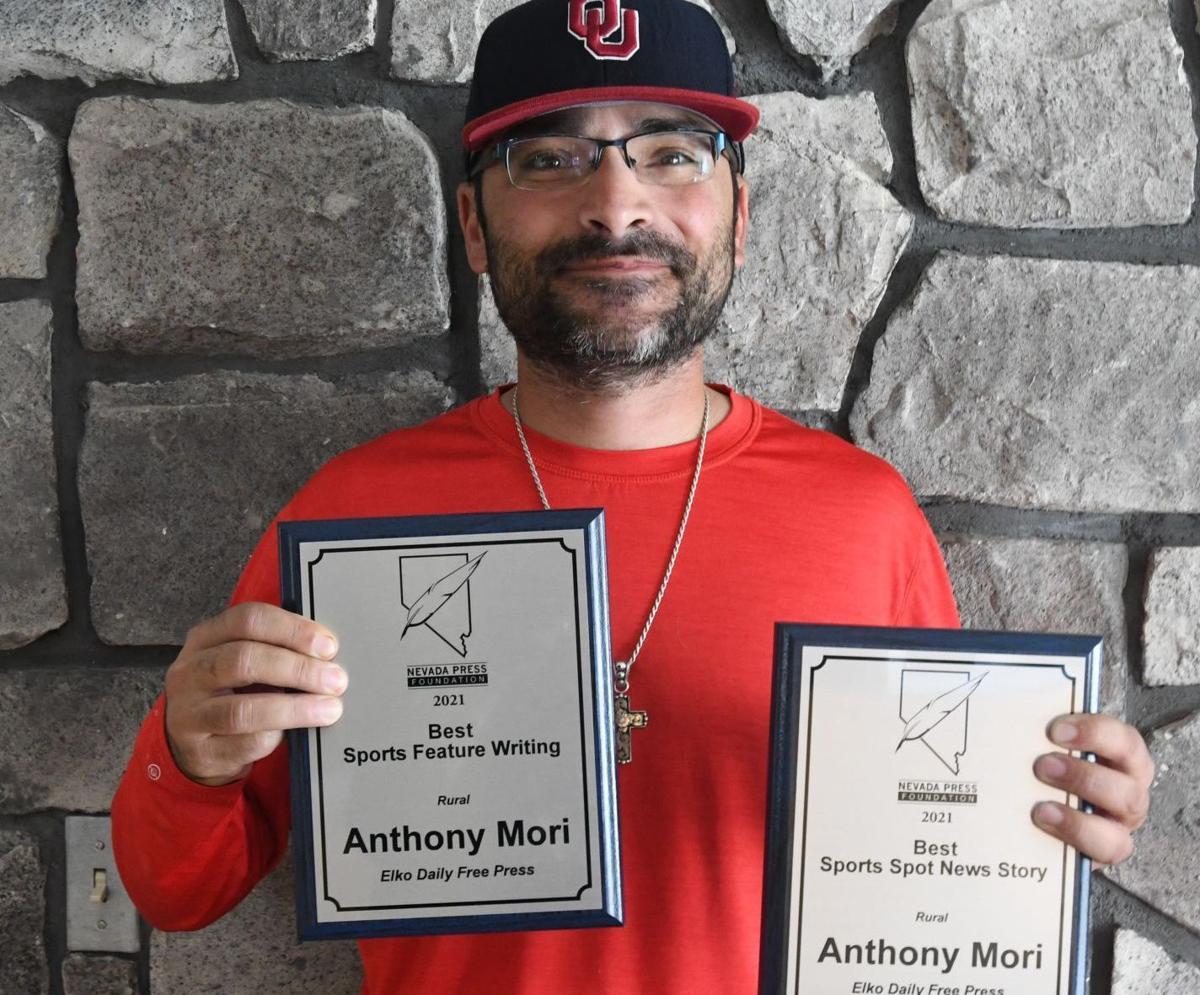 ELKO – Elko Daily Free Press sports editor Anthony Mori won first place in both of the Nevada Press Association's sports-writing competitions this year.
Judges said Mori's feature article on pro basketball player J.R. Giddens was a "great story. At first I thought it would be too long, but I couldn't stop reading. The writer kept my attention through the whole article."
Mori also won first for his game coverage with a preview story about Elko High School's football team. "Good use of stats from previous season and quotes from the coaches to set the stage for the upcoming season," stated the judges.
The Elko Daily won several other first-place awards as well, including first place feature photo. Toni Milano's image of Spring Creek High School Principal Shaun Taylor fist-bumping a graduate during the school's June 2020 graduation ceremony was a "well-framed, kinetic photo in a setting not normally associated with action," stated the judges.
Editor Jeffry Mullins won the editorial writing competition. "Without judging the merits of the arguments presented, the judge found the Elko Daily Free Press editorials to be firmly and fairly stated, of pointed local relevance and impact, and conscientiously researched and argued. The extent to which these editorials incorporated and built upon reader feedback via newspaper polling is especially welcome and speaks well to the Daily Free Press' engagement with its community."
The Elko newsroom staff also won first place for their stories about local businesses in the 2020 Readers Choice special section. The articles were by Cynthia Delaney, Toni Milano, Nathan Havenner and Serenity Orr. "Readers' Choice-type sections are fairly common but this one stands out because of the execution," said the judges. "Lots of community engagement and hard work in this section!"
Former mining editor and current correspondent Tim Burmeister won first in the non-staff writing category for his article titled "Coyote culture clash." "Excellent story, great detail," said the judges.
Elko native Vince Juaristi won first place for non-staff column writing for his contributions about Basque culture and history, titled "Lauburu." "Excellent writing," said the judges. "The column about empty houses is a classic. I really loved it."
The advertising staff won first place for its annual AAA Student of the Week package. "Fantastic idea! I'm sure the advertisers really see and feel the value of their participation. And love that there are three winners! Very clever," said the judges.
Elko Daily advertising director Nancy Streets was named president of the Nevada Press Association at the annual convention held Sept. 18 in Reno.
Streets has been on the board since 2003, having represented both the Sparks Tribune and Virginia City's Comstock Chronicle before joining the Elko Daily Free Press in 2013. She also served as president in 2007-2008.
In the 97-year history of NPA, Streets was the first board president to be appointed from the advertising or business side.
Five new hall of fame members were inducted Saturday, including Barry Smith, Ray Hagar, Frank X. Mullen and Lenita Powers. Lucius Beebee, who died in 1966, was inducted posthumously.