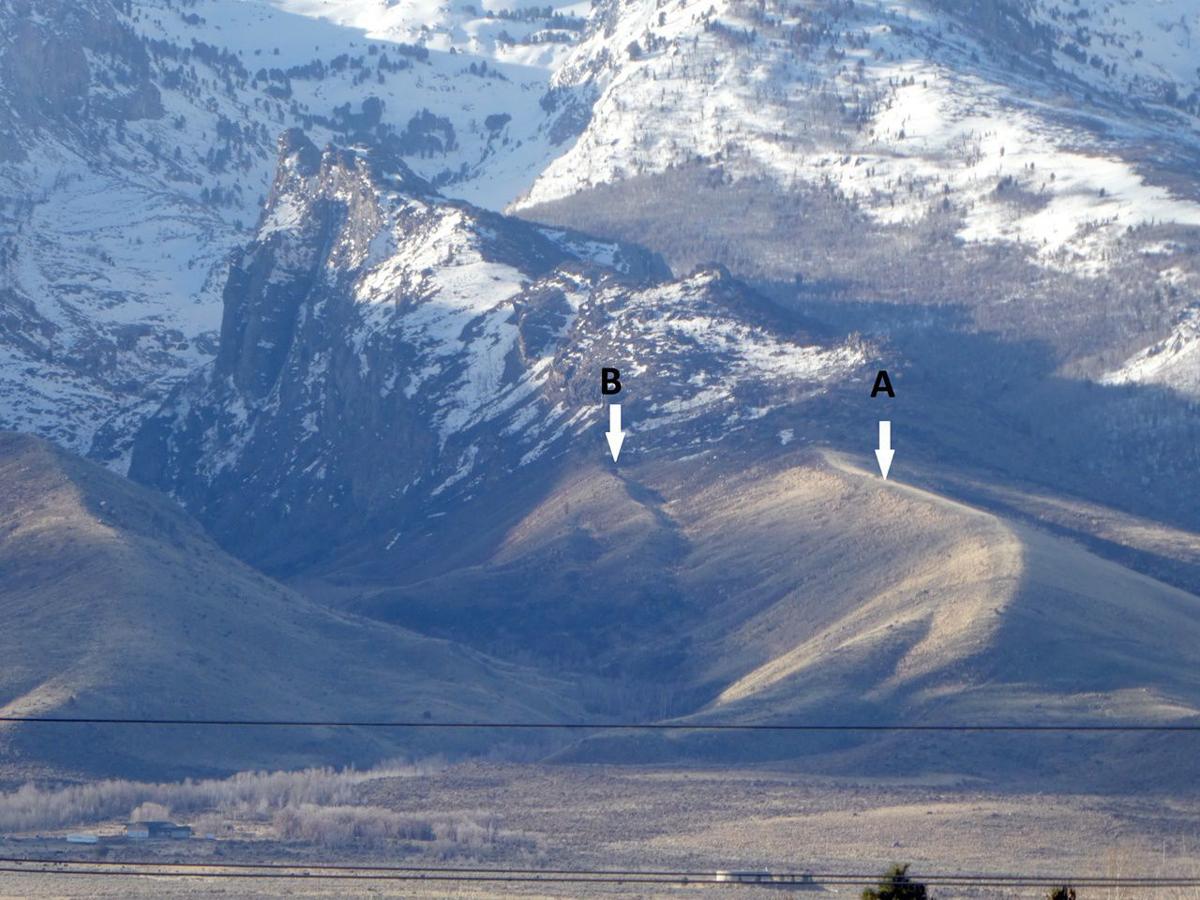 Anyone in Spring Creek can look up at the gorgeous Ruby Mountains and see one of their unique qualities. These mountains were heavily glaciated during the last two glacial periods, the most heavily glaciated range in the Great Basin. From anywhere in Spring Creek, a glacial artifact can be easily seen.
Seitz Canyon shows this artifact. To find Seitz Canyon, look at Ruby Dome. Everyone can pick out that glacially carved peak. Look below and slightly to the left of that peak, to see Seitz Canyon with its tall cliffs on the right side. This rugged canyon's U-shape shows it was heavily glaciated during past ice ages
The Rubies show clear evidence of the last two glacial advances. The earlier advance took place about 150,000 years ago. At that time, glaciers ground their way down most of these canyons. A glacier perhaps 1,000 feet deep scraped its way down Lamoille Canyon. It advanced out the canyon's mouth onto the open slopes. A similar glacier advanced down Seitz Canyon and finally stopped outside its canyon mouth.
Glaciers are not merely chunks of ice, however, since the ice contains numerous boulders, rocks, along with sand and gravel it has plucked from the canyon floor and sides. Other rock material came loose from the upper canyon walls and slid down onto the glacier's top.
This rock frozen in ice acted like sandpaper and scraped at the canyon floors and walls, widening them into a U-shaped canyon, compared to a V-shaped canyon eroded by water. The upper Lamoille Canyon shows this beautifully. It can also be seen in Seitz Canyon's wide, U-shape as its glacier carved and widened this canyon. Looking at the canyons from Spring Creek, you can tell which were glaciated by their shape.
As the glacier dropped down Seitz Canyon, the air warmed. Ice exposed to air melts and the rock debris it carries drops out. The front edge of an advancing glacier builds up a pile of rock debris called a terminal moraine. Lamoille Canyon's road climbs over this terminal moraine before entering the canyon. The hay fields mark the end of this terminal moraine. Seitz Canyon's terminal moraine is hard to see.
The glacier's sides, where ice meets canyon wall, also melt. Rock debris piles up on the canyon walls, creating a deposit called a lateral moraine. As glaciers advance over thousands of years, they build up a smooth coating of rock debris on the canyon walls, rather than the rough canyon wall eroded by water. A good example is Angel Lake Canyon with its smooth canyon walls.
In the above photo, the letter A points to Seitz Canyon's west wall with such a lateral moraine. This lateral moraine developed during the earlier glacial advance when the glacier emerged from the canyon mouth, leaving the entire canyon wall with a smooth surface.
The more recent glacial advance took place only 15,000 years ago and its glaciers did not advance as far. Lamoille Canyon's more recent glacier stopped just upstream from today's Lions Camp.
Seitz Canyon shows a second lateral moraine built up during the more recent glacial advance. The letter B points to a second lateral moraine that built up on the surface of the first moraine. This more recent glacier did not advance as far and this second lateral moraine stops short of the canyon mouth. It curves across the canyon as a terminal moraine.
The best way to see these lateral moraines in Seitz Canyon is to hike into the canyon. A road goes around the rifle range and climbs to the ridge beside Seitz Canyon. (OK, this hike was a long time ago. It is not a good idea to drive around the rifle range.)
As I walked down from the ridge, I was descending the earlier lateral moraine. Then I reached a shelf and I walked across this before descending again. This was the more recent lateral moraine.
We are fortunate to live beside the Ruby Mountains. Looking at these glaciated mountains with some knowledge of glacial effects adds to the enjoyment.
Get local news delivered to your inbox!
Subscribe to our Daily Headlines newsletter.