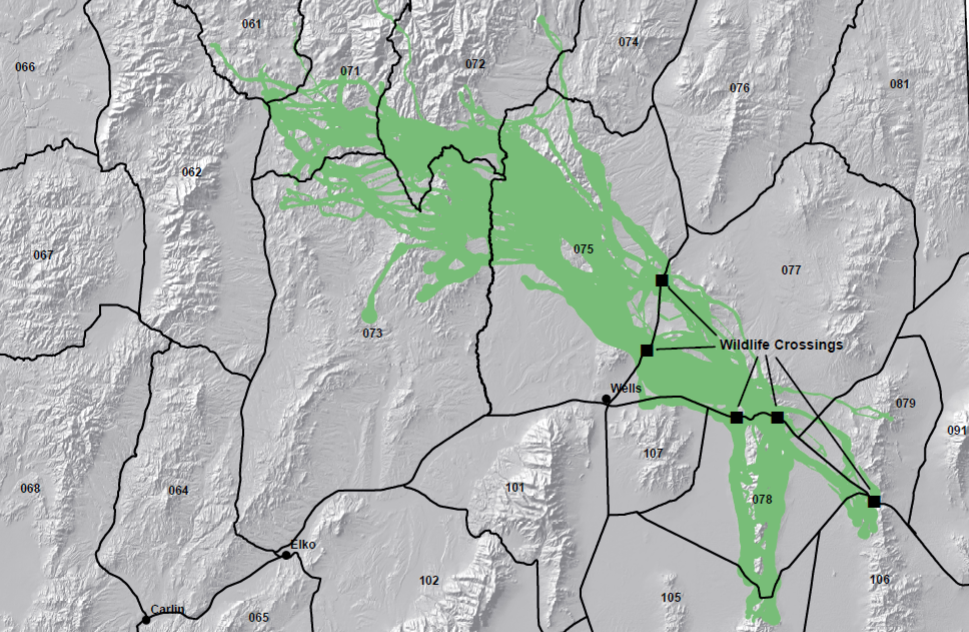 The spring migration is under way for the mule deer in Nevada Department of Wildlife's Area 7. Kari Huebner is an NDOW Game Biologist for Area 7 and described the northward migration to me. The map she provided shows the routes of hundreds of collared deer over several years. It also shows the town of Wells and the wildlife crossings across Highway 93 and Interstate 80.
Area 7 mule deer winter south of I-80, mostly in the Pequop Mountains, plus a few in the Toano Mountains. They are now moving north toward summer destinations south of the Jarbidge Mountains.
Each spring migration takes place any time from February through April, depending on the spring conditions. Most deer will travel over 100 miles this spring, one of the longest migrations in both Nevada and across the West.
A rough estimate of migrating numbers is 4,500 deer will likely cross I-80 east of Wells and 6,000 will cross Highway 93 north of Wells. (Some mule deer winter north of I-80). This spring, 40 deer are carrying radio collars, adding to the significant amount of data gathered on this migrating herd.
What I found of interest in the map is how clearly it shows how deer are using the wildlife crossings. Kari says they are used to the crossings and go straight across with no hesitation or wandering around. This knowledge is being passed from doe to fawn and Kari said there are now deer that probably do not remember the old, dangerous, highway crossings. Wildlife crossings have become a natural part of their world.
Highway 93 has two crossings north of Wells, Ten Mile and HD Summit, funneling deer across the highway. Where there used to be multiple deer killed and vehicles damaged with the crossings in place, very few deer are killed. Both crossings have overpasses, which deer prefer, but both also have underpasses, which are also used.
From trail camera photos, pronghorn antelope, elk, badgers, coyotes and mountain lions have used the wildlife crossings. All crossings have fences on both ends to keep cattle from crossing over. Trail camera video shows mule deer easily jump these fences. These fences have gates so neighboring ranches can use the crossings to move cattle across the highway without stopping traffic.
I-80 over the Pequops has six different crossing spots. Two wildlife crossings have been built, plus two underpasses and two freeway interchanges provide safe crossings. Silver Zone Pass on I-80 has a wildlife crossing for deer wintering in the Toano Mountains, plus two railroad underpasses.
The Long Canyon Mine is located on the east side of the Pequops. Fall migration typically crosses over the mountains, west to east and proceeds south, bypassing the mine. In spring, deer travel north along both sides of the mountains, often using 6-mile Canyon which bypasses the mine. Some deer also travel a lower route along the east side, using a deer corridor constructed through the mine site.
As deer start leaving their winter range it might be tempting to go there and look for shed antlers but remember that the shed antler season is closed until April 30.
What I found of interest in the map is how clearly it shows how deer are using the wildlife crossings.
Get local news delivered to your inbox!
Subscribe to our Daily Headlines newsletter.