LAS VEGAS — While Dakota Eldridge may be the only Elko County contestant at the Wrangler National Finals Rodeo, he's far from the only Nevada cowboy who will rock and roll under the bright lights of Las Vegas.
Jade Corkill
Like Eldridge, Corkill needs no introduction — already a three-time PRCA world champion heeler (2012-2014) — but he also returns to the WNFR after a one-year absence.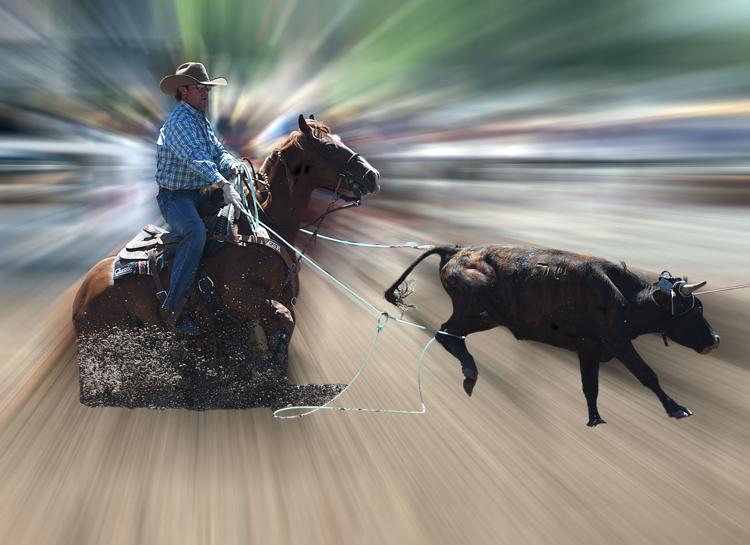 In 2018, he fell into an uncustomary rut of not winning like he is used to, elected to not travel to as many rodeos and spent more time with his family.
He was frustrated, unconfident and needed to decompress.
In the process, he found a new horse, a mental calmness and quickly regained his top-notch form.
Corkill is back with a vengeance and teamed up with a new partner, the best in the world — defending 2018 world champion and current No. 1 header Clay Smith.
Smith has won $150,512.22 for the season.
As Corkill embarks on his 10th WNFR berth in search of his fourth world title, he is in third place of the PRCA standings with $108,637.93 in winnings — just $528.16 out of second place and only $7,106.74 from first — all but about a shade more than $20,000 of his earnings coming since June.
2019 Season HighlightsCorkill began the 2019 season heeling for six-time National Finals Rodeo qualifier Colby Lovell, the duo experiencing mixed results.
When Luke Brown's partner, 2018 world champion heeler Paul Eaves, was expecting a child with his wife in the spring, Brown and Corkill hooked up for a successful run as the rodeos moved West.
In a span of a week from April 8 to April 15, Corkill climbed 29 spots in the heeling standings.
Brown and Corkill won the Oakdale (California) Saddle Club Rodeo for $6,438 apiece, each claiming another $4,172 each for a third-place finish in the Clark County Fair & Rodeo, in Logandale.
Corkill catapulted from 45th to 16th in the world standings with a $10,000-plus week.
Chump change compared to the streak he ripped off during the summer run.
Before the Reno Rodeo, Corkill paired up with Smith — Eaves' former partner — and the chemistry has been electric, the winning infectious.
The steam started to build during the Greeley (Colorado) Stampede, Smith and Corkill winning $7,311 each.
They finished second in the first round with a 4.8-second run for $2,309 and added $1,020 for a second-place time of 6.6 in the short-go.
With a three-head tally of 17.4 seconds, they won the average and pocketed $3,982.
During the Cody (Wyoming) Stampede — a one-steer rodeo — Smith and Corkill came tight in 4.8 seconds for a second-place tie and a whopping $8,599.
The ball kept rolling at the St. Paul (Oregon) Rodeo, Smith and Corkill piling on another $6,080 — earning $1,172 for a sixth-place run (5.2 seconds) in the first round, $513 for a seventh-place tie (5.3) in round two and a second-place average check worth $4,395 for a two-steer time of 10.5 seconds.
In the Eugene (Oregon) Pro Rodeo, a time of four-flat was the fastest run of the one-steer rodeo — stacking $3,429 into their jeans.
In a week's time, Smith and Corkill — during the span known as Cowboy Christmas — each nailed down more than $25,000 around the 4th of July.
At the Central Wyoming Fair and PRCA Rodeo, the torrid stretch marched on with a round-one win of five-flat for $3,324.
Despite a time of 10.7 in the second round, Smith and Corkill won $410 and finished with an average check of $2,384 for fifth place.
They also ranked fifth with a two-steer total of 15.2 seconds for $1,811 and added a seventh-place time of 4.9 for $549 at the Sheridan WYO Rodeo.
At the Snake River Stampede, in Nampa, Idaho, Smith and Corkill piled on $5,315 to their cause — placing second in the three-steer average (15.4 seconds) for $4,657 and adding $658 in round earnings for a 4.8-second effort in round two and a 5.5-second performance in the short-go.
During the California Rodeo Salinas — despite taking a no-time in the second round — Smith and Corkill made runs one and two count.
They finished eighth for $203 with a nine-flat on their first steer, topping all teams on the second run with a time of 7.9 for $2,337 versus the longest barrier in the sport, both header and heeler firing from the same box.
With a 4.4-second run, they shared fourth place and took $1,588 from the Spanish Fork (Utah) Fiesta Days Rodeo.
During the Kansas Biggest Rodeo, in Phillipsburg, Smith and Corkill blitzed through a run in a first-place time of four-flat in the one-header and collected $3,380 each.
They struck it rich during the high-paying, one-header during the Rancho Mission Viejo Rodeo, in San Juan Capistrano, California.
In 4.5 seconds, they bested the field and slammed down $9,287 apiece.
In the final weekend of the regular season, Smith and Corkill made another one-run victory — stopping the clock in 5.1 seconds for $2,065 each in the Apache (Oklahoma) Stampede.
Smith and Corkill also split the All-Around Cowboy award in Apache, each competing in the steer roping.
WNFR OutlookBeen there, done that — hoping to do it again.
Corkill said he's "the best I've ever felt" going into the early stages of his 10th WNFR.
"I'm locked in. I just want to take it one steer at a time and not think about it too much," he said. "I want to make it easier and not make it too big of a deal."
Obviously, Corkill wants to win every night but he also wants to play it smart.
"I definitely want to win but I don't want to go out of it," Corkill said. "If I don't have a shot, I'm not going to try to turn it into one."
He will ride his 10-year-old sorrel gelding, Huey, purchasing the horse "a little over a year ago" from 11-time WNFR qualifier Travis Graves.
"I've ridden him pretty much everywhere since then," Corkill said. "I have the gray horse of Clay Cooper's down here, too, if I need him. He's 14 and we call him Champ. I bought him in the middle of July after Salinas."
Mitch Pollock
Winnemucca saddle bronc rider Mitch Pollock qualified for the College National Finals Rodeo three times, and he has now solidified his first WNFR qualification.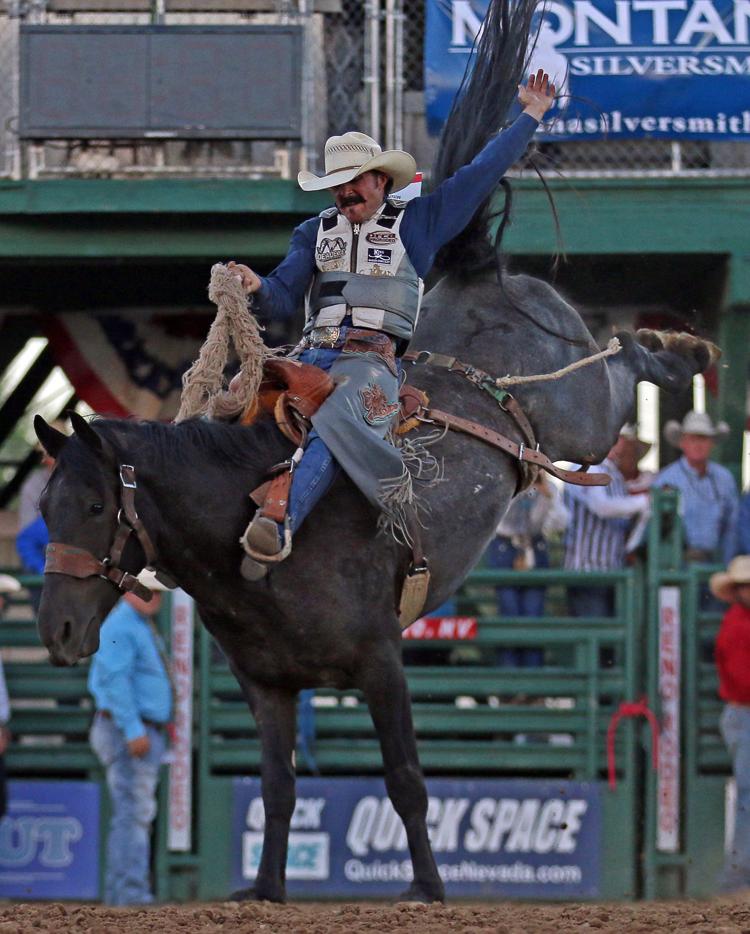 He currently ranks 11th in the world standings with $99,542.24 in winnings on the year.
Pollock was in position for his first WNFR berth through a majority of the season but fell back during the early summer months and around the 4th of July stretch.
However, he made a furious late-season push near the beginning of August and vaulted to his inaugural WNFR with some big wins in crunch time.
You have free articles remaining.
Pollock began his late-season winning ways— which catapulted him to his first WNFR appearance — with an 87.5-point spur lick on Bar T Rodeo's Lady Vain for $3,694 in the Cache County Fair and Rodeo, in Logan, Utah.
He really did himself a favor during the Caldwell (Idaho) Night Rodeo, winning the average with a two-head total of 176.5-points for $3,128.
In the first round, be won another $3,128 on top of Outlaw Buckers Rodeo Corp.'s Lunatic Party, breaking off an outrageous score of 90 points.
Pollock ranked third in the short-go with a score of 86.5 for $900, giving him $7,156 in total for the rodeo.
He carried the momentum into a co-champion finish of the Canby (Oregon) Rodeo and collected $3,712 for a first-place tie with a score of 87 points on Calgary Stampede's Wrong Flavour.
Pollock then took second place in the Northwest Montana Fair and Rodeo, in Kalispell, essentially sealing his WNFR qualification with an 89-point performance for $2,050.
In the final month of the season, Pollock continued his winning ways — snagging a $10,000 check for an 89.5-point first-place ride on Cervi Brothers' Classic Equine Womanizer during the Tri-State Rodeo Cinch Shoot-out, in Fort Madison, Iowa.
2019 Season HighlightsHe compiled a number of winning rides during the season, taking first in nine events and splitting the top spot twice.
At the Lakeside (California) Rodeo, he spurred Western Rodeos' Brown Bomber for 87 points and $2,425.
Pollock earned $2,064 for a 79.5-point mark on Corey & Lange Rodeo's Exploding Tree during the Wild Rogue Pro Rodeo, in Central Point, Oregon, taking first the same weekend with a ride of 82 points on Bar T Rodeo's Uno at the Fort Herriman (Utah) Rodeo.
With an 84.5-point ride on Flying U Rodeo's Boxed Wine, he tied Lefty Holman for the highest-marked ride of the Santa Maria (California) Elks Rodeo — each earning $2,563.
He raked a rodeo-best 88 points from the hair of Buetler & Son Rodeo's Nutrena's Rage for $2,662 at the Buffalo Bill Rodeo, in North Platte, Nebraska.
During the Daniel Dopps Memorial Rodeo, in Mountain Home, Idaho, Pollock pocketed $1,024 for an 83.5-point ride aboard Bar T Rodeo's Tender Loin.
At Iowa's Championship Rodeo, in Sidney, Cervi Brothers' Shark Tank fell victim to an 87.5-point knifing for $3,407.
"Getting here really started in Caldwell, Canby and Kalispell," Pollock said. "I just kind of cruised from there."
While the timed-event competitors of the WNFR do not know their stock draws until the night of the rodeo, the rough-stock riders already have an inside glance at their first matchups during a grueling 10-day battle against the rankest animals in the world.
"I have been on quite a few of them, but there are horses that I have always wanted to draw and haven't gotten the chance to ride them yet," Pollock said. "In the first round, I have Miss Chestnut of Powder River Rodeo. She's an awesome horse."
Already into the 2020 season, Miss Chestnut has been rider friendly — covered in both attempts out of the chute — marking an average score of 87.5 points, 42.25 of the total provided by the horse and 45.25 coming from the bronc riders.
On Dec. 11, 2018, Zeke Thurston spurred Miss Chestnut for 89.5-points and tied Cort Scheer for the WNFR Round 6 record.
"It's awesome to be here for the first time. I'm going to take the same approach and have fun," Pollock said. "I'm going for first every night, it's going to be money or mud. I'm going to spur my ass off."
Trenten Montero
Another Winnemucca cowboy will nod his face for the first time during the Super Bowl of rodeo, bareback rider Trenten Montero also sealing his first WNFR appearance.
Another three-time CNFR qualifier, he locked down his initial berth on the grandest stage the PRCA has to offer.
Montero did not have much room to spare in his bid, currently ranking 14th in the world standings with $80,757.11 in earnings for the year.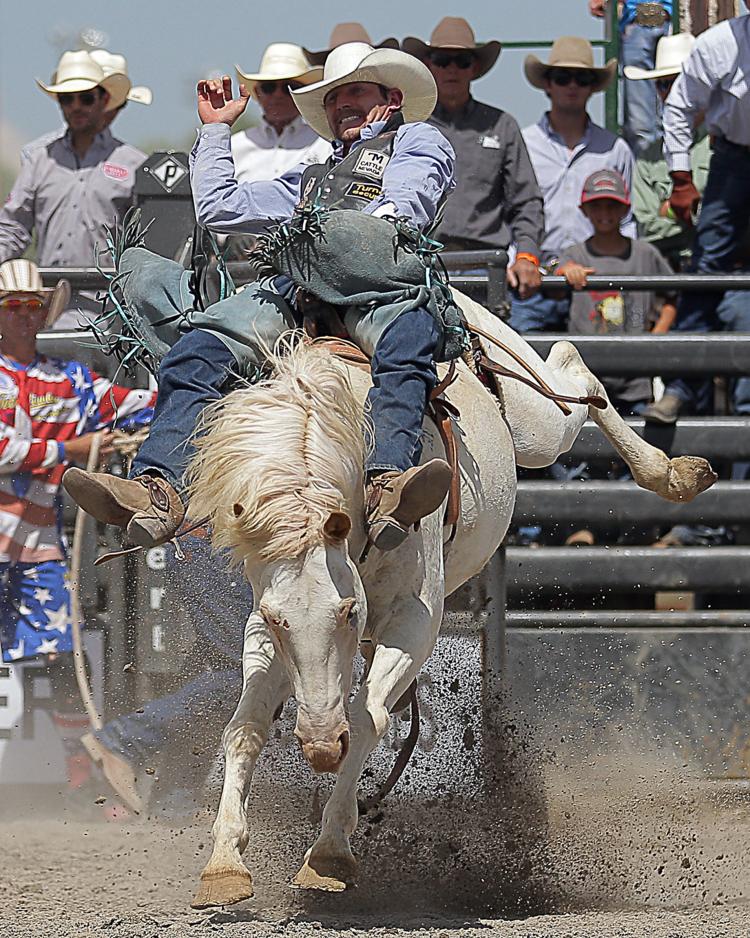 The 15th and final position went to Taylor Broussard with $79,720.92 — Mason Clements finishing on the outside and looking in at 16th with $77,526.15.
Montero began his 2019 push early, taking first place for the first time in 2018 — the season already underway.
From Oct. 11-13, 2018, during the Guadalupe County Fair & Rodeo, he took home $1,489 for a 79-point ride on Lancaster & Jones Pro Rodeo's Red Ryder.
His chances of making his first WNFR increased dramatically around the 4th of July, hammering down an $11,900 payday with a first-place ride of 87.5 points on Korkow Rodeo's Onion Ring during the St. Paul (Oregon) Rodeo.
A week later, he rode the wave and continued to perform at a high level at a high elevation during the Pikes Peak or Bust Rodeo, in Colorado Springs.
He finished fourth in the fourth performance with a second-place ride of 85.5 for $1,104.
In the semifinals, he gashed 87 points from Vold Rodeo's Misty Valley for first place — pay not stated.
Montero was at best in the finals, charging 88.5 points from Vold Rodeo's Karate Hottie for a $10,000 check.
At the Mountain Valley Stampede, he tore off an 87-point ride and won first place on Powder River Rodeo's Two Buck Chuck — collecting $3,955.
On the same weekend, he added another first-place ride of 82 points for $1,635 on C5 Rodeo's Buck Snort during the Bonner County Rodeo, in Sandpoint, Idaho.
Montero basically locked up his first WNFR trip at the Rancho Mission Viejo Rodeo, in San Juan Capistrano, California.
Despite splitting first place three ways, his 88-point ride on Pete Carr Pro Rodeo's Rake It Up still resulted in a big check — giving Montero, Clayton Biglow and Tim O'Connell $5,670 each.
Montero also won first at the Cedar City (Utah) Championship Rodeo, spurring Diamond G Rodeo's Black Sensation for 81.5 points and $1,700.
"My biggest wins of the year were at St. Paul, Colorado Springs and San Juan Capistrano," Montero said. "Those were the rodeos that got me in."
Like Pollock, Montero already knows his dancing partner Thursday for the first round of the WNFR.
"I drew Mary of Bridwell's (Pro Rodeo). I have never been on her before," he said. "I'm going to try to win as many go-rounds as I can. If I do that, the average will take care of itself."
In eight trips from the chute during the 2019 season, Mary was ridden eight times — resulting in an average score of 81 points, 41 coming from the horse and 40 from the cowboys.
During the 2018 WNFR, Tilden Hooper scored 87.5 points on the mare in Round 6.
Follow Live
Cheer on the Nevada talents, favorite cowboys and cowgirls during all 10 rounds of the 2019 Wrangler National Finals Rodeo from Thursday, Dec. 5 through Saturday, Dec. 14.
Coverage will air on CBS Sports Network, Channel 221 on DirecTV and Channel 158 on Dish Network, the pre-show kicking off at 6:30 p.m. nightly and the rodeo following at 7 p.m.
Keep up on the nightly results, live scores, video highlights and contestant profiles throughout the duration of the WFNR on the PRCA website at prorodeo.com and on the Wrangler Network at wranglernetwork.com.
Jade Corkill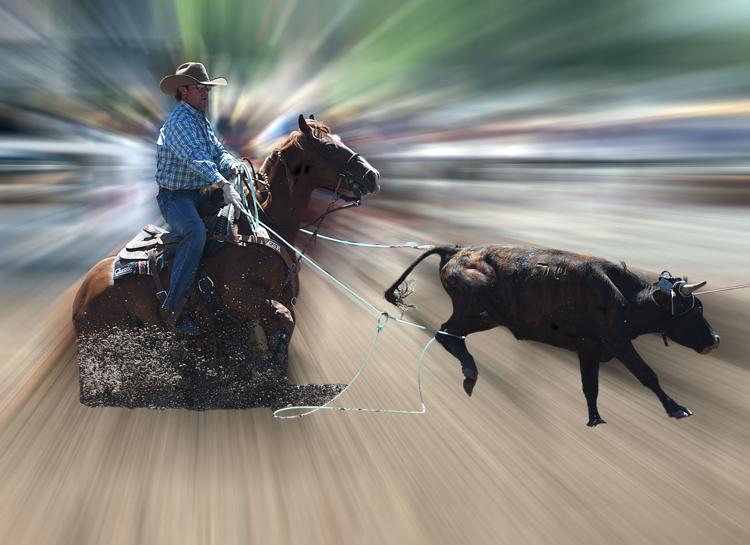 Jade Corkill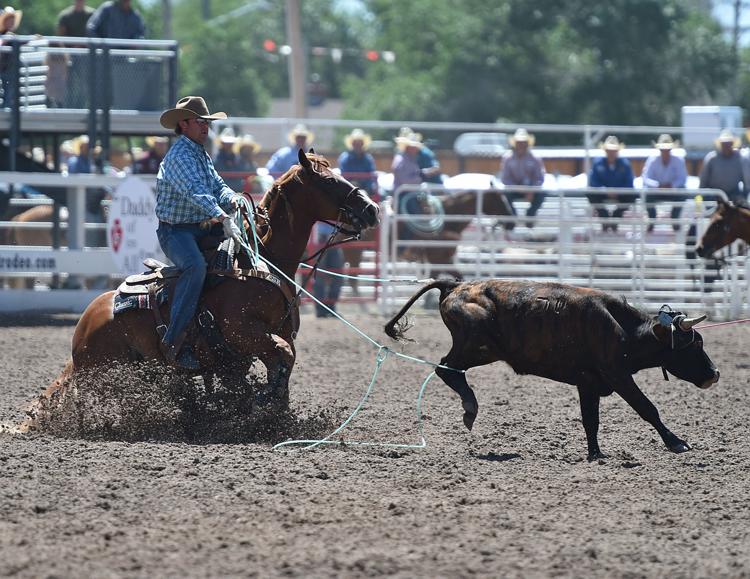 Jade Corkill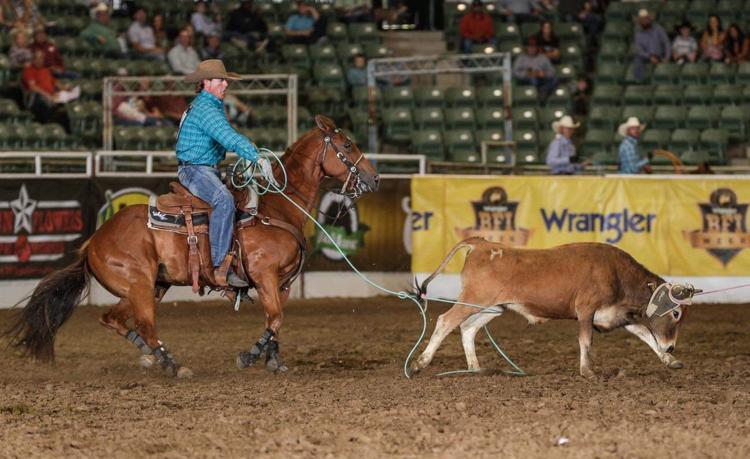 Jade Corkill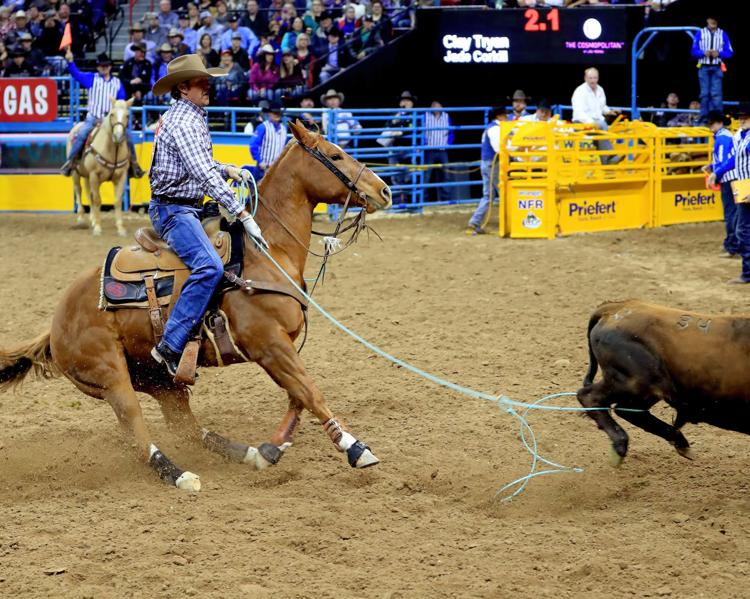 Jade Corkill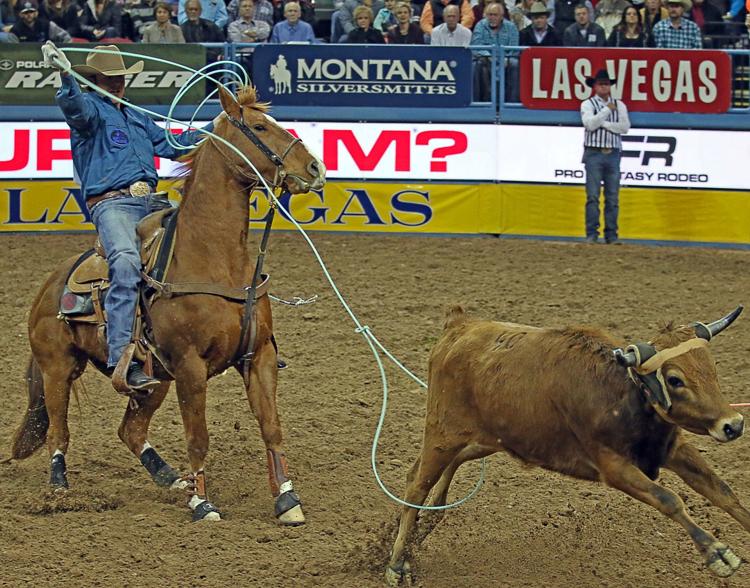 Jade Corkill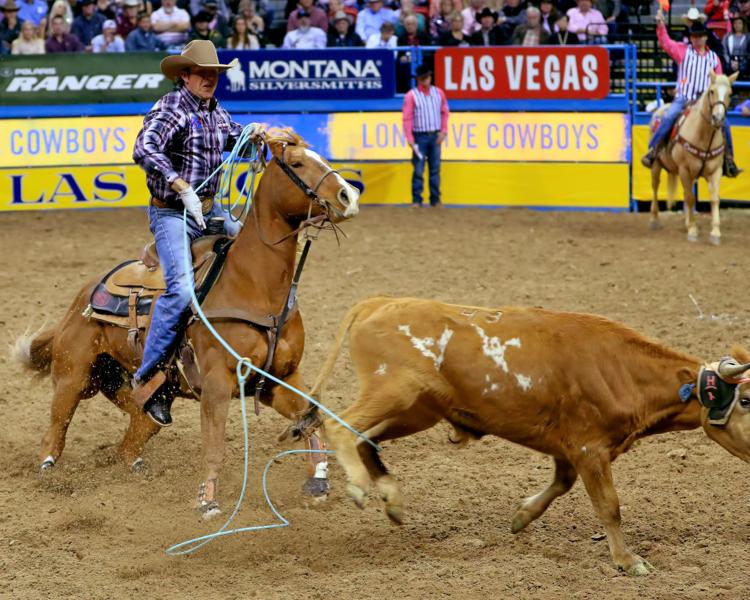 Clay Tryan and Jade Corkill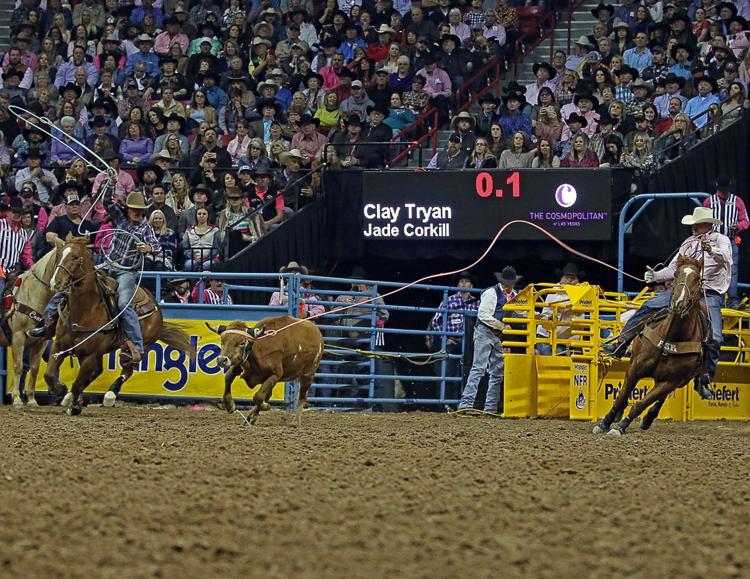 Jade Corkill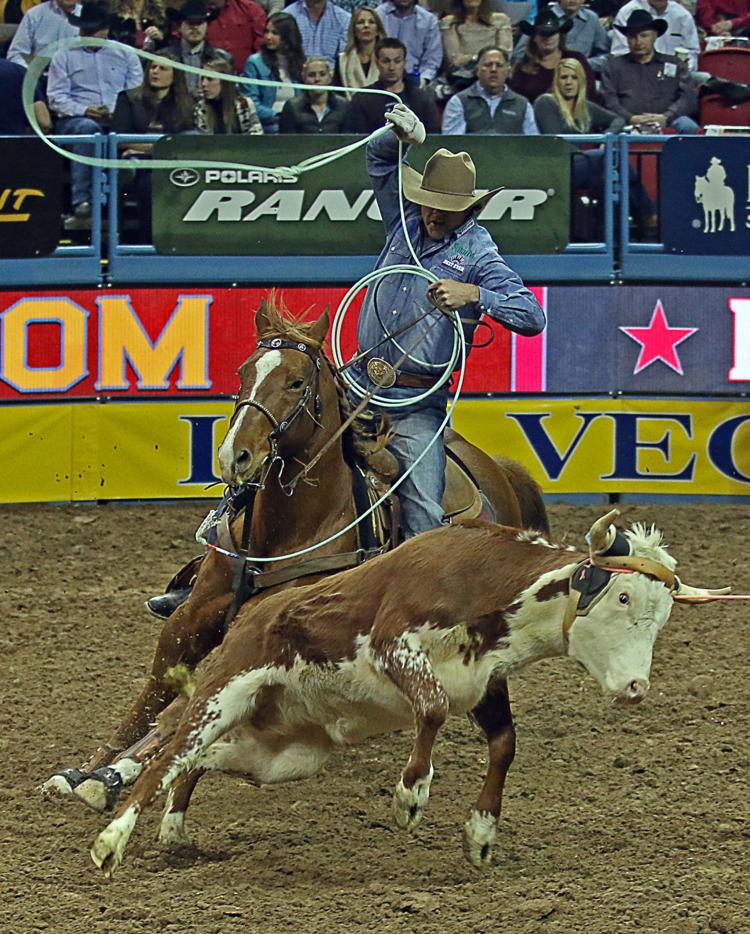 Jade Corkill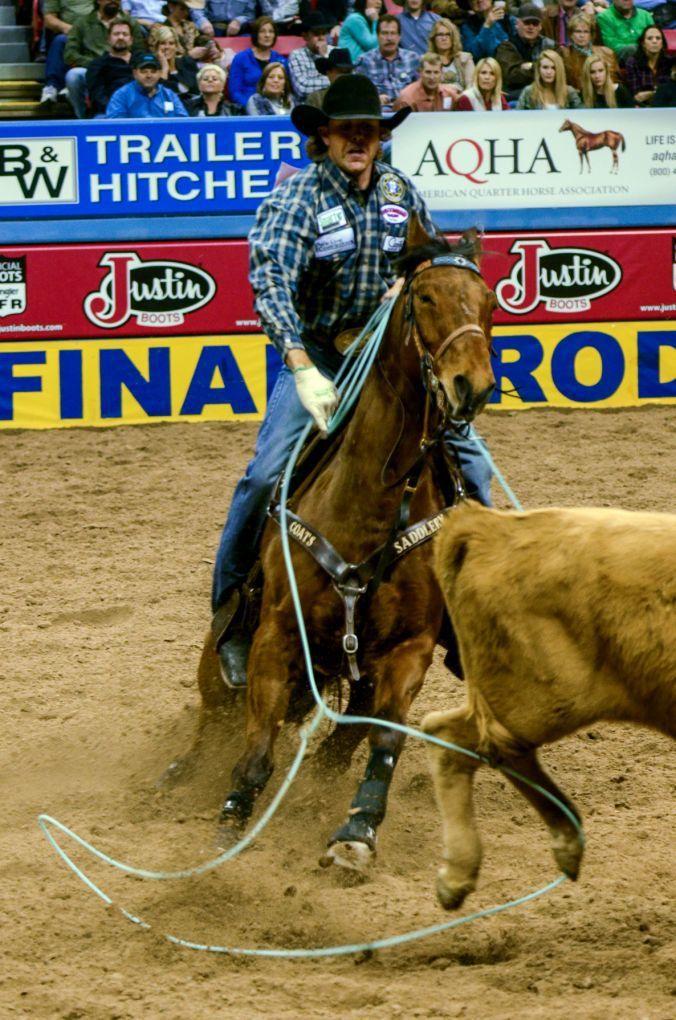 Jade Corkill, Clay Tryan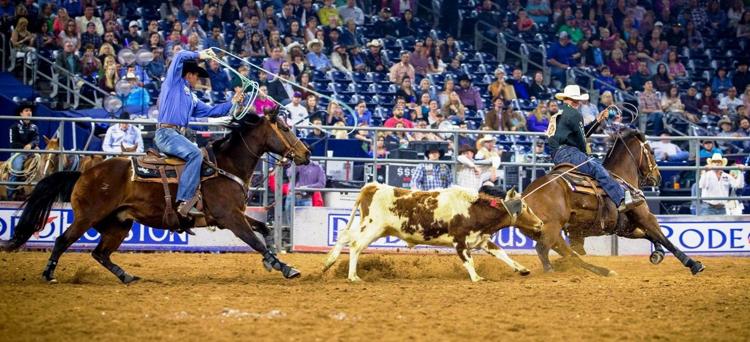 Jade Corkill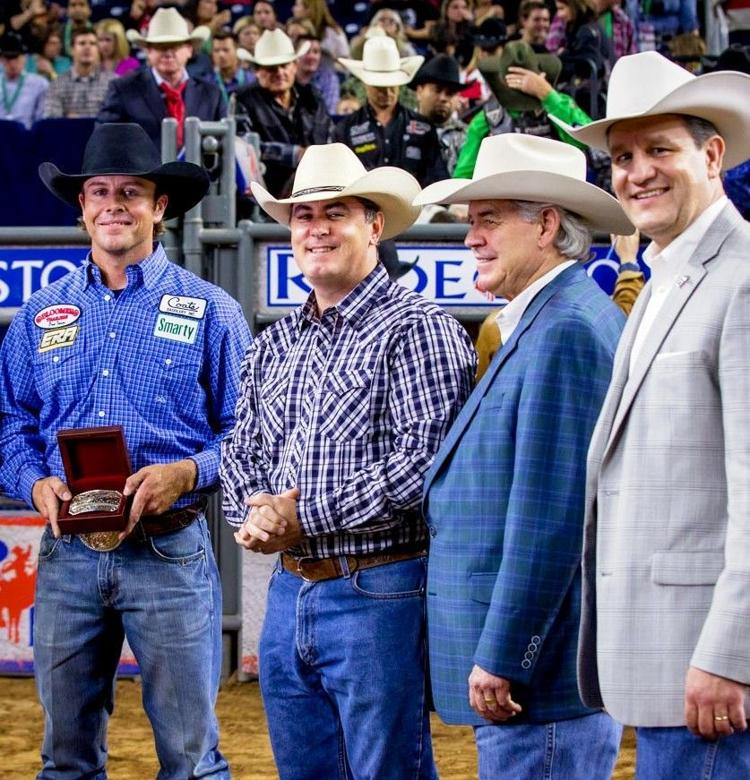 Jade Corkill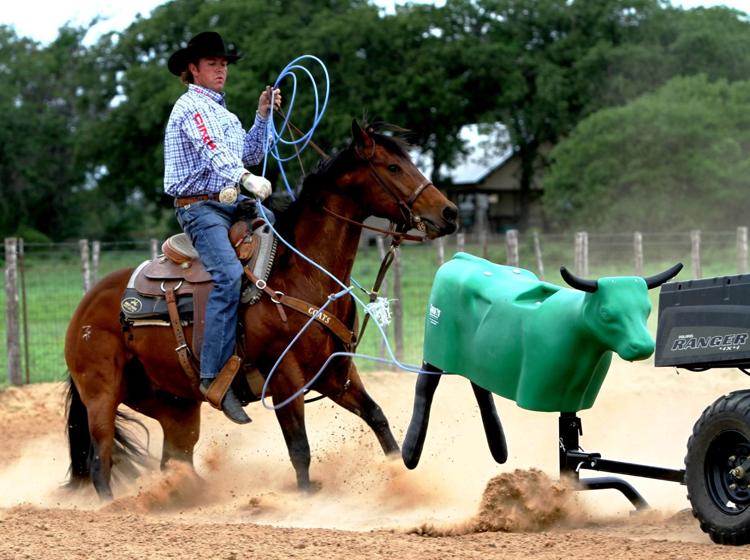 Jade Corkill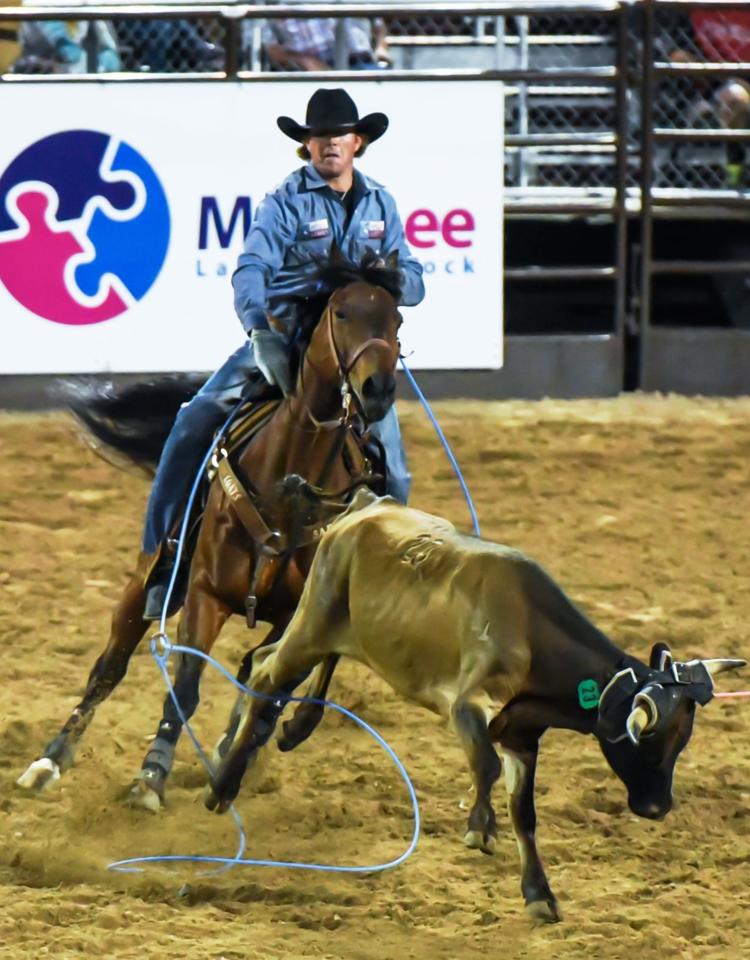 Jade Corkill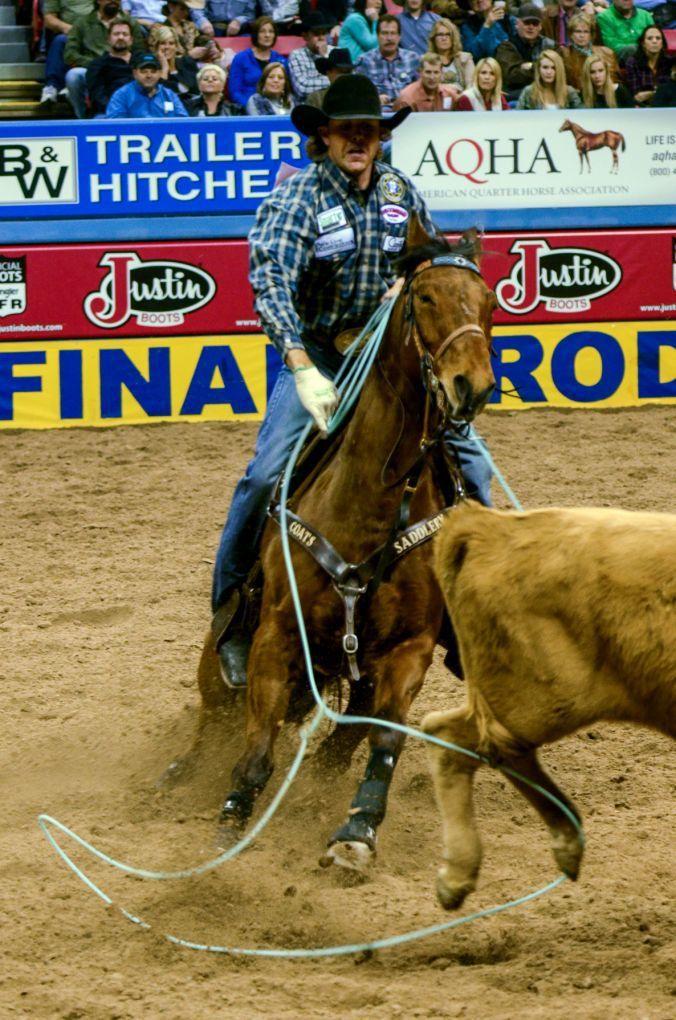 National Finals Rodeo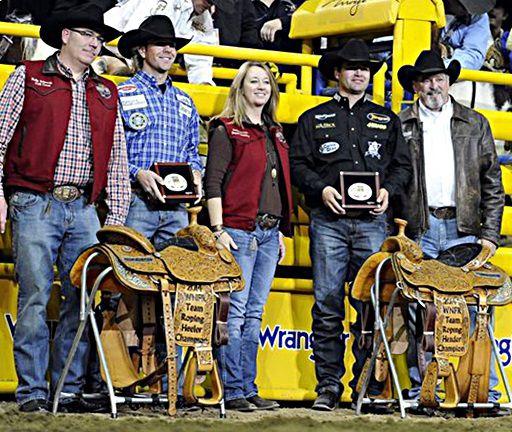 Mitch Pollock Headshot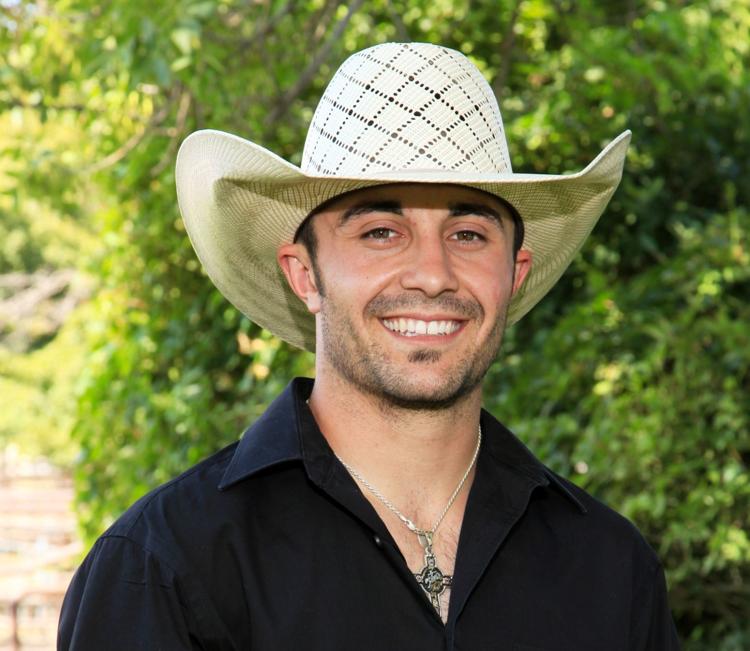 Mitch Pollock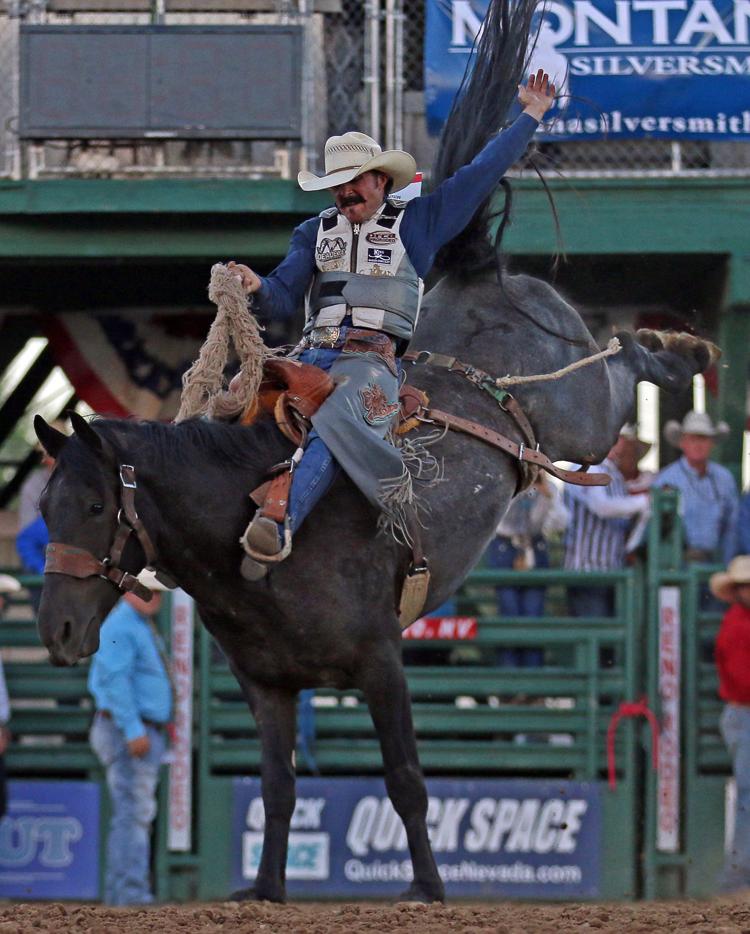 Trenten Montero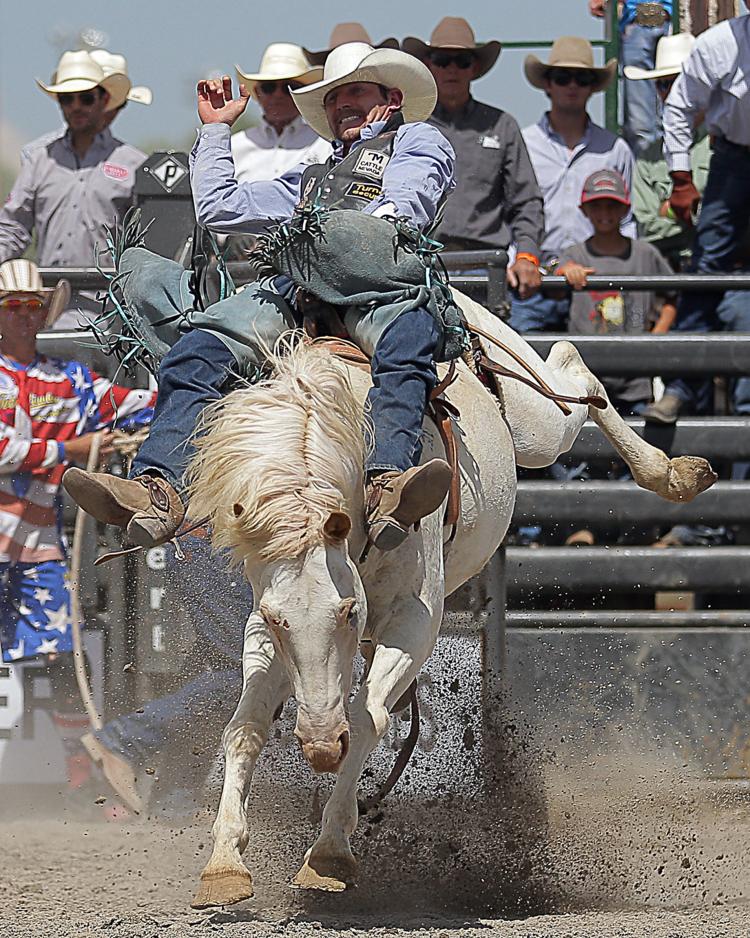 Trenten Montero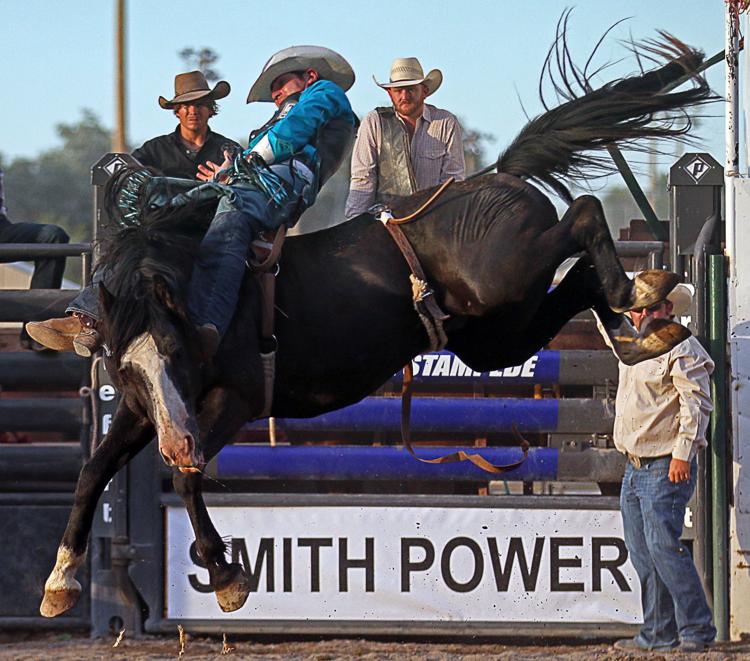 Trenten Montero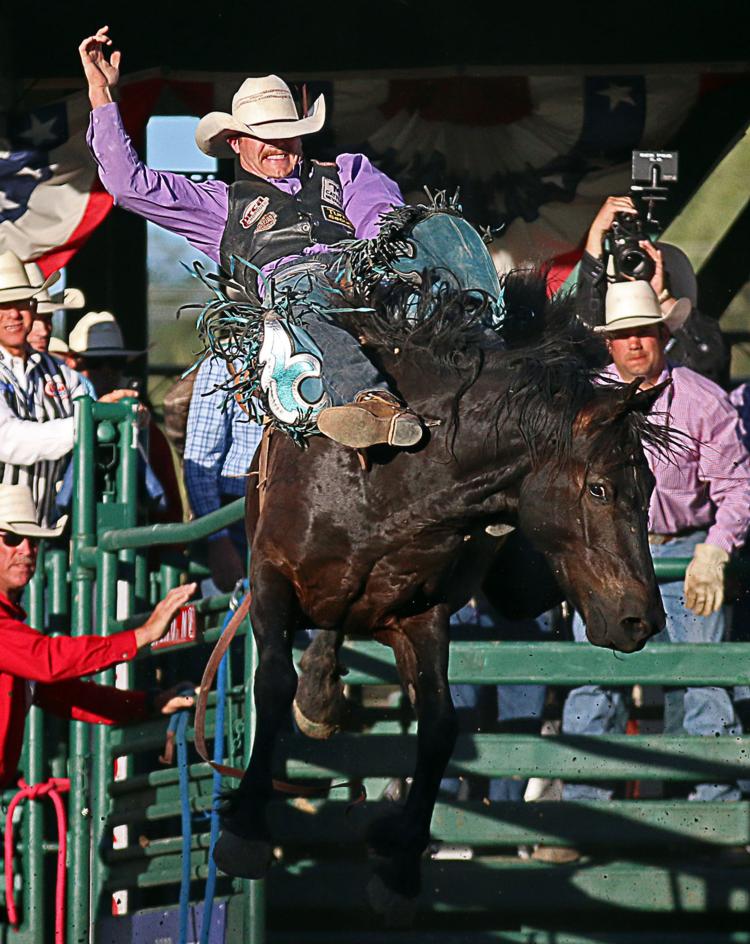 Trenten Montero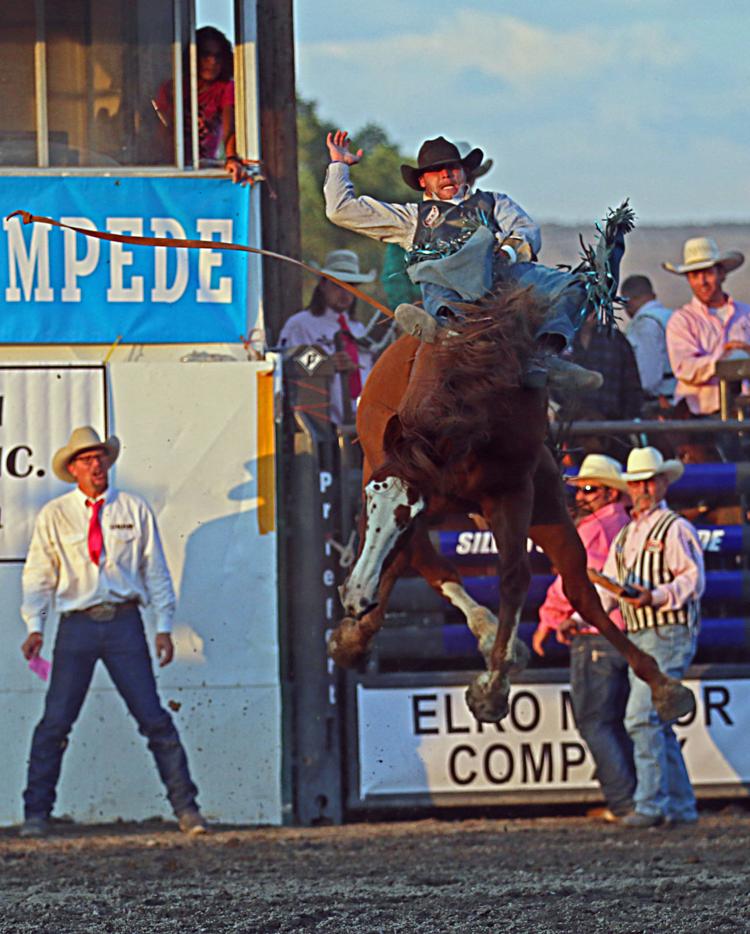 Trenten Montero