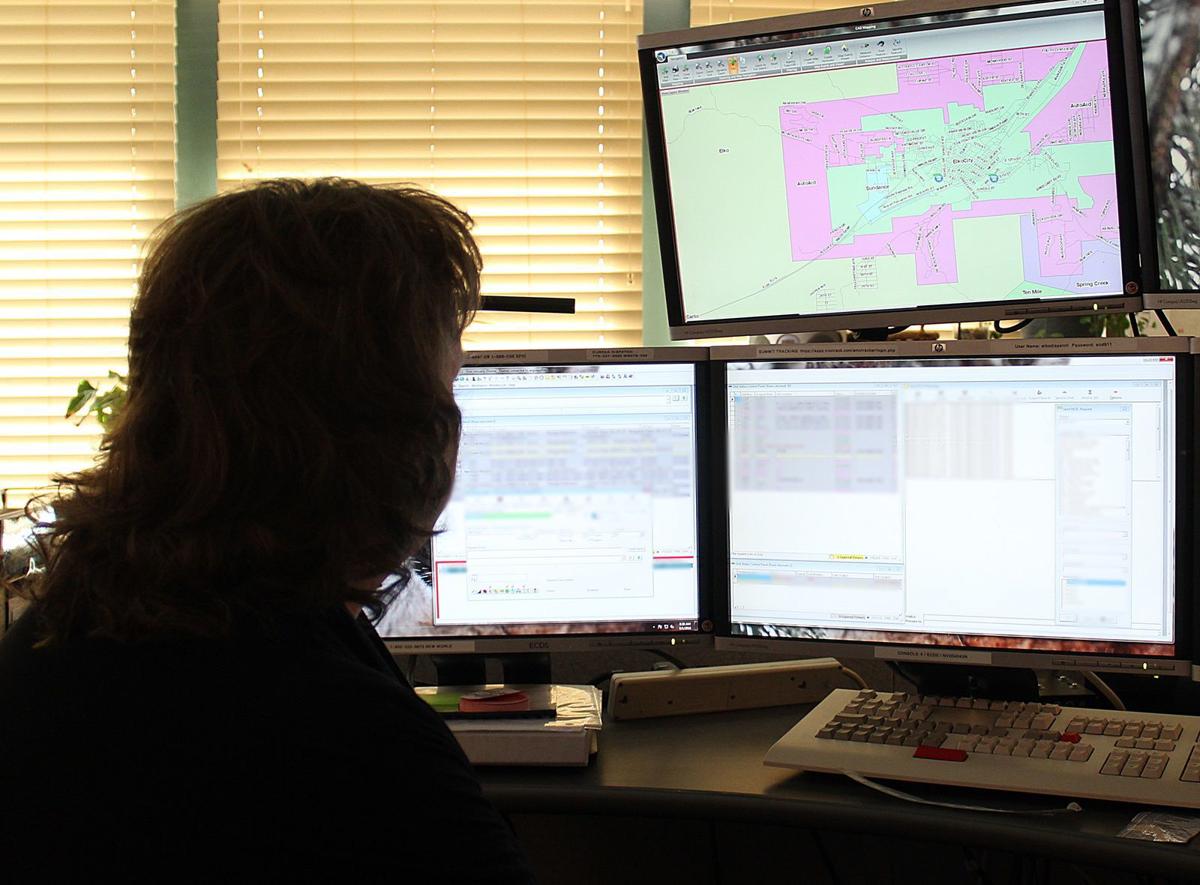 ELKO — Elko County's Next Generation 911 system that is now live in Elko and West Wendover was installed in record time and has first-of-its-kind capabilities, according to Darold Whitmer, senior vice president of strategic relationships for NGA 911 LLC.
"We rolled out the fastest deployment in the U.S. We did it in 11 months, when it takes 18 to 24 months in other areas of the country," he told the Elko County Enhanced 911 Board on July 9. "I will tell you that the installation went extremely well. I won't say it was perfect."
Elko County's system is the first cloud-based Next Generation 911 system, and the first that integrates 911 data from Apple and Google to assist people with emergency calls, although that work won't be completed until next week, Witmer said.
Another first is integrating wireless carriers into the Next Generation 911 system for Elko County, and this work continues, Whitmer said in his report to the board.
"The FCC is very aware of what we are doing in Elko, Nevada," Whitmer said, who told the board he has been in the industry a long time, "and this is the most exciting project I've had to work on."
Lee Cabaniss, chairman of the 911 board and director of the county's ambulance service, said by telephone on July 10 the project "really brings a lot to our community."
Whitmer said the Next General 911 system went live on May 20 in Elko and on May 22 in West Wendover, but there was a four-hour outage on May 25 that was due to human error. He said, however, there is now a process in place "to make sure that doesn't happen again."
Owyhee's dispatch center isn't part of Next Generation 911 yet but will be when the new center is ready, Sharon Counterman of Winbourne Consulting LLC told the board July 9. All three centers will be tied together.
The Next Generation 911 system replaces outdated 1960s technology and provides compatibility with the wireless world, reduces outages and speeds emergency response times, according to a July 10 announcement that says the technology was provided by NGA 911 and partner WestTel, with Winbourne as the consultant for the project.
The ability to text 911 is nearly ready but depends on the integration and readiness of third party providers before it will be available to the public, according to the announcement that says residents and visitors can expect to text 911 in six months.
"We are very excited about the new system and the added safety it brings to our community," said Heather Neilson with the West Wendover dispatch center. "The system will enable us to process 911 calls directly from the caller without a transfer from another agency. This means we can get help to those in need faster, and that means the world to our dispatchers."
Money for upgrading to Elko County's old system came from donations, a 25-cent surcharge on phone bills and federal grants of $313,500 for the Elko and West Wendover systems and $118,500 for the Owyhee center, which was separate because that center is on the Duck Valley Indian Reservation.
Counterman said Owyhee received an extension on its grant because of the work delays and impacts from the COVID-19 pandemic. The grants were supposed to be spent by this August.
As of June 30, the surcharges from more than 50 telephone and cell phone providers have brought in $436,255, Elko County figures show. Corporate and individual donations total nearly $206,233. The contract with NGA 911 was for $575,871, and the annual cost was estimated at $142,935 last September.
Cabaniss said Elko County Commissioners established the Enhanced 911 advisory board in September 2016, and one of the big decisions was whether to go with enhancing the current system or jumping to the Next Generation equipment, "so we just skipped ahead."
He said one of the big benefits is having the system all cloud-based, rather than having "to buy a big bunch of servers."
Cabaniss said the system isn't 100%, but it is a "huge leap forward for us." Calls that come in can now be routed, with all data, to the right dispatch center in most cases.
He said as an example, emergency services can be sent to a more precise location "as opposed to saying they are somewhere on I-80, go find them."
Dispatchers will still be asking questions, such as phone number and location and what resources are required, and they will still provide advice on what to do until emergency services arrive, Cabaniss said.
Donna Holladay, director of Elko Central Dispatch, said in the announcement that the Next Generation 911 "is a noteworthy upgrade to our 911 system and will eventually provide enhanced support to our dispatchers and first responders. While this is an evolutionary process, the center in time will have broader access to location information to assist first responders in the field and improve response times."
She praised the Enhanced 911 Board for putting the project into motion and the county for securing the grant money, as well as the work of NGA 911, WestTel, Winbourne Consulting, Eagle Communication, the City of Elko and the dispatchers "who were willing to learn and use the new technology of NG911 so we can provide better service to the citizens of Elko County."
Counterman also said the dispatchers did "top notch" work learning the new system.
Cabaniss said a lot of credit should go to former Elko Police Chief Ben Reed, who chaired the 911 board before his retirement, and to Annette Kerr, who as the county's emergency services manager pursued the federal grants. He also said the community was "really behind this" with their donations.
He said there was a 30-day acceptance period for the installation, and those involved wanted to be sure everything was working before announcing that Next Generation 911 was now operating.
Get local news delivered to your inbox!
Subscribe to our Daily Headlines newsletter.