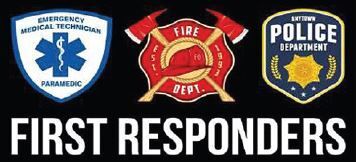 ELKO – Elko Daily readers are invited to "Nominate a Hero" to mark National First Responders Day, which is coming up Oct. 28.
"We are fortunate in Northeastern Nevada to have so many dedicated and incredible First Responders keeping watch and taking care of us every day," the newspaper announced. "If you know a First Responder – City of Elko, Elko County, or State of Nevada – who has gone above and beyond the call of duty to help our community, please nominate them."
Nominations of firefighters, EMT/paramedics, local law enforcement and other first responders will be accepted until Oct. 1 at www.ElkoDaily.com/contests to be recognized in our Oct. 28 edition.