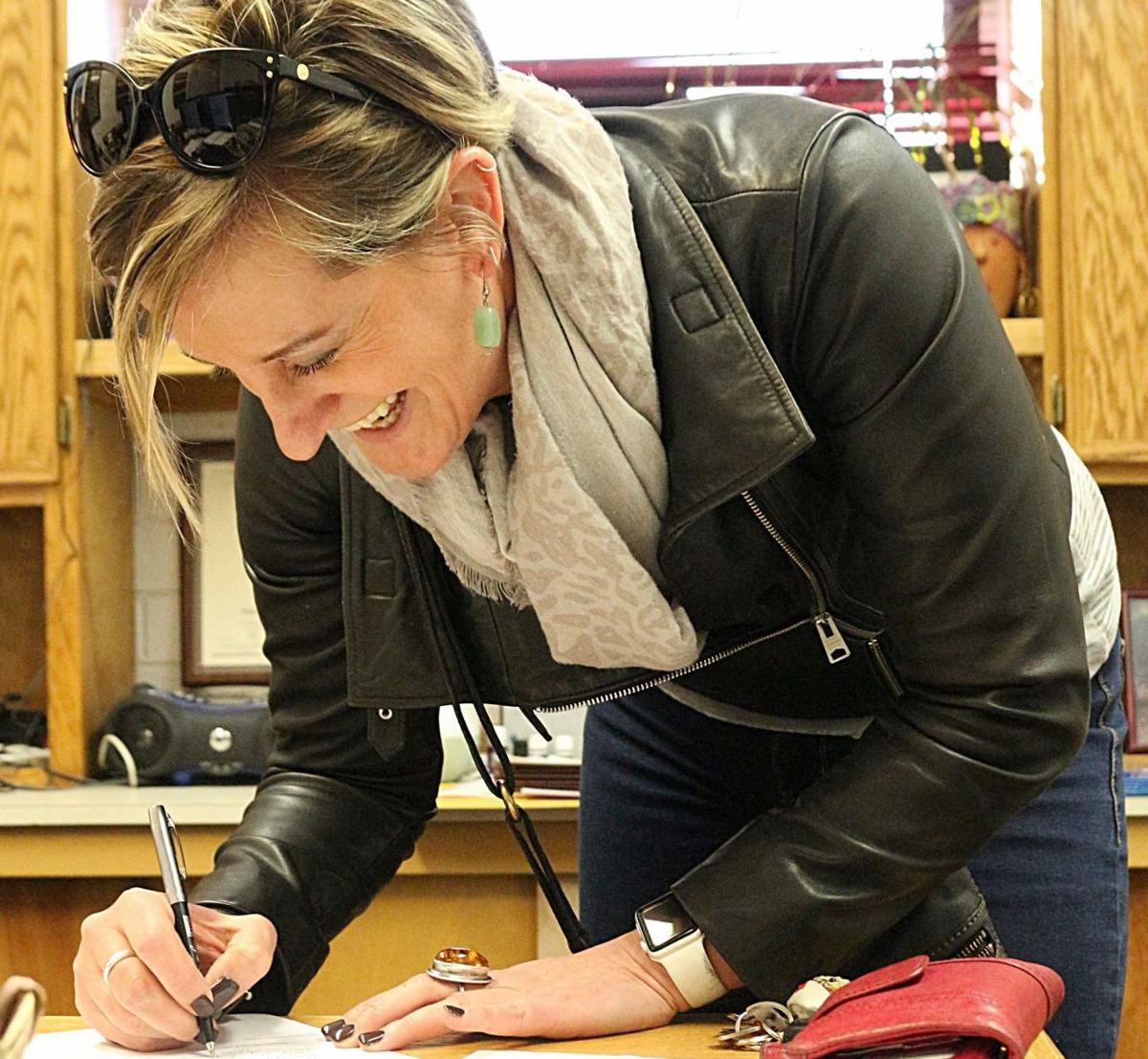 ELKO – Elko nurse, mother and Navy veteran Marcey Logsden is looking to add "mayor" to her resume.
Logsden, a registered nurse at Northeastern Nevada Regional Hospital, filed to run for mayor against city councilman Reece Keener Tuesday at city hall with her son, Bridger, by her side.
"I'm not afraid to stand up for what I believe in," Logsden said, explaining this would be her first time running for any political office. "It takes a lot to scare me."
"I've held a few leadership roles in my nursing career," Logsden said. "I work hand in hand with the doctors. I'm not afraid to talk to people."
Logsden moved to Elko in 1985 with her family. After graduation, she served in the Navy as an aviation electrician mate for nearly four years.
In 2003, she received her nursing degree from the College of Southern Idaho, and traveled within the United States and abroad working as a nurse.
"I've actually worked all over the world: Papua New Guinea, Iraq, Dubai, Idaho, California and Colorado. A lot of places," Logsden said.
"Working in Iraq, I worked with a lot of special forces people," she added, however she considers Elko her home.
"I always come back here," Logsden said.
Logsden said she is also aware that if she were to be elected, she could become Elko's first female mayor.
"With how everything is going in Elko, I thought it was time to do something," Logsden said. "A woman's perspective in the mayoral seat would be instrumental in opening up the eyes of everybody and saying 'we need to entertain other commerce,'" Logsden said.
You have free articles remaining.
"I'm not afraid to tackle the hard challenges at all," Logsden added.
Having a mayor in the health care profession would benefit the city, explained Logsden, saying she has experience in several nursing departments including labor and delivery, emergency medicine, and critical care. She now works at NNRH as a clinical document specialist.
"We're all caregivers and we care about the community, making people happy and healthy," Logsden said about her colleagues in the nursing profession.
Logsden spoke at the Feb. 13 city council meeting and advocated for a medical marijuana dispensary for local cannabis patients. She said that she is also interested in helping patients manage their own health care.
"We want to see a shift in health care and see people take care of their own health care," Logsden said, adding that the medical marijuana debate "affected me personally."
"Everyone is entitled to their own opinion. I have mine, but I'm pretty much there for the choice," Logsden said. "I want to know what other people think and feel because I won't put myself up here, everyone else is going to put me up here."
Logsden said she supports local businesses, but said she believes "we could be a lot more than we are. I know we could make it really awesome."
"The dispensary is not what I'm here for, it's other stuff I'm passionate about, but the dispensary could be an immediate source of revenue into the community."
Logsden said her campaign can be found on Facebook as "Marcey Logsden for mayor 2018."
She explained that people will learn more about her interests and beliefs, especially her research into medical marijuana.
"Please don't be offended for those who look at my stuff. I post a lot about cannabis, because it seems to be the way of the future as a nurse. I research everything and I want to know what my patients are doing," Logsden said.
"I'm pretty transparent, so people can ask me any type of questions about it," Logsden said.
Filing for city and county offices continues until March 16.