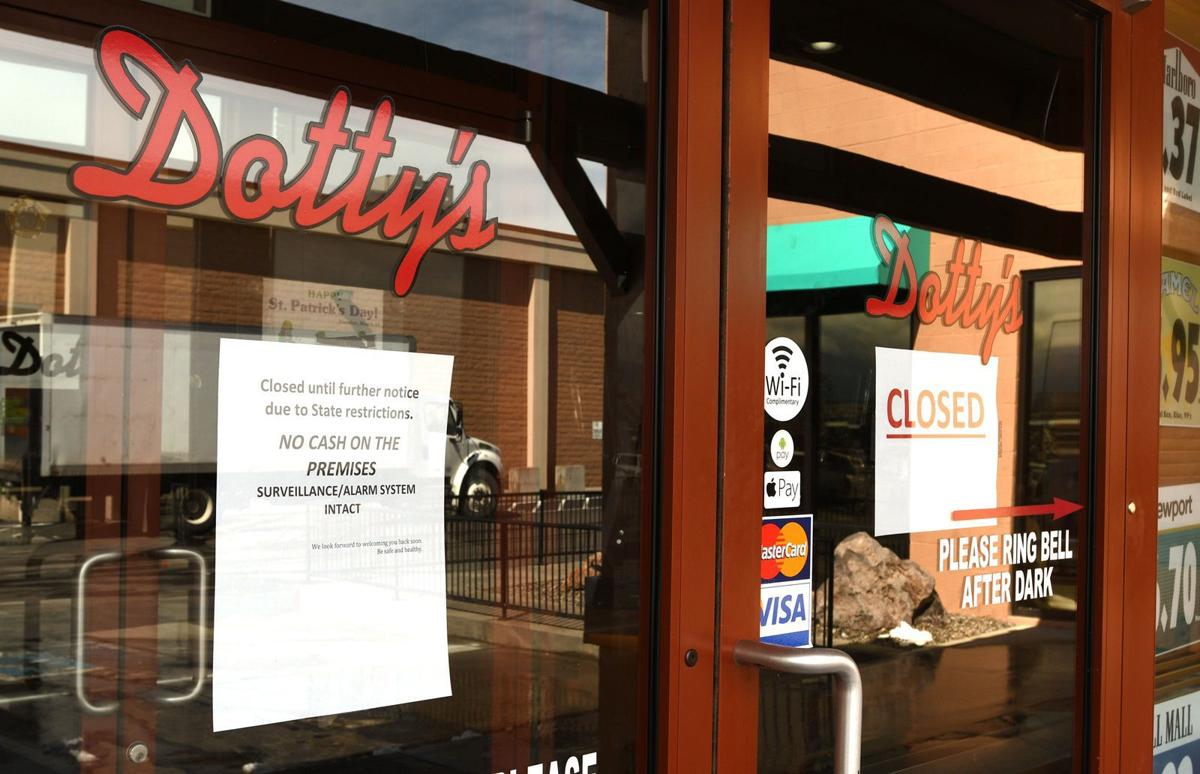 ELKO – Stores and other businesses on Wednesday began responding to Gov. Steve Sisolak's order to close for 30 days if they are "nonessential," but some have been reluctant to comply.
Speaking at a county commission meeting Wednesday afternoon, commissioner and restaurant owner Jon Karr said he has been following recommended procedures.
"I closed half of my tables at both of my restaurants for the public," he said. "Less people, less bodies in the area, until we find out more information, and that's what I recommended to my fellow business owners as well."
The State guidance calls for all restaurants and bars to close their dine-in facilities to help stop the spread of COVID-19.
"Businesses that offer carry-out, delivery, and drive-through food and beverage service may continue to do so, but eating and drinking inside restaurants and bars is temporarily prohibited," a Nevada Health Response document states. "These businesses offering carry-out, delivery, and drive-through food and beverage should employ strict social distancing protocol" of keeping 6 feet of distance between people.
"I don't like the blanket statement that we just close all of Nevada," Karr said. "I'm not taking it not seriously. I just don't think that a blanket statement of Las Vegas is quite the same as out here. This is not, to me, truly trying to go against the governor, I just don't think the facts warrant quite where we're at yet …"
One of Karr's restaurants, Dreez, posted Wednesday on its Facebook page that it remained open.
"Dreez is taking every precaution to keep our space clean and germ free. We are following extra cleaning and disinfecting features by giving sanitary wet wipes to our customers, cleaning chairs, door handles, etc.," stated the announcement.
Mattie's Taphouse also posted a notice that it would remain open.
The City of Elko declared an emergency Wednesday that stated the City is not going to determine whether a business is "essential" or "nonessential."
Some business owners are misinterpreting that action.
Michele Jones, a hair stylist at A Cut Above, told the Elko Daily that "A lot of people think their hair is an essential thing."
"I guess the City Council had an emergency meeting and they said that businesses could stay open," she said. "But, we talked to Dan [the building owner] and he said, 'No, we had better shut it down.'"
Hair stylists are among the specific businesses ordered closed by the state.
"I just want everybody to be safe," Jones said.
Odeh's Mediterranean Restaurant posted a notice that it would not be opening the restaurant to dine-in customers, but would keep offering carry-out and delivery.
"We want to be safe while keeping everyone else safe," stated the Facebook post. "We, as business owners, received the opportunity to decide if we want to close or remain open. We want to protect everyone in the community while helping out and that is why we decided to do only care out/delivery. Thank you for your understanding and loyal service."
Elko Mayor Reece Keener said the governor's order puts the City in an unusual position, and it is not even clear if the City could order a business to close under the state's coronavirus response.
The State Health Department has the authority to shut down restaurants and bars, but the City has a lengthy code process it must follow to do the same, he said.
Rural Nevada is a low-risk area, he pointed out.
"A one-size-fits-all approach for the the State of Nevada is not the right approach for us here in rural Nevada," Keener said.
Karr talked about the emergency meeting the City of Elko held Wednesday morning, and said the city is "not determining who is going to close and who is not going to close. So it's up to individual business owners."
"I think people are kind of jumping to conclusions because the city is not taking an action of defining what's essential or nonessential," Elko City Manager Curtis Calder said Wednesday afternoon. "We're leaving that up to the state."
"If we were to get a written order from the governor's office further clarifying what the expectation is for local government, we're happy to follow whatever the state is telling us to do But they haven't done that yet."
"I think the city council is taking the position that everybody should listen to what the governor is saying," Calder said. "The gist of it is, he wants people home."
"We recommend that you watch his speech, read the documentation, but don't necessarily take out of context one or two things in our special meeting regarding our emergency declaration as your loophole that you can stay open," Calder said.
"It appears that the public thinks that the Elko City Council has a disregard toward public safety, but nothing could be further from the truth," Keener added.
Assemblyman John Ellison told the Elko Daily Free Press that he would like to see the governor review his order after 15 days. Closing small businesses for an entire month will have a significant impact on revenue.
"How do the pay their bills?" he said.
Businesses that have only one or two customers at a time should be allowed to stay open, he added.
Another impact that has yet to be sorted out is on the region's mining industry, which is the backbone of northeastern Nevada's economy. Most of the mines are now operated by Barrick Gold Corp. under a joint venture with Newmont Corp.
"Nevada Gold Mines is working diligently to comply with Governor Sisolak's COVID-19 risk mitigation policies that were announced on March 17th including taking immediate action to start reducing the number of our employees per bus to and from our operations to support social distancing guidelines," the company stated Wednesday. "Planning for this is currently underway and NGM will communicate these changes to our employees as soon as the transportation plan is finalized."
Businesses such as grocery stores are allowed to stay open but some are running out of essential items because of hoarding.
Commissioner Delmo Andreozzi mentioned "one thing that was quite a shocking statistic in one of our local grocery stores. They normally sell 200 gallons of milk a day. Yesterday they sold 2,000 gallons of milk. Many of these items are perishable. And it's not being distributed equitably amongst the whole community," he said Wednesday. "Now is the time to be neighborly and work together and watch out for each other."
A shortage of toilet paper is also causing problems for the city, he noted.
"There's no toilet paper left, so people are flushing wipes or paper towels down the toilet," Andreozzi said after speaking with the mayor. "That is having significant impacts on the treatment plant and backing up the sewer, and it's creating another potential risk there. So again, another example of the unintended consequences of hoarding. There's plenty of toilet paper to go around if everybody is sensible about it. But people are putting in other products, including rags, which leads me to believe people have no other choice than to use that for sanitary purposes."
County Emergency Manager Annette Kerr said Wendover has been overwhelmed with people from the Salt Lake City area going to their grocery store.
Other residents are concerned about their retirement savings as the Dow Jones Industrial Average dropped below 20,000 points on Wednesday, following a high of more than 29,000 earlier this year.
"If anybody has not already dumped out of the stock market, do not do it now," Karr said. "You've already missed the thing. Stay in it, ride this out, and we will be fine."
Karr said some of his friends have told him they are dumping their 401ks now.
"It is a horrific time to be getting out," he said. "You cannot buy low if you're selling low. That's just a fact. I'm saying that as a public outcry, on a personal level to people, quit freaking out and doing silly things with your money. This is not a time to bankrupt yourself."
On Monday, President Trump said the coronavirus crisis could last until July or August.
"It's gonna take a long time to get the economy back," Ellison said.
Elko businesses react to COVID-19:
"I think people are kind of jumping to conclusions because the city is not taking an action of defining what's essential or nonessential. We're leaving that up to the state."

-- Curtis Calder

Elko City Manager
Concerned about COVID-19?
Sign up now to get the most recent coronavirus headlines and other important local and national news sent to your email inbox daily.