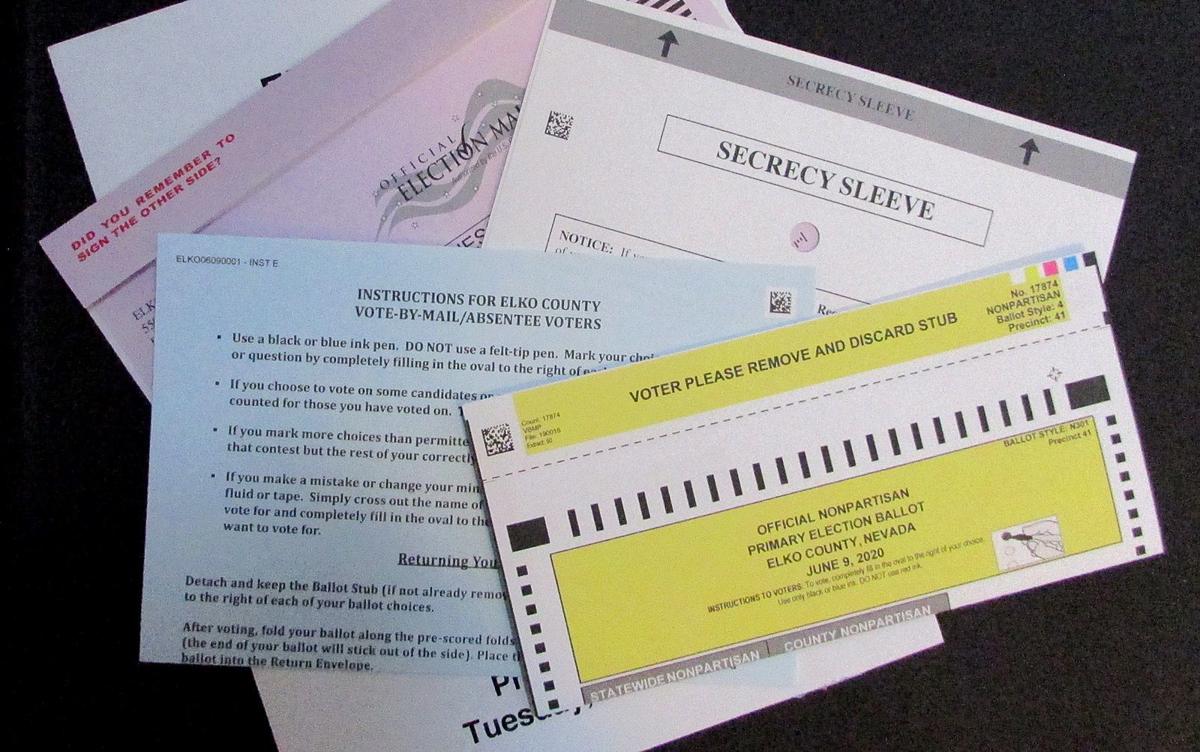 ELKO — The 2020 election season is facing its first COVID-19 challenge as Elko County voters will participate in the primary election through a mail-in ballot.
Ballot packets started arriving in mailboxes over the weekend, a few days after a U.S. District Judge Miranda Du rejected a challenge from the conservative Voters' Rights Initiative to block the primary, citing concerns about potential voter fraud.
A separate lawsuit from Nevada Democrats was withdrawn May 5 after Clark County election officials agreed to several stipulations including adding more in-person voting sites.
Statewide in-person voting was canceled by Secretary of State Barbara Cegavske in March due to concerns about the coronavirus pandemic and to allow enough time for county election officials to prepare for the mail-in election.
"The Secretary of State, Clerks and Registrars across the State have worked diligently to provide the voters with access to the election, while keeping citizens and election workers safe during the COVID-19 pandemic," said County Clerk Kris Jakeman.
More than 21,000 ballots were mailed out by the Elko County Clerk's Office. Out of that amount, 3,437 Democratic ballots, 11,956 Republican ballots, and 5,625 nonpartisan or other ballots were distributed.
In their packet, voters receive a ballot, instructions, a security envelope and a mailing envelope that requires a signature. A sample ballot arrives in a separate mailing.
Some voters may be asked to provide a photocopy of their Nevada driver's license or identification card if a voter ID or Social Security number does not match what is on file with the Department of Motor Vehicles or Social Security Administration.
"It can also be required when there is no data available through the DMV or SSA on the individual at all," Jakeman explained.
Ballots must be postmarked by June 9 and received by the Elko County Clerk's office by 5 p.m. on the seventh day after the election.
The Clerk's office will also accept ballots, fulfill replacement ballot requests, and offer same-day voter registration between 7 a.m. and 7 p.m. June 9.
Early voting is taking place at the Elko County Library between May 26 and June 5, closed on Sundays and on May 25 for Memorial Day. Voters can drop off their ballots, request replacement ballots and register to vote.
Jakeman said unofficial election results would be available throughout the evening on June 9, with official results reported after all postmarked ballots were counted.
Registered Democrat and Republican voters will receive party-specific ballots for their party's candidates running for U.S. Representative in Congress District 2 and Elko County Commissioner District 5.
Democrat candidates for the two-year congressional term are Patricia Ackerman, Ed Cohen, Reynaldo Hernandez, Clint Koble, Ian Leutkehans, Steve "Pragmatic" Schiffman, and Rick Shepherd.
Republican candidates are incumbent Mark Amodei, Joel Beck and Jesse Douglas Hurley.
For county commissioner, Republicans will choose between Gary "Radar" Evertsen and incumbent Rex Steninger for a four-year term.
For nonpartisan offices, voters are asked to select among six candidates for two seats for Justice of the Nevada Supreme Court. Candidates for Seat B are T.S. Christensen, Kristina Pickering and Esther C. Rodriguez. Seat D candidates are Ozzie Fumo, Douglas Herndon and Erv Nelson.
Elko County School Board incumbents Kieth Fish in District 3 and Jim Cooney in District 5 are running unopposed for their seats.
State Board of Education District 2 candidate Katie Coombs is also running unopposed for a four-year term. She will replace Regent, educator and former Elko resident Kevin Melcher, who was appointed to the seat in 2019.