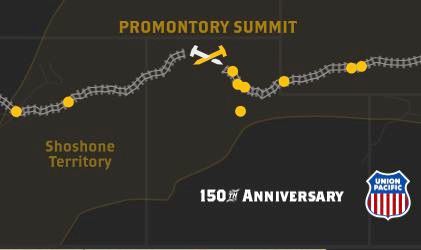 ELKO – Union Pacific Railroad will be concluding its 150th celebration of completing the Transcontinental Railroad this spring, and a special event is planned Jan. 25 in Elko to mark the occasion.
"The Great Race to Promontory" has been helping communities along the route to celebrate the linking of east and west. Elko's event begins at 1:30 p.m. at the Western Folklife Center. After reviewing the railroad's remarkable history, UP spokesman Nathan Anderson will present a spike to city and county officials.
Central Pacific broke ground on the railroad in Omaha in 1863, but did not start laying rails until July 10, 1865. In 1866, the Civil War was over and an influx of labor, materials and money allowed the railroad to push through Nebraska and into the mountains in southern Wyoming, crossing the continental divide on April 5, 1868.
You have free articles remaining.
By 1869, the Union Pacific line had reached into Utah, where it would connect with tracks being extended eastward from California. The "Golden Spike" completing the railroad was ceremonially driven into the ground at Promontory, Utah, on May 10, 1869.
"The driving of the final rail spike defined Union Pacific as the economic engine that connected people, moved goods and transformed America's progress," said Scott Moore, Union Pacific's senior vice president of corporate relations.
The town of Elko was established in 1868 in anticipation of the Central Pacific Railroad's arrival.
"Six months after the railroad arrived, development flourished. Elko had two banks, 45 saloons, three hardware stores, eight doctors, eight attorneys and scores of other businesses," the railroad reported.
The public is invited to attend Elko's commemoration at the Folklife Center, and to check out up.com/goldenspike, an interactive website illustrating the historic journey.