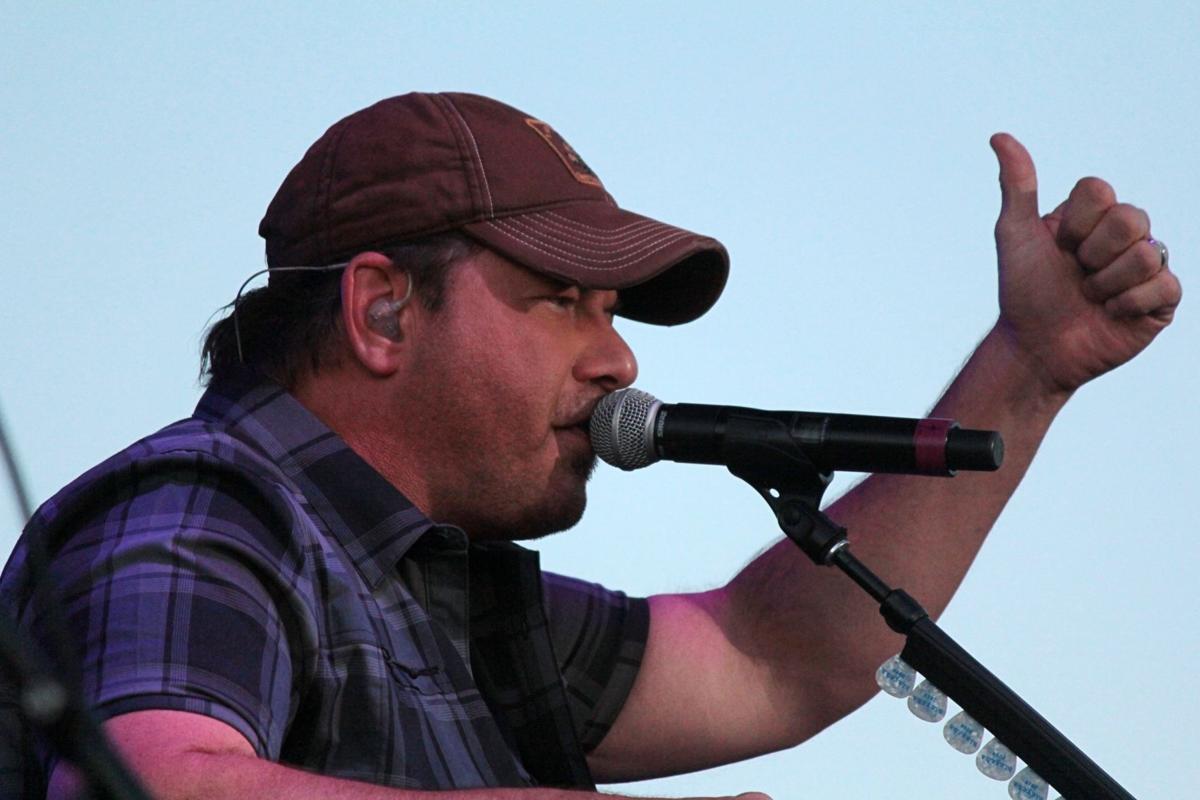 ELKO – A record-breaking crowd of 3,400 attended the sixth annual Country Under the Stars Thursday night at the Elko County Fairgrounds.
Fans of all ages watched performances by Rodney Atkins and Carver Louis, singing along and cheering at the first concert in Elko since the pandemic began.
A fundraiser for the Boys and Girls Club sponsored by Sandvik Mining and Rock Technology, Country Under the Stars broke the previous record of 2,930 in attendance, said CEO Rusty Bahr.
Attendees filled most of the grandstand and reserved sections, with VIP ticket-holders receiving access in front of the stage on the race track.
Atkins performed many of his top-selling hits, including "Farmer's Daughter," "If You're Going Through Hell," "Figure Out You," and "Caught Up In The Country." He was surprised when the crowd sang "Watching You" word-for-word back to him, and restarted the song to hear fans recite the lyrics.
"That's unbelievable," he said. "One more time."
Louis, a Tooele, Utah native, opened for Atkins, and performed "Light of My Life Girl," "Take Off," and "Change Up." The band also played at the after-party next to the grandstand.
Sandvik's Elko manager Steve Over addressed the crowd at the start of the concert.
"It is so good to be back and to see all the faces out there," Over said. "We're so happy to do this for the community. We're so happy to be part of the community. But we need to thank the Boys and Girls Club for all that they do every day, every month and every year for this community is incredible."
Bahr told the crowd 3,000 children were supported by the club that also supported distance learning for its members during the school year. "We don't turn our back on anybody, regardless of ability to pay."
"Everybody here today is supporting the Boys and Girls Club of Elko and the youth of Elko County, so let me have a big hand for that," Bahr said to cheers from the crowd.
Country Under the Stars has been a traditional staple of the Mining Expo for several years. It was postponed last year due to Covid-19 restrictions a couple of months after it was announced that Atkins would headline the event.
Since 2016, the event has featured Chris Janson, Troy Bullock, Joe Nichols, Mark Mackay, Dylan Scott, A Thousand Horses, Chancey Williams and the Younger Brothers Band, and Lonestar.
The concert marked the Fairgrounds return to pre-pandemic use with seating throughout the venue and food and beverages offered by prepaid ticket.
Concert security was provided by Elko County Sheriff's deputies and Sheriff Aitor Narvaiza.
Below is a photo gallery from the 2021 Country Under the Stars concert on June 10.