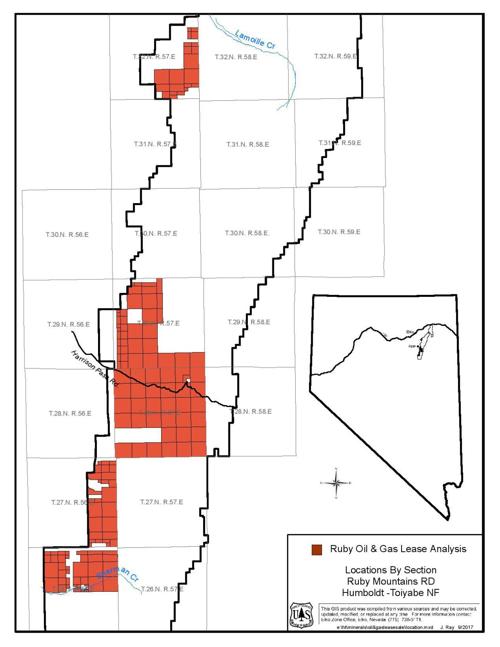 ELKO – The Humboldt-Toiyabe National Forest's Mountain City-Ruby Mountains-Jarbidge Ranger District is accepting comments until Nov. 2 on a proposal to make approximately 54,000 acres of oil and gas available for leasing in the Ruby Mountains.
The input will help the Forest Service prepare an environmental assessment addressing the potential effects of implementing this proposal.
"This is an opportunity for the Forest to engage the public before making a decision that will influence the management and use of these lands moving forward in the future," said District Ranger John Baldwin.
The Forest Service is looking at which National Forest System lands may be made administratively available to the Bureau of Land Management for oil and gas leasing and what stipulations would be included to protect resources.
You have free articles remaining.
The NFS lands being considered for oil and gas leasing are located south of Lamoille Creek and North of Sherman Creek, on the west side of the Ruby Mountains. These lands are within areas covered by the 1986 Humboldt Land and Resource Management Plan, and all are designated as open to leasing.
The Nevada BLM is a cooperating agency on this National Environmental Policy Act analysis.
For any lands made available, the Forest Service would need to identify reasonable and necessary stipulations to avoid or minimize impacts to resources such as wildlife, soils, watersheds, roadless area characteristics and cultural resources.
The public can view the scoping material and maps for this project on the Forest Service website.
Written comments must be mailed to Susan Elliott, Minerals Program manager, at the Mountain City-Ruby Mountains-Jarbidge Ranger District Elko Office, 660 S. during normal business hours from 8 a.m. to 4:30 p.m., Monday through Friday, excluding federal holidays.
Email comments can be submitted to sgelliott@fs.fed.us. Please put "Ruby Oil and Gas" into the subject line. Electronic comments can also be submitted using the project website.