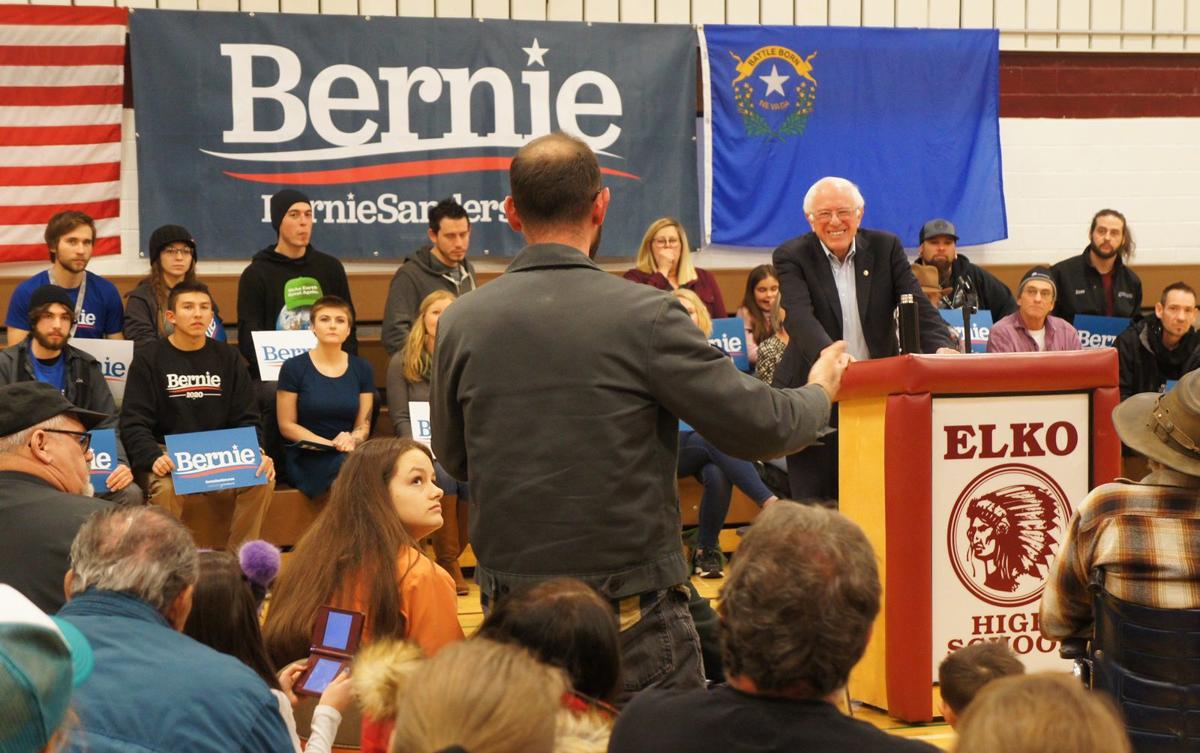 ELKO -- Bernie Sanders campaigned to a whistle stop crowd of 344 in the Elko High School gymnasium Sunday night, calling Trump the most dangerous president in the history of the world.
Attendees came from as far away as Salt Lake City to hear Sanders outline views and plans for education, health care, climate change, campaign reform, and the current incumbent.
"This president is a pathological liar running an extremely corrupt administration," Sanders said. "He's racist, sexist, a religious bigot, xenophobic -- but other than that, he's a pretty good guy."
Sanders said his campaign is not just about beating Trump, but about transforming the country so the system works for all of us, "not just the 'one-percent'."
The current political system is largely corrupt, Sander said, and run by billionaires promoting candidates who represent the wealthy and powerful.
"We're long overdue to have a government representing the working class of the country, not just the billionaire class."
Sanders said Trump's "ignorance" endangers the entire planet, by embracing "the mythology that climate change is not real, or caused by people. The debate is over: climate change is real."
The planet we're leaving our children is becoming "increasingly unhealthy and uninhabitable," Sanders said, and America needs to move aggressively while leading the world to solve this.
Sanders pointed to annual worldwide military spending of $1.8 trillion, suggesting instead "fighting our common enemy, which is climate change."
Sanders plans on creating 20 million jobs retrofitting old homes and buildings, based on the Green New Deal, and rebuilding the nation's infrastructure of roads, bridges, water systems and schools.
You have free articles remaining.
"We can no longer ignore the future of our country -- our children," Sanders said. "This is an issue we cannot run away from."
Sanders said he wants to end the War on Drugs, legalize marijuana federally, expunge records for possession, and end private prisons.
"Corporations should not make huge profits locking up Americans," he said, with our "broken and racist criminal justice system" incentivizing locking up more people for more profits. "We should invest in young people, in jobs and education, not jails and incarceration."
Sanders endorsed a "gun policy dictated by the American people, not the NRA," ending the sale and distribution of assault weapons, and closing loopholes for gun show sales and "straw man" purchases.
Sanders spoke widely on health care, addressing several attendees on that topic during questions-and-answers. On the scarcity of options for rural Nevadans, Sanders said insurance companies should "provide health care for people, not for profits."
Sanders, former Chair for the Senate Committee for Veteran's Affairs, told a veteran, "When people put their lives on the line, they have earned the best health care." Sanders said the VA is the biggest insurance provider in the country and "I don't want to see that privatized."
Allie Matthew came from Salt Lake to ask whether transgender health care would be included in Sanders' plan. "With Medical care for All, the word is All," Sanders said.
Matthew said afterward, "I've been for Bernie since 2016 and feel confident in him, having him represent me. It was great to speak my piece to him."
Isaac Barraza, in a t-shirt reading "Make earth great again," also drove out from Salt Lake for this "inspiring" experience. "I'm so glad we came out. I'm excited for him to be the next president. Forty-six will be a new leap over forty-five."
Paul Gregory was simply "tired and ready for a change."
Joy Wicks "resonated" with everything Sanders said, "And I have since 2016. I'm so glad he's still back in the running -- his integrity, his message hasn't changed. If you watch a video from 20 years ago, he's saying the same things he's fighting for now."
Sanders explained his "Us, not me" slogan. "No president, no matter how honest or well intentioned, can do it alone. Real change has never taken place from the top down, but from the bottom up."