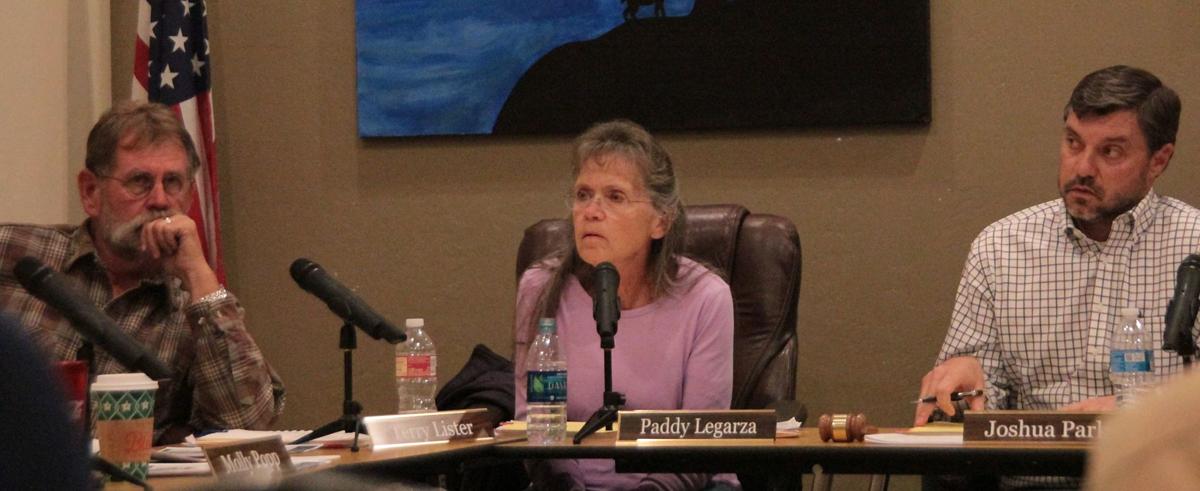 SPRING CREEK – The Spring Creek Association Board of Directors approved a raise in assessments to $2 more per month at Wednesday's meeting following a lengthy discussion of where those fees go within the homeowners association.
The motion to approve the budget and raise fees to $59 per month, $708 annually, passed 5-2, with Tract 200 Director Terry Lister and Tract 300 Director Pat Plaster voting against the increase.
The increase aims to balance the budget, with reports stating that the association needed $67,000, and the majority of it will go toward implementing a road preservation plan with new equipment and employees.
Last year, the board approved a $5 increase.
Roads and maintenance are one of the items that demanded the increase, along with competitive wages for labor, explained president and general manager Jessie Bahr.
Before the vote, some residents asked the board to consider those on fixed income and retirees who cannot afford more increases.
Lister said that for him as a resident and director, he has seen dues raised as much as $5, and thought that at the most, $1-2 increases were more reasonable for property owners on fixed incomes, especially a year after a large increase.
"I've always said Spring Creek's biggest problem is the income," Lister said. "They are too diversified to make everybody happy."
Chairman Josh Park explained that the way the association's original Declaration of Reservations were written more than 35 years ago did not allow for discounts or a reduction in fees to low-income owners.
However, it is difficult for property owners to see visible changes said Park, who expressed his regret in increasing the dues, but pointed to long-term benefits that would save money and possibly stave off future increases.
"If we don't raise assessments today, then we're going to continue to be behind the 8-ball," Park said.
Among some of the goals the SCA will consider in the coming year to provide long-term benefits is to purchase a single-operator dura-patch truck to repair pot holes, which would be a more efficient use of labor, Park said, along with establishing a separate salt and sand pile in Tract 200, which would help with efficiency.
"It slows down our productivity," Park said, describing the multiple trips that employees make to collect sand for the roads in the Vista Grande section. "It really is an exercise in futility, and the only way we can make that better is to raise the assessments responsibly."
"The return on that investment will be marvelous because we have infrastructure that works, and right now, we don't have infrastructure that doesn't work," Park said.
A lack of bringing the HOA up to speed over the decades also lent a hand in having to catch up on infrastructure; without strategic plans, replacement plans and reserves, the association has had to play catch-up, Bahr said.
"We're fighting 30 years of nothing," Bahr said. "It's been a process, and it will take years."
To learn more about the roads, a study was commissioned to learn which roads needed what repairs and how to efficiently spend money on certain areas rather than applying chip seal, said Park.
If the association had consistently raised property fees since its inception, dues could be about $71, according to a feasibility study by the Hansford Economic Consulting group completed in 2016 that looked into options for the association to become a municipality or find other revenue streams for the HOA.
Unfortunately, a study did not reveal any options to rely less on homeowner assessments, instead showing that costs would go up even more, said Paddy Legarza, Tract 100 Director.
"It didn't produce any fruit," Legarza said. "Other than $190,000 the county gives back to us, we get no tax money; no sales tax; no gas tax; no property tax. We purely operate on the dues because we are a homeowners association."
Although the turnout at the Nov. 14 meeting included 10 property owners, Park encouraged more residents to participate and attend the board meetings, stating that he himself once thought the due increases were too high for what little seemed to be done in the HOA and went toward amenities he did not use.
"Come to more meetings and be active," Park said. "Once you get involved you start to see the inner workings, and you see efforts of good, responsible people."
Get local news delivered to your inbox!
Subscribe to our Daily Headlines newsletter.