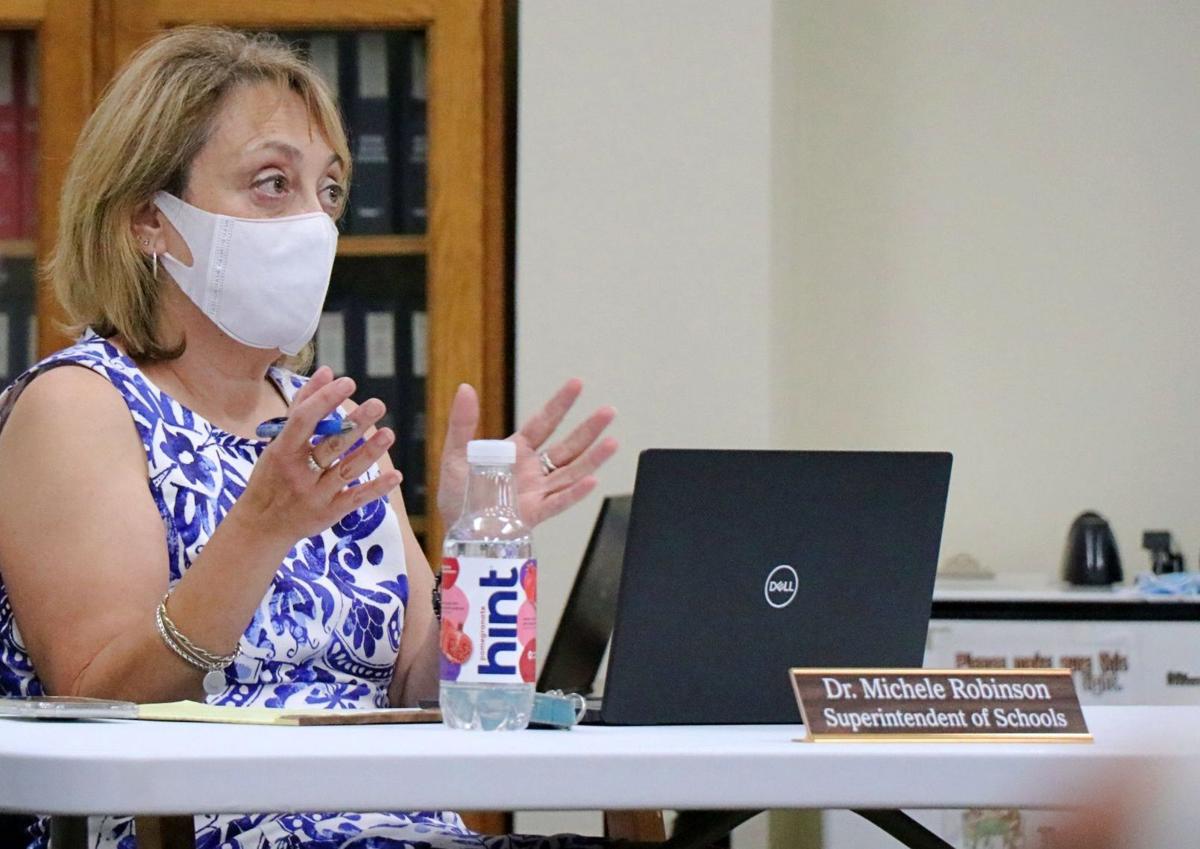 ELKO – For every question answered, a dozen more seem to pop up.
That was the assessment from the Elko County School District Board of Trustees Tuesday night as they wrapped up another meeting that modified the district's hybrid learning plan, in line with state directives.
The modifications included requiring face masks to be worn by students in kindergarten through 12th grade and faculty, staff and adults inside a school building; and reduced social distancing to three feet for elementary and middle school grades.
Board members Teresa Dastrup, Jim Cooney, Tammie Cracraft-Dickenson, Ira Wines and Brian Zeiszler approved the motion, with trustee Candace Wines voting against it.
Discussion on the modifications lasted an hour and included questions from parents and teachers about the face coverings, along with possible liability and union issues that could arise once the school year begins.
The hybrid learning module that is expected to begin Aug. 31 has children in an AB structure that cycles over a two-week period. Cohort A attends class Monday, Wednesday and Friday, and Cohort B attends Tuesdays and Thursdays on the first week.
The second week Cohort A attends Tuesday and Thursday, and Cohort B attends Monday, Wednesday and Friday.
"The Hybrid Learning Model provides for students to attend school following an AB rotating daily schedule with 50% room capacity or 50 students per room, whichever is less," according to the school district's plan.
Candace Wines cited the "confusing alternating schedule" for parents and teachers to find day care for their children as being a concern moving forward with the hybrid plan.
"I think most parents would much prefer to have their kids go the same day every week so there's consistency, and there's no confusion," she said. "I would strongly suggest the reopening committee would look at that again and tweak it because I think the schedule we have will not work well for very many people."
Superintendent Dr. Michele Robinson reminded the board that Gov. Steve Sisolak presented adjustments on July 28 that required revision to the learning models approved by the school board that night.
The regulations do allow for exemptions with medical documentation, Robinson added. There is also the ability within the directive to apply for a variance to bring in more students to the classroom under the 50% capacity requirement, which would be based on Elko County's transmission rates and virus case numbers.
It is an option the school district is exploring, Robinson said.
However, for "every one question answered, there are five or a dozen more," noted Dastrup.
Liability legislation
Toward the end of board's discussion, trustee Jim Cooney said he wanted to address "the 800-pound gorilla" in the room regarding Senate Bill 4 that excludes public and charter schools from liability litigation related to COVID-19.
"A student gets COVID-19, or is exposed to it, and takes it home to grandma, you start to get into the legal stuff with this," Cooney said. "I think we're hanging out there as a lone entity right now."
The school district's liability insurance company, POOL/PACT, contacted the school district Tuesday "and indicated there is no coverage for transmission of communicable diseases," Robinson said.
"[The company] indicated that, of course, we're going to follow, to the letter, the CDC guidelines and mandates that our governor has identified for us. This development makes that even more important that we do that," Robinson explained.
Another concern voiced was the time teachers would have to prepare in-person and online lesson plans and how that would vary between teachers who are employed in a five-day week school versus teachers in a four-day week school.
The Hybrid Learning Module's schedule for five-day schools is ABABA, and four-day schools is ABAB, which could pose a problem for teachers in relation to their contracts, according to Stacey Zeiszler, teacher and president of the Elko County Classroom Teachers Association.
She advised the board of the difference between four- and five-day schools and the teachers employed within them in regard to an additional prep day.
"You cannot have a four-day school week [teacher] be told to teach kids and then figure it out, and have a five-day [teacher's] and say 'You get an extra day to plan online.' We are now a school district that has a four- and five-day [week schedule]," Stacey Zieszler said. "You can't do that because that is considered an unfair labor practice."
"We've talked about additional solutions, as teachers would get additional time in their regular contract day. There would be some time to take care of that online stuff," Stacey added.
She recommended keeping the alternate schedule stipulated in the Hybrid plan to keep children in school more often. However, she explained a solution written into teachers' contracts was not yet finalized, as meetings are still ongoing.
"For our children's safety and education, I'm absolutely in favor of the alternating schedule. We see kids more, and we're not asking parents to put more of their time into an extra day of child care," Stacey said.
Ultimately, the goal is to "get back to having kids in the classroom as quickly as possible," Dastrup said.
Cooney added he understood the frustration felt by everyone involved, "but we're not driving the train."
"We're trying to do what's best for the kids and trying to make every opportunity for a great education available to them," Dastrup said toward the end of the meeting.
"Regardless of the circumstances around us right now, I have confidence everyone is going to make it happen," she said. "We're going to provide education for our kids, we're going to get through this difficult time, and we're going to move forward, but that does not take away the current frustration right now."
Get local news delivered to your inbox!
Subscribe to our Daily Headlines newsletter.