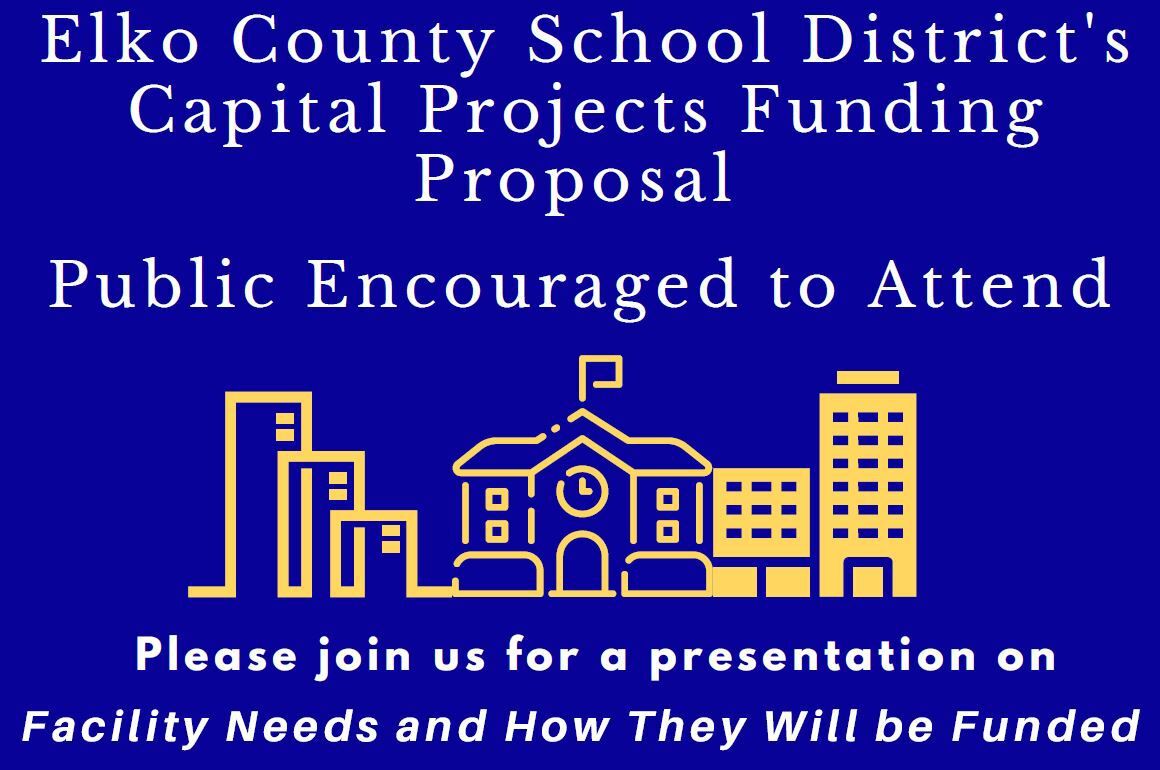 ELKO – The public will have an opportunity to learn more about the school district's bond proposal at a forum starting at 6 p.m. Sept. 21 at Elko High School's new science building.
Hosted by the Elko County School District, JNA Consulting Group will present information on past capital improvement projects, the district's facility needs and financing future projects.
The public is also invited to tour the new science building that opened for classes on Aug. 31.
Superintendent Jeff Zander explained the event is an educational program for the public. Those who attend will "understand the needs we have, the impact on the tax rate and why we converted a little bit away from pay-as-you-go and look at bonding now, which opens other avenues to get back to pay-as-you-go at some point in time at a reduced rate."
"This is in no way on the District's behalf to encourage passage," Zander added. "The school district can't advocate to support a tax rate. We can provide information only."
Pay-as-you-go, the 75-cent property tax levy, was not renewed by the voters in the 2020 general election. Since then, the school district has looked into other ways to finance capital improvements with the assistance of JNA Consulting.
The levy, which started as 25 cents and increased to 75 cents, is a portion of Elko County's $3.64 tax limit. Passage or failure will not affect the amount of taxes levied by the county overall, according to Treasurer Cheryl Paul.
In June, school board trustees voted to pursue a 50-cent bond for up to 20 years. A special election has been set for Dec. 14.
If passed, it would continue capital improvement funding when PAYG expires in 2022.
According to state law, voters must approve of any capital project funding plans for schools.
Since 1986, PAYG funded approximately $240 million in completed construction projects throughout Elko County, including new schools and remodels, mechanical upgrades, ADA upgrades, geothermal improvements and wastewater disposal, civil projects and fire alarm upgrades.
A list of capital improvement projects for the next 10 years is reviewed and approved by the school board annually.
Recent projects completed under the program include constructing the Elko High School science building and performing arts building, and a heating and air conditioning upgrade at Wells Combined Schools.
According to the current capital improvement list, Spring Creek High School's CTE (career and technical education) building, a new Elko elementary school, an expansion for Flagview Intermediate, and classroom expansions for five schools are on the list, including mechanical upgrades for five schools district-wide.
Board trustee and acting president Teresa Dastrup encouraged the public to attend the forum to learn and ask questions about the district's capital improvements list, funding and tax rates in light of calls for transparency by the community.
"For those who keep saying they want transparency [from the school district], this is a great opportunity for the public," Dastrup said. "Every year, we talk about capital needs in board meetings, but generally, people don't come and listen to the capital projects list which we talk about and is [on our website] in Board Docs."