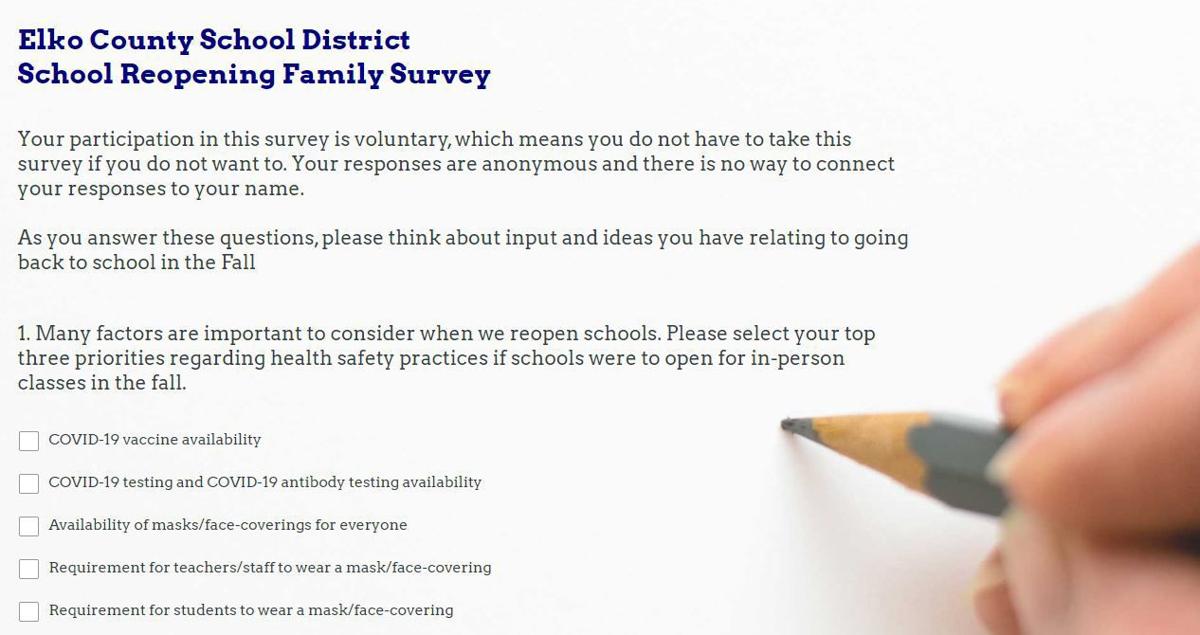 ELKO – Elko County School District asks families, students and staff for their input on reopening schools in the fall.
The surveys are located on the school district's website for parents, students and faculty, listing 10-12 questions.
Each survey asks for the participant's opinion on distance education, health and safety protocols, and remote learning challenges.
Students are asked to give their feedback on their learning experience this spring, while parents respond to questions about challenges regarding the last three months of the previous school year.
Both of those surveys are also in Spanish.
Faculty members are also asked to give their opinion on the successes and barriers of the final months of the 2019-2020 school year.
Posted on the school district's website on Monday, the surveys garnered about 900 responses in two days, said Chris McAnany. He is the chairman of the reopening committee and the Director of Secondary Education.
"It should be up for about a week to two weeks. It's a self-compiling survey so that all should be very good, very effective data that will help us create our plans as required by the Department of Education," McAnany said.
Assistant Superintendent Mike Smith told the Elko County School Board of Trustees on Tuesday night that the reopening committee will comprise three separate plans to return to school in the fall: in-person with health screenings, distance learning, and a hybrid of both in-person and distance learning.
The fully developed plans will be presented to the school board by the committee 20 days before school reopens, with the school board determining which plan to use when school starts in August.
"You have to develop all of them fully," Smith said, explaining that the in-person and virtual plans would be easy to develop, but the hybrid plan was going to be the most difficult to comprise.
"Where you get into very difficult dynamics is a hybrid blend where you have some face-to-face contacts [and] you have to maintain social distancing guidelines. How you do that with classrooms that are of 'X' area? You can only put so many kids in one of those rooms and maintain a six-foot social distancing distance. So [the committee has] some big hurdles," he said.
Trustee Jim Cooney voiced his concerns regarding student accountability for distance learning.
"I think we as a district need to have some well-planned out curriculum and distance learning opportunities," Cooney said. "It becomes the parents' responsibility at that particular time to ensure those kids are there for roll and doing the assignments instead of some of the things that I think occurred during the last three months."
McAnany said the committee was considering student accountability, particularly in the academic subcommittee.
On March 15, Governor Steve Sisolak closed schools to initially stem the spread of COVID-19 for one month, which was then extended for the rest of the school year.
The school shutdown was similar to getting "hit by a freight train in March," Smith said. "Nobody had any time to conceive of a school closure of three months and an immediate shift on the fly to a virtual school district."
Cooney said he believes the impact of those lost months of school would be felt for the next 12 years by students in the district.
"There's going to be a void, I think, in their education. It concerns me that as we look at alternatives if kids go to school only a partial week, the teacher's opportunity for contact time is reduced from 20% to 40% of what they would normally be able to do. That is totally unacceptable as far as I'm concerned."
Trustee Candace Wines agreed with Cooney and said she hoped the reopening committee would keep the guidelines reasonable and bring children back into the classroom, giving students with health issues options to attend class in a separate area or through distance learning.
"I think we have to expect that these kids need to come back at some point because every time somebody sneezes, we can't be shutting the whole school down," she said. "I would hope that this committee would really take that into consideration."
The Nevada Department of Education is assisting public schools and charter schools with reopening committees statewide called the Path Forward Programs of Distance Education.
In a statement released on Wednesday, Superintendent of Public Instruction Jhone Ebert provided districts and charter schools with the flexibility to schedule up to five additional professional development days during the 2020-21 school year for educators and staff.
These professional development days are above and beyond the five allowed currently, and must be used to address topics directly related to the COVID-19 response and recovery,
"Our top priority is to promote high-quality and accessible learning opportunities for all students – without regard to means, ability, or at-home support – while ensuring the health and safety of students, staff, and communities," Ebert said.
Get local news delivered to your inbox!
Subscribe to our Daily Headlines newsletter.