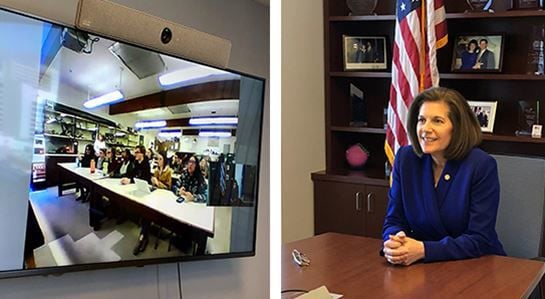 ELKO – Nearly two dozen Elko High School students participated in a video call with U.S. Sen. Catherine Cortez Masto, D-Nev., that discussed a wide range of issues and concerns facing rural students.
The junior and senior students met in EHS science teacher Kristin Birdzell's classroom on Friday to discuss Cortez Masto's bipartisan legislation to improve rural broadband access.
"They were excited to talk to [the Senator] and ask her their questions," ssaid teacher Kristin Birdzell. "It was a really good introduction to actual diplomacy and politics."
Cortez Masto spoke to students about the Broadband initiative. Afterward, students quizzed the Senator on a variety of topics ranging from her daily schedule to her positions on protecting women's rights and red flag laws.
They also discussed their concerns about decreasing rural education funding, stagnant middle-class wages and legislative deadlock in the Senate.
Birdzell said she is using the Senator's call as an introduction to government and public policy.
"I have spent significant time [with the students] discussing the complexities of political positions and what our elected officials do and do not have control over, especially as individuals," Birdzell explained.
Birdzell currently serves on the Senator's Military Academy Nomination Committee and was contacted by the Senator's staff for the video call.
"It was all set up in a matter of about two days," Birdzell said. "When she decided she wanted to speak with rural students, one of her staffers asked if I could help set it up."
Birdzell consulted two social studies teachers to offer students the opportunity to participate in the video call with the Senator.
Friday's video call was part of the Senator's Connected Rural Schools Act would add broadband and other internet accessibility technologies to the list of items eligible for federal funding through the Secure Rural Schools (SRS) Program.
"Twenty-first century technology makes it possible for me to video teleconference with students about the issues that matter most to them, but the reality is that Congress still has work to do to improve broadband access for students in rural communities," said Cortez Masto. "That's why I'm doing everything I can to improve rural broadband and school connectivity and provide students in Elko and across Nevada with the tools they need to reach their full educational potential."
According to Cortez Masto's office, 220,000 Nevadans lack access to adequate broadband, and 100,000 Nevadans live in areas without wired internet.
This week, she introduced the Connected Rural Schools Act to enable federal investment in improving broadband for students across Nevada. Earlier this year, she introduced the Access Broadband Act to better coordinate federal broadband resources for businesses and underserved urban and rural communities in the Silver State to ensure dollars reach the areas most in need.
The Senator has also cosponsored other bills to expand broadband services and connectivity:
The Broadband DATA Act to improve the accuracy of the Federal Communications Commission's (FCC) broadband availability maps.
The Digital Equity Act to create new federal investment in programs that promote digital equity, including broadband expansion projects that move us toward digital access for all Americans.
The Moving FIRST Act to provide funding for innovative transportation projects that often include broadband developments in underserved urban and rural communities.