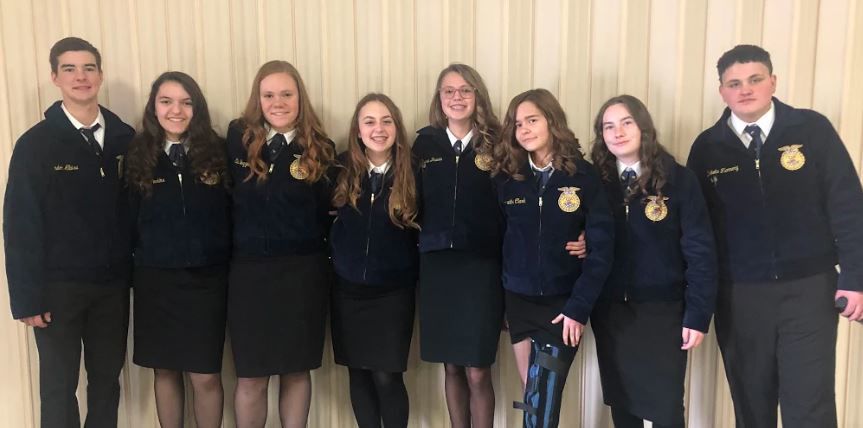 SPRING CREEK — On Feb. 4 Silver Sage FFA attended the Northern Zone Competition. This contest allows students to get formal practice before the State Competition in March. It gives Greenhands (first year ag students) an opportunity to see what the contest is all about and how they must prepare for this competition and what is expected of them.
In every CDE (Career Development Event) and LDE (Leadership Development Event), competitors got a chance to run through their competition and see where they stand on their knowledge and skills. After the members competed, Battle Mountain Recreation Center was kind enough to open their doors to our members in order for them to have a little fun.
You have free articles remaining.
Members of Silver Sage FFA got the opportunity to attend the Winter Leadership Training here in Elko the 11th and 12th of February. Here members get to meet people from all over the state, develop leadership skills, and learn new strategies. We were excited to attend and our members grew into better leaders from this experience.
Silver Sage FFA will be holding a Pet Adoption Drive for the animals at the shelter until Feb. 21. Other extracurriculars at Spring Creek High are also helping with the drive including Key Club, FBLA, Student Council, National Honor Society, HOSA, and Skills USA.
There will be drop boxes for items that the shelter or those who are adopting the animals are in need of. Drop boxes are located at the office at Spring Creek High School, CAL Ranch, and IFA for the collection of the donated items. The shelter is asking for: blankets (no quilts just fleece), dog toys (no stuffed animals unless small cat toys), dog food (Purina is what the shelter is requesting and that it be labeled), and dog and cat treats. Any donation will be beneficial to the shelter and families adopting so please donate.
February 24-28 is National FFA Week. FFA members from all over the nation celebrate this great organization. Silver Sage FFA will have numerous activities throughout the week. Activities include opportunities for members to earn community service hours, fun game nights, lunch activities, and a parent meeting for the State Competition that everyone has been looking forward to since day one of studying their CDEs.