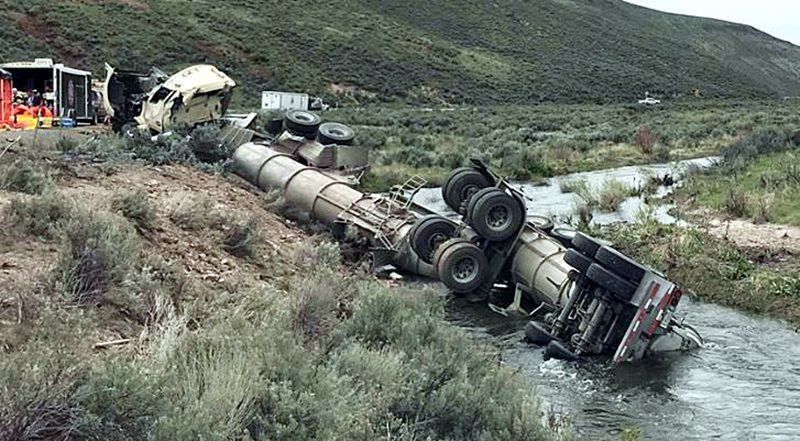 ELKO – A truck hauling sulfuric acid to a northeastern Nevada gold mine tumbled into Maggie Creek on Wednesday, spilling thousands of gallons into the stream but resulting in only minor injuries to the driver.
The spill about 7 miles north of Carlin blocked traffic to mines and prompted officials to clear people and livestock downstream.
The accident was reported at about 2:15 p.m., according to the Eureka County Sheriff's Office.
"Upon our arrival, we found a Cecil Trucking, double tanker semi was involved," said Sheriff Jesse Watts. Initial investigation shows the driver, Hilberto Medrano, was traveling north when he failed to negotiate a curve and ran off the shoulder.
Watts said Medrano lost control of the semi, which caused it to tip over and roll down the embankment, into Maggie Creek.
Nevada Division of Environmental Protection spokeswoman JoAnn Kittrell said about 5,600 gallons of sulfuric acid spilled into the stream after one of the tankers ruptured.
No drinking water sources were expected to be affected but fish were likely to be killed by the acid, despite high stream flows that were diluting the spill as it headed toward the Humboldt River.
Medrano was transported to Northeastern Nevada Regional Hospital via ambulance, where he was released with minor injuries. The truck was traveling to Barrick's Goldstrike mine when the accident occurred.
You have free articles remaining.
A Barrick emergency response hazmat crew worked to contain and clean up the spill, assisted by an emergency response team from Newmont Goldcorp and under the direction of the U.S. Environmental Protection Agency.
Barrick's chief operating officer for North America, Catherine Raw, said the safety of Barrick's employees, neighbors and environment was its top priority.
"We are grateful that there were no injuries and want to thank the emergency response teams for their swift action," she said. "Barrick and the transport company will work in cooperation with regulators and will continue to monitor the area. We will also take steps to help our contractors avoid similar incidents in the future."
Nevada Highway Patrol's troopers and commercial unit were handling the crash Investigation, according to Watts.
B.J. Cecil Trucking is based in Arizona, and calls itself one of the largest hazmat carriers in the West.
"B.J. Cecil Trucking is fully insured for this incident and we expect that our insurance company is doing what needs to be done to take care of the matter," said Jim McDougall, safety manager. "We contacted an emergency environmental company shortly after the incident occurred who is actively working with B.J. Cecil Trucking and state and federal authorities to rectify the situation. We are sorry that this happened."
Maggie Creek is home to the Lahontan cutthroat trout, listed as a threatened species, but most of the fish in the lower part of the stream are smallmouth bass, according to Nevada Department of Wildlife spokesman Joe Doucette.
"It's going to kill fish," he said, "but with the water we've got flowing down there it should be diluted soon."
Stream levels are high this time of year because of snowmelt.
Doucette said some of the acid will likely reach the Humboldt River a few miles downstream but any fish kills there should be minor.