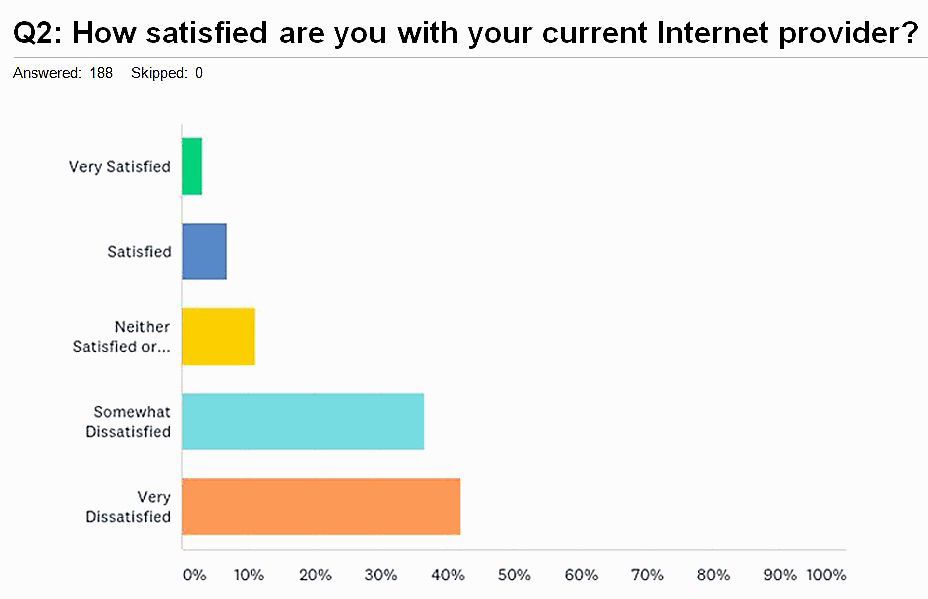 ELKO – Elko Broadband Action Team is surveying residents and businesses about broadband services, and the preliminary results show problems with service interruptions and slow internet speeds.
The broadband team is looking for more survey participants. Elko Councilman Reece Keener, who is on the team, said the Elko Chamber of Commerce is involved. Those living in Elko can take the survey by going to the City of Elko website, looking under "recent news" to find the link.
The Spring Creek Association has the survey for Spring Creek residents, Keener said. Spring Creek residents have complained about poor internet and phone service, and the Attorney General's Bureau of Consumer Protection received complaints last year after soliciting feedback at a consumer session.
"We'll probably be collecting data until at least mid-April," Keener said regarding the survey. "This is really about getting as much participation as we can."
JoJo Myers Campos, state broadband development manager with the Governor's Office of Science, Innovation and Technology, said her office designed the surveys for Elko and Spring Creek to "provide an information base" to present to potential broadband providers.
"Spring Creek will have a separate plan" for improving internet services because of its location, she said. "When we looked at Elko County, we decided to separate out Spring Creek and form separate strategies, therefore working with two directives to accomplish one goal."
The early survey results of businesses as of March 27 had 64 responses shows that nearly all of them used Frontier as their internet provider, and 42.19 percent, or 27 respondents, said they were very dissatisfied with their current Internet provider. Twenty-four respondents said they were somewhat dissatisfied, while four said they were neither satisfied or dissatisfied, seven said satisfied and two said very satisfied.
The residential survey involving 188 respondents showed that 149 of them used Frontier for internet service, while 24 used Rise Broadband, five used SatView Broadband, two used Century Link, one used Beehive Broadband, one used HughesNet and one had no service.
Seventy-nine of them, or 42.02 percent, said they were very dissatisfied with their Internet provider, while 69 were somewhat satisfied, 13 were satisfied and six were very satisfied. Twenty-one respondents were neither satisfied or dissatisfied.
Reasons in the residential survey for dissatisfaction included: too slow, 74.43 percent; service interruptions, 72.16 percent; not receiving advertised speed, 63.64 percent; price, 42.05 percent; customer service, 38.07 percent; unavailable, 17.05 percent; and other, 15.34 percent.
Businesses reported reasons as service interruptions, 79.69 percent; too slow, 65.75 percent; not receiving advertised speed, 59.36 percent; customer service, 45.31 percent; price, 37.5 percent; unavailable, 18.75 percent.
According to the survey, 86.7 percent of residents said they frequently experience buffering or delays or interruptions while watching streaming video.
Businesses reported on how frequently they experienced interruptions and delays while conducting work, and 60.94 percent said daily, 23.44 percent said weekly, while 14.06 percent said monthly and 1.56 percent said never.
In answer to the survey question "would you be interested in faster download and upload speeds at prices that are somewhat comparable to what you are paying now?" 97.87 percent of residential respondents said yes.
Businesses were asked if they are interested in options to upgrade from their current internet speed, and 95.31 percent said yes. They were also asked how many devices in their businesses are online, and 28.13 percent said one to five, 25 percent said 11-15, 23.44 percent said six to 10, 17.19 percent said more than 25 devices, and 6.25 percent said 16-25.
Asked if they would move more services to the cloud if they had more reliable internet services, 65.63 percent of businesses said yes, 34.26 percent, no, according to the preliminary survey results.
The survey also asks how higher internet speeds would help residents, and they could pick more than one answer. Streaming video drew 86.7 percent; enhance home-based business or working from home, 55.85 percent; online shopping, 50 percent; completion of children's homework, 40.96 percent; gaming, 29.79 percent; and online healthcare, 23.4 percent.
Residents asked whether the city and Elko County should undertake efforts to attract better broadband service responded with a definite, 97.87 percent in favor. Businesses were 100 percent in favor.
"A critic would argue that these are not scientific surveys, and my answer would be that the responses are so highly correlated between the two surveys that it really lends a lot of credibility to the results," Keener said.
Myers Campos said Keener is her point person for Elko. Her team of five comes to Elko every month for meetings to which potential providers are invited.
"Increasing the digital footprint will help all industry sectors and create better opportunities for both commercial business and residents for Elko and the Spring Creek areas," she said.
Elko and White Pine counties are the focus of a "whole community approach" from the state team, Myers Campos said. Both counties have action teams, and her office designed a similar survey for White Pine County.