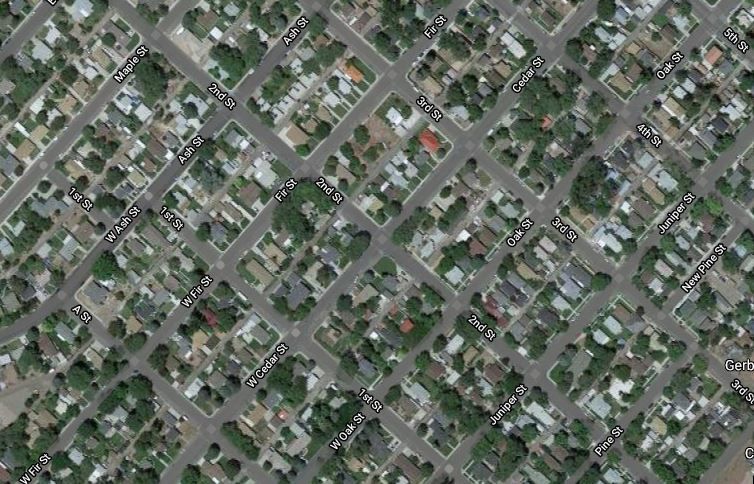 The Elko County assessor's office mailed notices of assessed valuation to property owners throughout Elko County in mid-December, and those who took the time to look over the notice may have seen that the assessed value of their home went up quite a bit this year – in some cases 6 or 8 or even 10 percent.
Elko County Commissioner Rex Steninger said last week that he and Commissioner Delmo Andreozzi have been getting calls from people who are upset about the increase.
"Both Delmo and I have been getting calls about that, because people aren't happy," Steninger said.
Elko County Assessor Katrinka Russell will be at this week's county commission meeting on Jan. 22 to talk about the assessments and the changeover to the new assessment software the county is using. People are welcome to come to the meeting to learn more and ask questions. The meeting starts at 1:30 p.m.
The deadline to appeal assessments to the Elko County Board of Equalization is Jan. 15 each year, so this year's deadline has passed, but Russell said the assessor's office will still work with property owners to correct any errors.
The tax capOne important point to keep in mind is that no matter how much your assessed value goes up, in most cases your property tax cannot go up more than three percent because of the cap put in place by the state Legislature. That means that even if the assessed value of your house went up 10 percent this year, when you get your property tax bill in 2020 you will see your tax has gone up by three percent.
The three percent cap on property taxes is not automatic. When someone purchases a home, they get a letter from the county assessor's office which needs to be returned to the office in order to claim the three percent cap. People who own more than one property in Elko County can only claim the three percent cap for one of their properties.
A lot of people do not remember if they returned the letter when they purchased their home, but Russell said most people in the county actually have claimed their three percent property tax cap.
"We had a lot of phone calls, because I just put it out on Facebook about that," Russell said last week. "People were saying, I need to sign my owner-occupied card. But most had already signed up."
If you want to check whether your property is under the three percent tax cap, you can contact the Elko County assessor's office at assessor@elkocountynv.net or call 775-738-5217.
There are some cases in which property taxes will go up more than three percent. If you do new construction on your property, the new construction is outside of the three percent cap for that one year. If the county or a city approves a new tax — which does not happen often — that new tax will be outside of the of the three percent cap for the first year.
This happened two years ago when the Elko County commissioners approved a tax of 25 cents per $100 of assessed valuation on properties in unincorporated areas of the county to help fund operations of the Elko County Fire Protection District. This meant many property owners in unincorporated areas of the county saw their property taxes go up around nine or ten percent in 2018.
Properties not covered by the three percent property tax cap are still under a larger property tax cap. The amount of that larger property tax cap is set by the state each year, and it cannot exceed eight percent. This past year the cap was set at 5.2 percent.
Russell said the property tax caps were put into effect for Nevada in 2005 because Washoe County and Clark County were seeing big increases in their property values. Elko County was not seeing those big increases back then — although there was a big statewide rise in construction costs in 2005 — but this year, with some big increases in assessed values for property owners in Elko County, the property tax caps could be important for many people here.
Reasons for the increasesThere are several reasons for the unusually large increases in assessed values for some properties in Elko County this year. The county assessor's office is in the process of changing to a new software system, and in some cases there may have been errors in the data in the old software which are now being corrected, and in some cases an error may have been made when the data was transferred to the new software.
Also, the assessor's office is increasing the property values in some parts of the county this year after many years of keeping the property values at the same level. On top of all that, the assessed values were going to be going up this year in any case, because there was a fairly big increase in the construction and labor costs which are used to calculate a building's taxable value.
Elko County Commissioner Jon Karr said with the talk of the increases in assessed values this year, this is a good time for people to review their property tax information.
"I think it's a good time for people to really look at their property tax and go, hey, wait a minute, did it jump up, and also, what are the numbers on there … Don't just blindly believe whatever the appraisal has been for 30 years, let's just assume it's gone up, it's incremental, and we're all good."
Karr also said that if your property assessment went up this year because of an error that was made in the changeover to the new software, Russell and the staff at her office are hard at work and will be taking care of the problem.
"If there is a problem," Karr said, "please don't get overly excited about it. It will get fixed, and it is in the process of getting fixed. Katrinka's all over it."
Karr commented that other counties in Nevada have also switched to the new software and he has heard many of them are having a difficult time checking for errors because they have last year's data on a different platform.
"We have last year's data … on the same database, so it's pretty easy to do a crosscheck and see what happened," Karr said.
"I have a huge spreadsheet here," Russell said last week. "It's going to take some time to go through. … We have over 44,000 parcels in Elko County. We're going through them one by one. I have 26,892 left. I'm checking them all."
"We are going through each property," said Janet Iribarne, the county's chief appraiser. "Especially those that had large increases percentage-wise to see why they went up. Most of them so far have had new construction on them. We have had some errors from the software.
"But we are encouraging everyone to check your assessment notices, call us, let's go over your files. We can double check and make sure each individual person's is done correctly."
Iribarne commented that one difference with the new software is that it communicates directly with the Marshall & Swift Valuation Service, whereas the old software did not.
"Our old system was antiquated," Iribarne said. "It wouldn't talk directly with Marshall & Swift, so they had set up some tables so it could work. There were errors we have found in that software. The old software was not as accurate."
The old software was more than 20 years old.
Russell said the new software is catching errors in the data that the old software did not catch.
"If a component is missing, the old system didn't alert us to that fact," Russell said. "It would go ahead and just run the appraisal. The new system does not allow that to happen."
Sometimes correcting missing components from the old system has resulted in increases in assessed values.
Although the new software is correcting errors which were perpetuated by the old software, there are also a variety of errors which have resulted from the transfer of data to the new system, and these are being corrected.
"We will be sending out corrected assessment notices," Iribarne said. "We usually send them out in June, but this year we may be able to send them out when we make the change."
Check your assessment information
You can find a lot of information about your property on the county assessor's website. First, it's best to get your property's nine-digit parcel number. It is on the notice of assessed valuation which was mailed in December. If you don't have that, you can look up your parcel number by going to elkocountynv.net/departments/assessor1/tax_roll.php#. Click on 2020-2021 and scroll through the complete list of Elko County properties to find your name. Once you have your parcel number, go to elkocountynv.net/public_record/index.php, click on real property, enter your parcel number and click "search."
You can look at all the information about your land and your buildings to make sure everything looks accurate. You can also look at information going back through 2001 to check if information about any new construction is correct, and you can see if the changes in assessment values and in your property taxes make sense.
You can also look at lists and pie charts which show where your property taxes go each year. The breakdown varies depending on where you live, but you may find that roughly half goes to schools, about 20 percent goes to the Elko County general fund, and the rest goes to a long list of funds.
When you look at your assessment information, look at the taxable value and make sure it is less than what you would be able to sell your property for.
"There's a law, and we're very conscientious of it in our office—taxable value cannot exceed market value," Russell said.
In many cases, the taxable value on your assessment notice is going to be well below what you could sell your house for. But if you believe the taxable value is higher than what you could sell your house for, you should contact the Elko County assessor's office.
"That definitely merits a phone call," Russell said.
A property's assessed value is 35 percent of the taxable value, and the assessed value is multiplied by the tax rate to determine the taxes on a property – although, because of the tax cap, if this amount is more than three percent higher than last year's taxes, your property taxes will be set at three percent higher than last year's taxes.
The tax rate is set each spring by the Nevada Tax Commission based on the budgets submitted by the county and the municipalities within the county.
The taxable value is the total of the value of your land and the buildings on your property. The value of the buildings is the replacement cost new, minus 1.5 percent depreciation for each year of age of the building. The new replacement costs are based on the size of the building and the costs of materials and labor.
"We put all the info in, it gives us a value, and that's what we have to use according to Nevada state law," Iribarne said.
The material and labor costs generally go up each year.
"You rarely see property taxes on the structure coming down, because even though it's depreciating, that cost of labor and material outweighs the depreciation," Iribarne said.
The land value on an assessment is based on the market value of similar vacant land sales in the area, along with other market information.
If you have property in Spring Creek and look through the annual assessment information on your property, you may find the value of your land stayed the same for 10 years, and now the land value has made a big increase in the 2020 assessment. Iribarne said this is because there have been a lot of land sales in the Spring Creek area in recent years, and they now have more sales data to work with.
"We don't like to increase any values here in our office; we like to keep taxes as low as we can," Iribarne said. "But we also have to obey the law, and when we do the analyses and they do show that we have valid sales that are higher than our land values, we have to increase them."
Iribarne also said the new software is more user friendly in keeping track of land values, so probably from here on out the land values in the assessments will make gradual annual changes rather than staying the same for many years and then making a big jump. Some years the land values in the assessments may even go down a little.
On this year's property information you may find your land value is listed in the agricultural column rather than the residential column. Iribarne said this a mistake which is being corrected.
The people in the county assessor's office do not spend all their time pouring over spreadsheets and feeding data into software. There is also a team of appraisers who travel the county checking on properties. Each parcel of property in the county is physically reappraised every five years. The county is divided into five sections, and they do appraisals in a different section of the county each year. This year they will be working in the southwest corner of the county. The appraisers also visit parcels throughout the county which have had improvements or other changes.
"We have six appraisers in this office who cover the whole county," Iribarne said. "It's a big county. We work really hard. We have a really good crew."
If you have questions or concerns about your assessed valuations, contact the Elko County assessor's office.
"I have an open-door policy here," Russell said. "All of my employees and I believe in that. We'll help anybody who walks in the door, or has a question, or wants to look at their values."
One other point Russell wanted to emphasize is that exemptions are available for veterans, disabled veterans, surviving spouses, or blind people which will save money on property taxes or at the Department of Motor Vehicles.
"I'm always looking for veterans or surviving spouses to sign up for an exemption," Russell said. "If you haven't signed up for your exemption at the assessor's office, come in and find out about it."
Get local news delivered to your inbox!
Subscribe to our Daily Headlines newsletter.