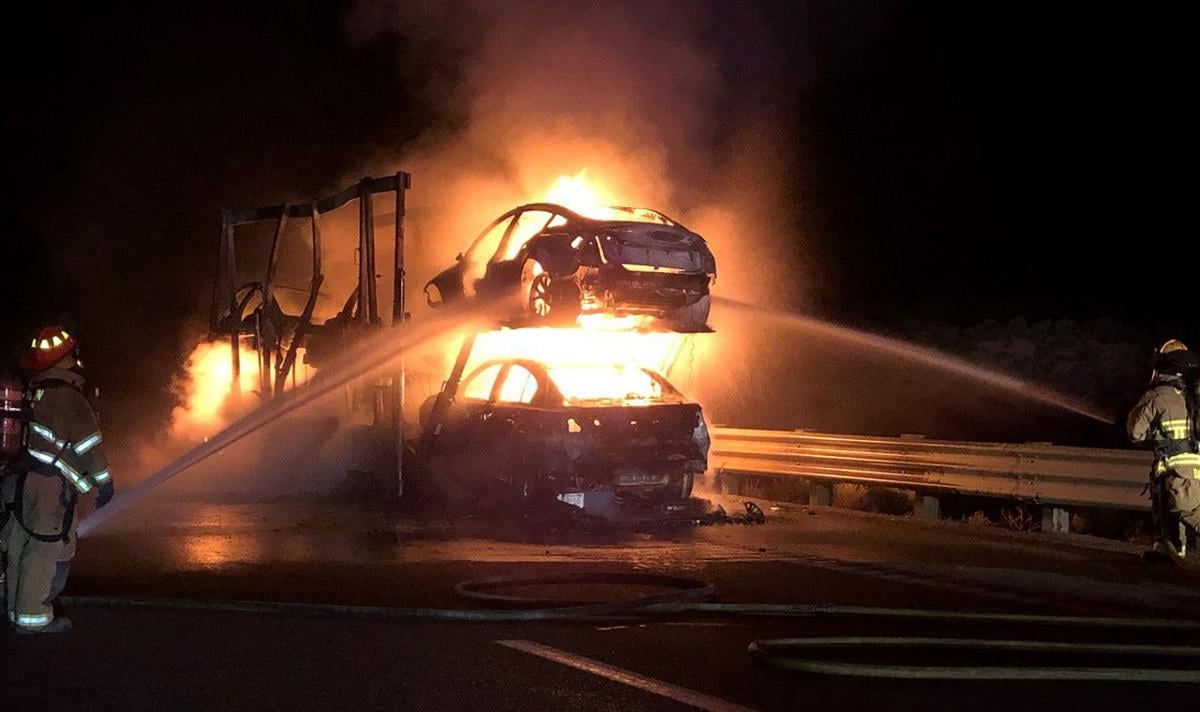 ELKO – A truck hauling electric vehicles caught fire Tuesday night on Interstate 80 near Carlin, forcing the Nevada Highway Patrol to close the freeway to eastbound traffic. The incident was called in at about 9:10 p.m.
The tractor-trailer was hauling two trailers of vehicles, and the fire started in the rear trailer carrying five Tesla vehicles and one Subaru, according to Linda Bingaman of the Elko County Fire Protection District.
Carlin volunteer firefighters were the first on the scene, and they found multiple cars were fully engulfed in flames when they arrived.
The driver was able to separate the rear trailer and move the truck and first trailer out of harm's way, but all five Tesla vehicles plus the Subaru were a total loss, as well as the trailer carrying them.
According to a Tesla spokesperson, the cause of the fire was related to the carrier truck, not to the vehicles on the truck.
NHP closed the eastbound lane of the freeway just west of Carlin in order to clean up debris. Work continued into the morning.
Flames spread to the median and to the wildland area south of the interstate, Bingaman said. Also damaged were some guard rail posts that were directly next to the vehicle.
Firefighters from the Nevada Division of Forestry and Beowawe, Crescent Valley and Spring Creek volunteer fire departments also responded to the blaze.