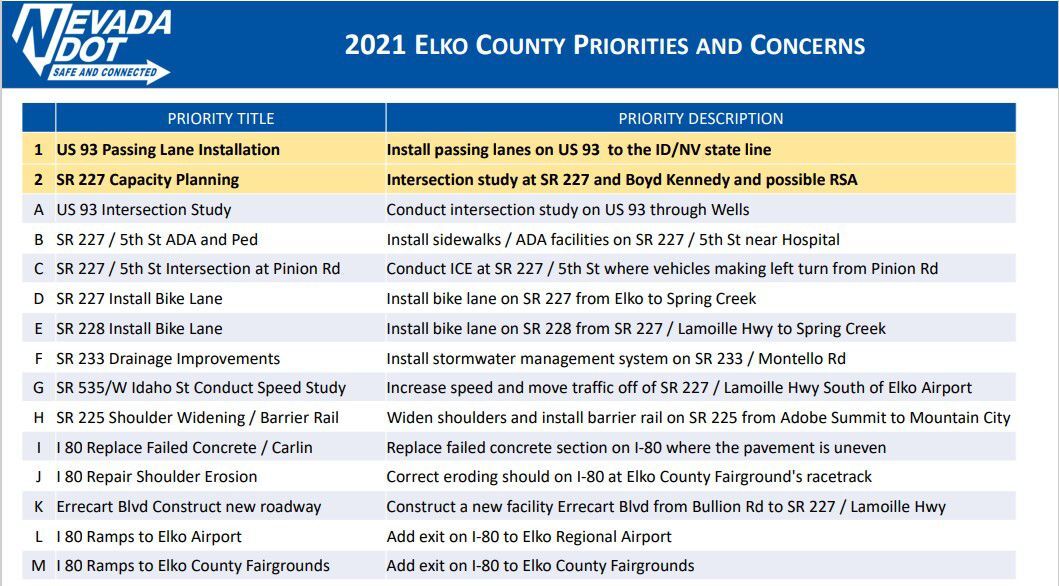 ELKO – Nevada Department of Transportation has awarded an $8.8 million contract for the construction of roughly six miles of passing lanes north of Wells on U.S. 93, and Elko County Commissioners have asked NDOT to keep them on as a top priority for the future.
"We have a contract awarded to Granite Construction," NDOT's Elko district engineer Boyd Ratliff said Thursday.
The north and south passing lanes will be between mileposts 101 and 107 just north of the HD Summit and just north of the turnoff to the Winecup Gamble Ranch, which is in an area where NDOT already has the right of way, he said.
"We've identified at least four locations on U.S. 93 north of Wells that will be done in different phases," Ratliff said.
NDOT Deputy Director Cole Mortensen told Elko County Commissioners Wednesday that passing lanes are costly projects, so "the best way is to phase them." He also said construction would start in the spring.
Commissioner Cliff Eklund said the passing lanes planned are needed because "there has been a dramatic increase in traffic" on U.S. 93, with truckers coming from Las Vegas and headed to Idaho. He said there is a need for a larger project.
"I think eastern Elko County feels U.S. 93 is very important, and I suppose you understand it," Commissioner Wilde Brough told Mortensen. Brough said by phone earlier this week that US. 93 is crucial to economic development in eastern Elko County and "it's crucial to all of the eastern side of Nevada."
"We're well aware of the demand and the need for it to be improved with the increased truck traffic," said Mortensen. The Chobani yogurt plant in Twin Falls is one reason for the heavier truck traffic, he said. U.S. 93 also is heavily traveled by people traveling south for the winter in campers and motorhomes.
"I know a great number of people have perished on that part of the highway," Commissioner Delmo Andreozzi said. Chairman Jon Karr said U.S. 93 "is getting worse and worse."
Mortensen said NDOT staff also is evaluating U.S. 93 south of Wells and all the way to Las Vegas.
Second priority on the NDOT list is an intersection study of Lamoille Highway and Boyd Kennedy for a possible roundabout near Spring Creek High School, and commissioners talked about other projects they see as important.
Their motion was to approve U.S. 93 passing lands and the Lamoille Highway intersection study as the two NDOT priorities, but the motion also urges planning a divider or barrier on Lamoille Highway, and supports a joint project with the city, NDOT and Elko County School District for a route from Errecart Boulevard as a secondary route to Spring Creek.
Commissioner Rex Steninger said the Errecart Boulevard project needs to be moved up on the list because the traffic heading to Spring Creek between 3 p.m. and 5 p.m. is "horrible, almost non-moving at times."
Ratliff said Thursday that the only portion of the Errecart Boulevard proposal that would involve NDOT is an intersection at Northeastern Nevada Regional Hospital, but NDOT is willing to partner on the project.
Andreozzi said the proposal for a secondary route to Spring Creek involving Errecart Boulevard has been around for 20 years.
He also said the proposal for an interim solution for Lamoille Summit – a divided highway or barrier – would be for the bottom of the summit to the top, and "I just want to be sure that idea doesn't get lost as we move forward."
Another project that Andreozzi promoted and was included in the commissioners' motion also is not an NDOT project. Andreozzi wants an emergency access at White Rock Road, and Ratliff said that would be a county project.
"We would partner with them for sure but it would still be their project," he said.
Another project on the list is for widening the shoulders and installing barrier rail on Mountain City Highway from Adobe Summit to Mountain City.
Mortensen said in his presentation via telephone to the commissioners that NDOT is $550 million under-funded for road projects in the state, and "our revenue sources don't keep up with the need."
NDOT's report also included a list of projects completed in 2020 in Elko County, such as an added truck lane on Interstate 80 at Pequop and asphalt paving on a section of I-80 between Elko and Wells.