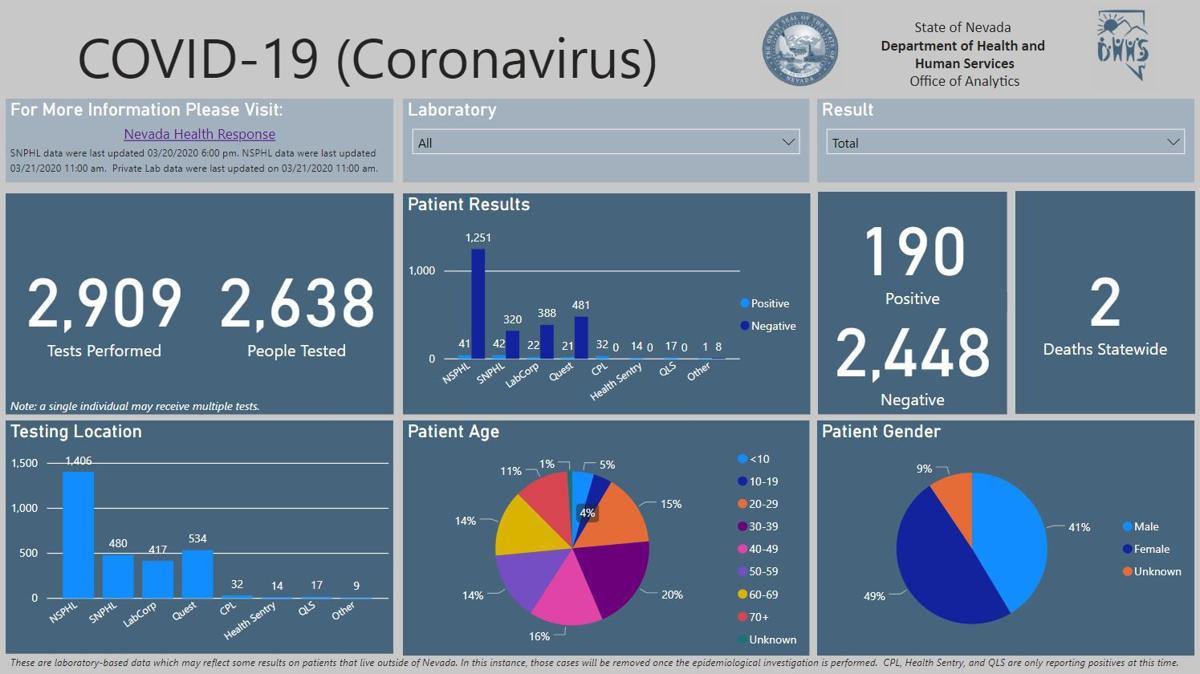 The number of coronavirus cases in the state jumped from 109 on Thursday to 190 on Saturday, according to data posted by the Nevada Department of Health and Human Services.
The Washoe County Health District announced three new cases on Saturday: a man in his 20s who recently traveled internationally, a woman in her 60s who is a contact to a known case, and a woman in her 50s who recently traveled domestically.
ELKO — A second coronavirus case has been reported in Elko County, the city and county have been given authority to shut down non-essential businesses, and Gov. Steve Sisolak has released grim projections about what will come next as the number of cases in Nevada topped 100.
The latest patient is a male in his 40s with recent, extensive, international travel history. He is self-isolating at home. The first case was a female in her 30s who has no underlying medical conditions. Both were tested March 16 after feeling symptoms.
"If a patient's travel history dictates a notification to passengers that are not Elko County residents, this is determined and coordinated through the Centers for Disease Control and Prevention," stated a release from Elko County.
Sisolak issued a new directive Friday that orders "non-essential" businesses to close their doors to the public.
"Previously, I asked non-essential businesses to close their doors to the public. I am no longer asking them to do that," said Sisolak. "I am directing all non-essential businesses to close. I repeat. If you are NOT an essential business, I am using my power as Governor under an emergency declaration to order you to close. I am signing a new emergency directive, the third I've signed since declaring a state of emergency."
The City said that by signing the emergency directive, the governor is granting local governments the authority to impose civil and criminal penalties for businesses that defy it. As such, The City of Elko Police Department, City Attorney and City Clerk are urging compliance.
A copy of the Emergency Directive has been posted on elkocity.com for review.
Las Vegas also began enforcing the directive over the weekend, according to the Las Vegas Review-Journal, after the city attorney initially said Sisolak's order was unconstitutionally vague.
As of Friday evening, Nevada had 154 cases and two deaths, according to data collected by The Nevada Independent.
The governor stated that "we don't have to guess what comes next: the rapid increase in positive cases will continue, the number of cases aren't slowing down, and we have not yet reached our apex." He indicated that Nevada does not have enough test kits and there is "an indefinite backlog" of future shipments from the federal government. "This is our unfortunate reality, Nevada."
Sisolak also said hospitals may not have sufficient capacity to handle the expected number of cases.
"Nevada's health system will not be able to handle an excessive increase in patients all at once without rapidly straining resources," he said. "… Let me be clear, if we do not do everything we can to slow this virus, hospital beds will soon be completely filled with COVID-19 patients. There will be no beds to set broken bones, treat heart attacks or use for other necessary medical procedures."
He also addressed concerns related to the economic impact.
"Some are saying these actions will devastate our economy, but for a state that relies this heavily on visitors, the impacts are inevitable. It's happening whether we want it to or not."
In response to the latest statements from the governor, Elko County announced that a "triage hotline" would be set up by the county to help centralize information and give residents directions.
Concerned about COVID-19?
Sign up now to get the most recent coronavirus headlines and other important local and national news sent to your email inbox daily.