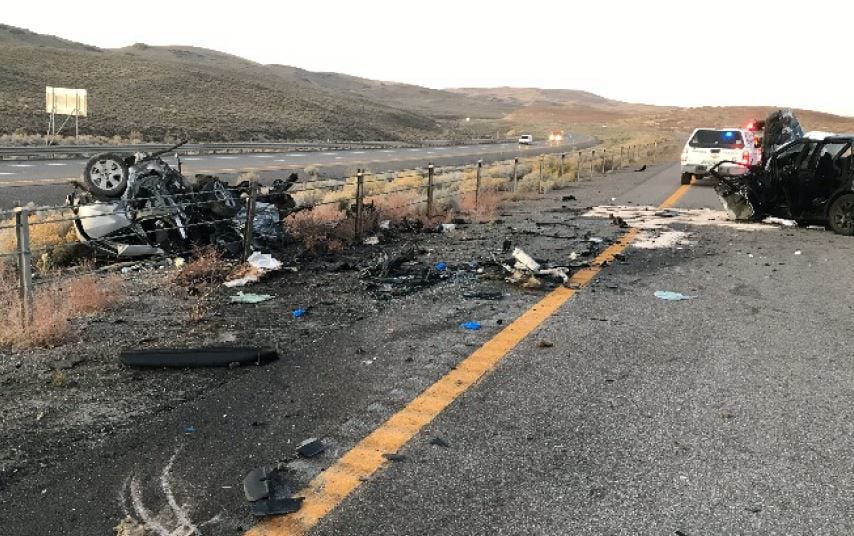 ELKO – A Nevada man was killed and two Montana residents seriously injured in a head-on collision early Friday morning on Interstate 80 just west of Carlin.
The crash occurred in the westbound fast lane at about 3:15 a.m., according to Trooper Jim Stewart of the Nevada Highway Patrol.
A Nevada driver who was not carrying any identification was driving east in the westbound lane in a Ford Focus that did not belong to him, Stewart said. The car collided with an SUV being driven west, just west of the Eureka Highway turnoff.
Investigators don't know how long the eastbound driver had been on the freeway.
"He had to have been wrong-way from quite a while," said Stewart. The next entrance to the freeway is at Emigrant Pass.
The driver of the Ford was pronounced dead at the scene by the Eureka County coroner. He was identified as Casio L. Withers, 27, of Battle Mountain.
The driver of the SUV was life-flighted to a hospital in Reno. A female passenger was taken to Northeastern Nevada Regional Hospital in Elko but then life-flighted to Reno as well. Their identities have not been released.
"Alcohol was most likely a contributing factor to this fatal crash," said a statement from Eureka County Sheriff Jesse Watts.
Westbound travel resumed Friday morning but was reduced to one lane, Stewart said.
This was the fourth fatal crash in less than a month in northeastern Nevada, including one on I-80 just west of the Carlin Tunnels and another near the Beowawe rest area.
Get local news delivered to your inbox!
Subscribe to our Daily Headlines newsletter.