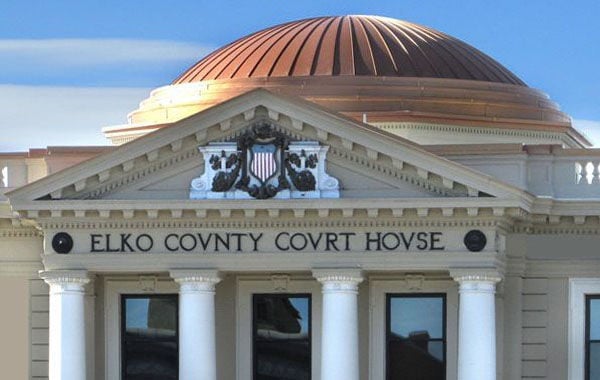 ELKO – Testimony began Tuesday morning in the preliminary hearing of Bryce Dickey, who is charged with open murder in the death of a 16-year-old girl last month.
Gabrielle "Britney" Ujlaky's father and close friend, along with medical and forensic specialists and law enforcement, testified in person and remotely via a videoconferencing platform.
Dickey, 18, appeared in court with his attorney Gary Woodbury and Deputy Public Defender Matthew Pennell in Elko Justice Court before Justice of the Peace Mason Simons.
The first one to take the stand was James Ujlaky. He recalled the last day he saw his daughter when she accompanied him to a band rehearsal in a neighborhood near Angel Park.
Before the practice session ended, she left with Dickey, telling her father they would beat him home.
Hours later, Ujlaky contacted the Elko County Sheriff's Office when Britney failed to answer her phone, which he called "unusual."
"I was repeatedly calling her all the way home and I sent a text, 'Why aren't you answering my calls?'" Ujlaky said, explaining the phone would ring once before going to voicemail. "It had never done that before."
Ujlaky said he had met Dickey a few times but had not talked to him at length, stating Dickey was not Britney's boyfriend.
The statement was corroborated by Britney's friend, Cheyenne Fry.
"She called him her 'big brother,'" Fry said, when asked if the two were in a relationship prior to her death. "She didn't like him like that."
Fry described seeing her with Dickey in one of two Snapchat videos that Sunday afternoon, and told the court she seemed "kind of off" and looked "sick."
"She looked pale and I asked if she was OK. She said she was having a day," Fry said.
Sometime later, Dickey contacted Fry telling her he dropped her off at the high school "and how he tried to stop her" from going with a male friend in a green pickup truck.
"Bryce called me and said Britney got into a dark Ford pickup truck, something was wrong, and that I needed to call her," Fry said, becoming visibly upset on the witness stand. "I continuously tried to call her."
She said she asked Dickey to go back to the high school parking lot and check on her. Fry said she didn't hear from him or talk to him again until she saw him at a balloon release in Britney's memory at Angel Park where he consoled her.
"He told me he was sorry. He hugged me and comforted me, and I hugged him back because I thought I could trust him," Fry said. "I had no clue any of this happened. I thought he was her friend because that's how Britney talked about him."
Britney was reported missing the night of March 8. Her body was found in Burner Basin three days later.
About a week later, Dickey was arrested and search warrants were served on his residence and vehicle.
He was charged with open murder with the use of a deadly weapon, or in the alternative, felony murder during a sexual assault or attempted sexual assault with use of a deadly weapon.
Testimony from Dr. Julie Schrader, assistant medical examiner at the Washoe County Regional Medical Examiner's Office, revealed the cause of death was a stab wound to the neck and strangulation by homicide.
DNA testing from a condom found at the scene of the crime was confirmed to be from both the defendant and the victim, said Monica Siewertsen of the Washoe County Sheriff's Office Forensic Science Division.
The Washoe County Crime Lab conducted presumptive tests on items found at Dickey's home from the search warrant. In a closet, a pair of boots that had red-brown stains was discovered along with a folding knife stuck inside one of the boots. A sweatshirt with red-brown stains was discovered in a tool box in a pickup truck.
The knife, clothing and boots were collected for further testing, and Dickey's pickup truck was also impounded and taken to Reno.
More than two dozen witnesses are expected to testify in the two-day preliminary hearing.
Due to restrictions on public gatherings of more than 10 people, the public is restricted from watching the proceedings inside the courtroom.
Dickey was accompanied into the courtroom by sheriff's deputies, and sat shackled between Woodbury and Pennell during the hearing.
Elko County District Attorney Tyler Ingram, who was also present in the courtroom, has reserved the option to seek the death penalty in the case.
The Elko Justice Court arranged public viewing on the Zoom meeting platform, adding some measures to prevent sensitive materials from being seen online.
The second day of the preliminary hearing in justice court will resume Wednesday morning.