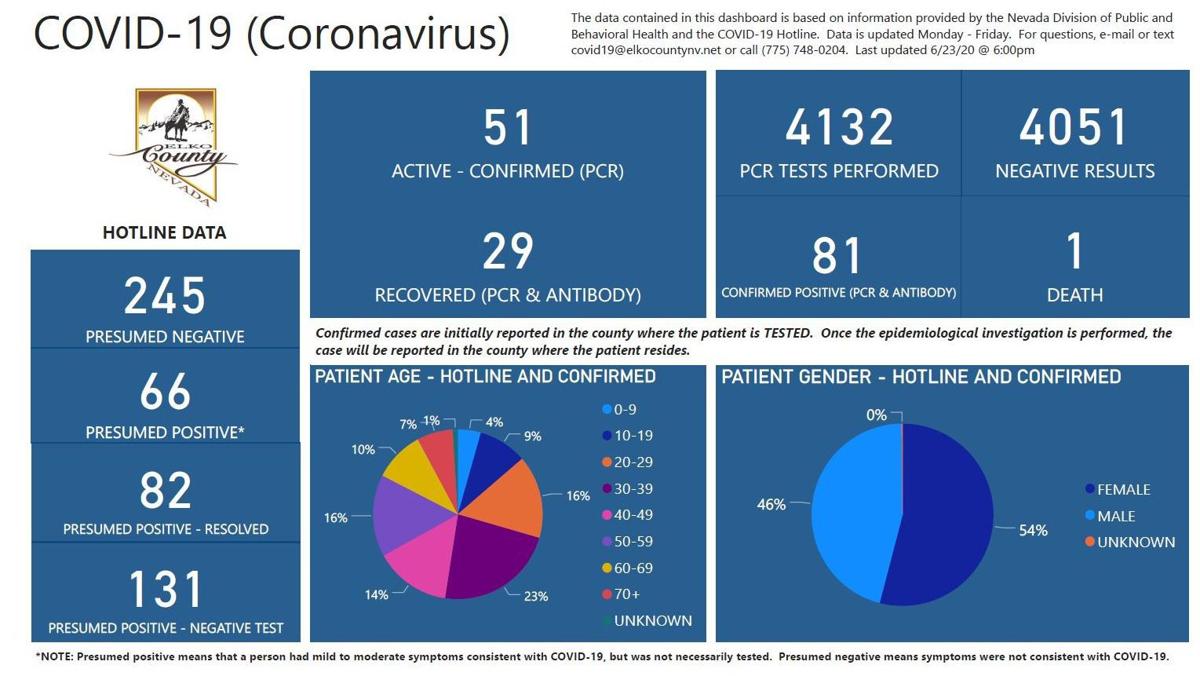 ELKO – Five more COVID-19 cases were added to Elko County's tally Tuesday evening after 15 cases were reported on Monday.
Three more people were added to the recovery list, according to a press release from Elko County issued after 6:30 p.m. on June 23.
As of June 23, Elko County now has 81 confirmed cases, 29 recoveries and one death. About 4,132 PCR tests have been performed, according to the Elko County COVID-19 dashboard.
Tuesday's cases included three males and one female in their 50s and a female under the age of 18.
All of the new cases have been confirmed by PCR tests, according to a statement from Elko County. Many of those cases remain under investigation.
"Many of the new cases are attributed to interactions where social distancing guidelines are not being followed," the statement read.
"We are strongly encouraging individuals to have personal accountability and to observe social distancing guidelines in an effort to stop the spread of the virus," the statement continued.
The county reported 15 new COVID-19 cases and three recoveries on Monday.
Among the cases reported on Monday were six females who are younger than 18 and in their 20s and 40s, five males in their 20s, 30s and 40s and three individuals in their 20s and 50s.
One of those cases, an individual in their 50s, was reclassified to a jurisdiction outside of Nevada on Tuesday.
"The Elko County contact tracing team is working to identify close risk contacts to prevent further spread of the disease. Due to medical privacy requirements and to protect their identity, no further information about the case will be released," the statement said.
Elko County Public Health Officer Bryce Putnam urged caution for those awaiting coronavirus test results to return.
"Dr. Putnam is advising that individuals who have tested for COVID-19 but are awaiting results are required to self-isolate until a negative result is received, even if the individual is not symptomatic."
There have been 4,132 tests performed in Elko County, with 4,051 negative results.
The county also announced a change in COVID-19 Hotline hours from 9 a.m. to noon and 1 p.m. to 5 p.m. Monday through Friday.
Nevada has 14,064 confirmed cases as of Tuesday, including 11,186 in Clark County. Since June 19, the statewide death toll increased by 14 to 492 deaths, reported in Clark and Washoe counties.
Humboldt County reported one new case on Tuesday, with Lander County reporting four new cases on Monday.
Eureka and Esmeralda still have zero coronavirus cases reported.
Get local news delivered to your inbox!
Subscribe to our Daily Headlines newsletter.