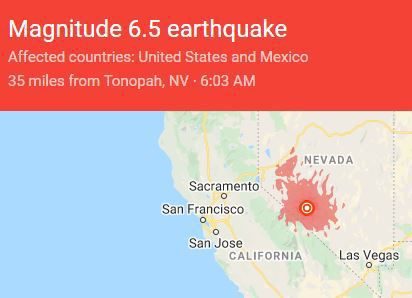 ELKO – A 6.5 earthquake west of Tonopah has closed U.S. Highway 95.
Nevada Department of Transportation reported Friday morning the highway was closed between State Route 360 in Mina and U.S. Highway 6 at Coledale Junction.
The Esmeralda County Sheriff's Office said there was damage at mile maker 89 in Esmeralda County, and several other areas.
Other reports said groceries were knocked off the shelves at stores in Tonopah.
The Mineral County Sheriff's Office reports no damage in the small towns of Luning and Mina, which are near the major earthquake's epicenter at Coaldale.
The U.S. Geological Survey listed the 4:03 a.m. quake's magnitude at 6.5, after initially reporting it as a 6.4. It was centered about 36 miles west of Tonopah.
"I felt it in Elko! Shook the bed and woke me up," wrote a reader on the Elko Daily Facebook page. "We felt it in Ely. Pretty strong." "I felt it underground at Barrick," wrote others.
People in the Salt Lake City and San Francisco Bay area also reported feeling the temblor.
"This is the largest earthquake in Nevada since the 1954 Fairview Peak (magnitude 7.1) and Dixie Valley (magnitude 6.8) earthquakes – basically ending a streak of 66 years for quakes in the mid-M6 range," Graham Kent, director of the Nevada Seismological Lab said.
"The earthquake occurred in the Walker Lane of Nevada, a geologic feature associated with the eastern California shear zone that roughly parallels the California-Nevada border," stated UNR. "The Walker Lane is a 60-mile-wide zone of active faults that straddles the Nevada and California border."
The quake was followed by more than a dozen aftershocks, several of them ranging from 4.0 to 5.4.
Shaking was also reported 36 miles east of Gabbs, with a 3.8 quake at 4:09 a.m.
A 4.3 quake was reported at 4:30 a.m. about 42 miles southeast of Hawthorne.
The 6.5-magnitude quake near Challis, Idaho on April 1 was felt as far south as Elko, Spring Creek and Lamoille.
Another earthquake struck near the same area of Idaho on Wednesday evening. The 4.4 quake was centered about 21 miles northwest of Stanley, according to the USGS.
In March, a 5.7 earthquake near Magna, Utah forced flights to be diverted from Salt Lake City International Airport. Also that month, a 4.5 quake rattled the Carson City area.
In February 2008, a 6.0 quake in Elko County caused widespread damage to buildings in Wells.
A history of earthquakes in Nevada:
Get local news delivered to your inbox!
Subscribe to our Daily Headlines newsletter.