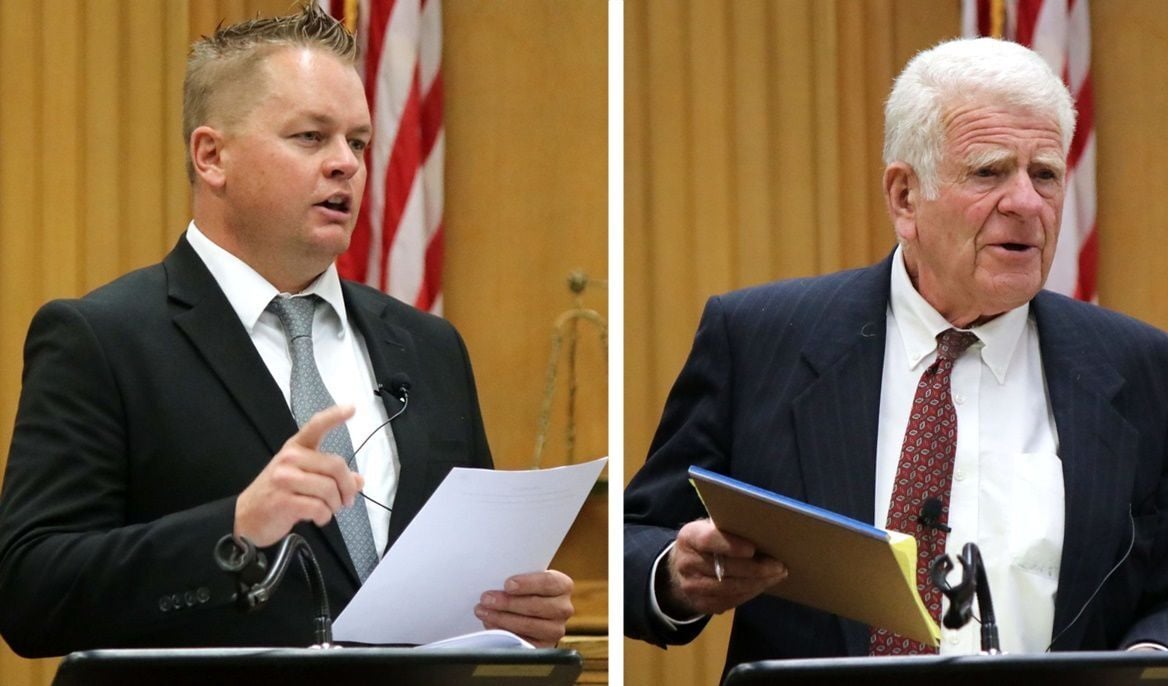 ELKO – Alan Honeyestewa was found guilty in the home invasion death of an Elko man Friday afternoon, one day after jurors were sent to deliberate the open murder case.
Honeyestewa, 26, was found guilty of six felony counts and two gross misdemeanor counts, including open murder, attempted robbery with the use of a firearm, invasion of the home with possession of a firearm, burglary with a firearm, conspiracy to commit robbery, conspiracy to commit burglary, and conspiracy to commit invasion of the home.
Jurors found him not guilty of destroying, altering, erasing, obliterating and/or concealing evidence, a gross misdemeanor.
The three-week trial concluded with closing arguments Thursday afternoon. Jurors deliberated in the County Commissioner's conference room in the Nannini Administration Building for approximately six hours between Thursday evening and Friday afternoon.
After the trial, Honeyestewa was placed back into the custody of the Elko County Sheriff's office to await sentencing within six to eight weeks by Elko District Judge Nancy Porter.
For first-degree murder, Honeyestewa faces a maximum penalty of life in prison without the possibility of parole, according to Nevada law. The minimum penalty is 50 years in prison with the possibility of parole after 20 years.
The sentencing hearing will include arguments from Elko County District Attorney Tyler Ingram and defense counsel Gary Woodbury, along with victim impact testimony from family and friends.
Closing ArgumentsOn Thursday afternoon, jurors in Elko District Court heard closing arguments from Elko Ingram and Woodbury on the eleventh day of the trial, which included testimony from 38 witnesses.
The trial focused on the events leading up to and the night of Brad Smith's death on July 7, 2018, at his Wrangler Circle home. The incident led to the arrest of Honeyestewa and Tieres A. Lopez Sr.
Lopez was arrested in connection with the shooting death one day after the incident. He pleaded guilty to first-degree murder and was sentenced to life in prison by Judge Porter on Aug. 14, 2019.
Honeyestewa suffered gunshot wounds and was taken to Northeastern Nevada Regional Hospital before being transported to Salt Lake City for treatment. Upon his release 10 days later, he was booked into Elko County Jail for open murder and burglary.
Taylor Miller and Tyrell Holley, who police said were "possibly connected in the home invasion," were thought to have accompanied the two men to the house on Wrangler Circle.
After 88 jury instructions were read by Porter, Ingram asked the jurors to find Honeyestewa guilty on all counts.
Ingram said the case was about "a 33-year-old man who lost his life because the defendant broke into in house and he lost the battle trying to defend himself."
"The state is asking to find that it's proven beyond a reasonable doubt that Mr. Honeyestewa committed murder in the first degree with the use of a deadly weapon," Ingram said.
The prosecution recounted testimony from several witnesses that described the motive of the home invasion as an attempt to steal guns and tools belonging to Smith.
During the trial, Honeyestewa's defense argued that Lopez suggested he and the defendant visit Smith's home to drink and smoke marijuana with Smith's girlfriend, Jennifer Stanger.
Ingram reminded jurors of Honeyestewa's words in police interviews following the incident and on the witness stand, bringing up a quote from the trial.
"'There's nothing this man can own that makes it worth getting, you know, I don't want any part of that,'" Ingram recounted. "He said that right here, after all the time he had to reflect on this case. What does that tell you, ladies and gentlemen? Does that you he was going in there to have a smoke or a cocktail? That's because in his mind he was going in there to steal something. He was going in there to steal those guns."
In his closing arguments, Woodbury asked jurors to find his client not guilty by studying transcripts from the trial and analyzing testimony during their deliberations to arrive at that conclusion.
"[L]ook at it long and hard, and sooner or later the truth is going to become a lot clearer to you. That's what I'm asking you folks to do."
"You're going to conclude that Alan Honeyestewa did not have the intent to burglarize anything in the house," Woodbury said. "[He] did not have the intent to enter, and nor did he enter without permission – he thought he had permission from Mr. Lopez from Ms. Stanger through Mr. Lopez – and did not intend to commit robbery. He didn't have intent to kill Mr. Smith, ever. No way, no how."
Woodbury reminded jurors that Honeyestewa testified he was drunk the night he accompanied Lopez to go to a party at the house on Wrangler Circle. The defendant did not know about Lopez's plan to commit robbery at Smith's house for guns or tools, he stated.
"If what Mr. Lopez says is true [the robbery] didn't work out [because Smith] was there. Does that mean somehow or another some kind of robbery happened, that Alan Honeyestewa knew that Mr. Smith was in there and he was going to commit a robbery on Mr. Smith?" Woodbury asked. "How do you have an attempted robbery of Brad Smith if he thought he wasn't home?"
Honeyestewa's defense stated that Lopez was the person who fired the fatal shot that night. Woodbury repeated Lopez's words following the shooting that were stated by a witness during the trial.
"Do you recall the words, 'I might have killed someone'?" Woodbury said. "Words [said] by Lopez. Not 'Honeyestewa killed someone.'"
Woodbury also questioned if Honeyestewa fired the gun when the bullet struck Smith. He recalled forensic testimony, describing the trajectory of the bullet coming from an odd angle. "The answer is maybe. That's as far as it goes."
The gun Honeyestewa brought in to Smith's house was picked up by Lopez during the gunfight and used to shoot Smith, Woodbury said, adding that Lopez's DNA was found inside a glove worn by Lopez. But it was unclear whose DNA was on the gun handle.
"Does it support what we're saying that it was Mr. Lopez who picked the gun up? That Mr. Lopez fired the shell? You all will determine that," Woodbury told the jury.
The description in the charges that allege Honeyestewa "kicked in the door" to the Wrangler Circle home, was also questioned by Woodbury, which he said was not presented as evidence during the trial through direct testimony.
"Where did you hear that he kicked in the door? Anybody tell you that?" Woodbury asked. "You can't say those things, ladies and gentlemen and then rely on them. You have to prove them. Name one person, one iota of evidence that says Honeyestewa kicked in that door."
Ingram spoke to the jury one more time before they were dismissed for deliberations, asking jurors to align jury instructions with the defense counsel's arguments. In particular, he reminded jurors that a bullet removed from Smith's body in the autopsy belonged to the gun Honeyestewa admitted during the trial to owning: a Springfield XD .40 caliber subcompact.
"If you believe that it was [Lopez] who fired that one bullet that was recovered, if you believe that was [Lopez] go back to instruction 55, the law, which you are required to follow, 'All persons who are involved in a conspiracy to commit burglary, home invasion and/or robbery are guilty of murder if murder is committed by one of the co-conspirators, not all,'" he said.
"The state is not required to prove that Mr. Honeyestewa delivered the fatal blow to Mr. Smith in a felony murder. We're not," Ingram said. "We're only required to show that a human being was killed. Brad Smith was killed and it was during the perpetration of one of those crimes: burglary, home invasion, attempted robbery. That's it."
Addressing the allegation of kicking in the door, Ingram explained that jurors were to refer to principal laws, "you don't have to conclude that it was actually Mr. Honeyestewa that kicked in that door. But the fact remains, that door was kicked in right in front of Mr. Honeyestewa. And we know that because of the damage to the door."
In conclusion, Ingram told jurors Smith used his gun that night to defend his home and property and "had the right to shoot. Mr. Honeyestewa had no right to shoot."
Other pending murder cases
There are three more pending murder cases awaiting court proceedings in the Fourth Judicial Court.
Bryce Dickey, 18, who is accused of killing 16-year-old Gabrielle "Britney" Ujlaky in March, was arraigned in Elko District Court on June 5. He pleaded not guilty to open murder and sexual assault with a deadly weapon before Judge Nancy Porter.
Elko District Attorney Tyler Ingram has reserved the option to seek the death penalty if Dickey is convicted. Dickey is represented by attorney Gary Woodbury.
According to the District Attorney's office, an extension was granted to allow Ingram and Woodbury to gather information and evidence before the trial, which could take place in 2021.
On Sept. 28, Nathan O'Dell pleaded guilty to open murder before Judge Al Kacin in the death of a 7-month-old male infant, and child abuse or neglect of a 4-year-old boy stemming from an incident in May. He will be sentenced on Nov. 17.
Judith I. Zavala pleaded not guilty before Porter on Oct. 12 in the strangulation death of her adult daughter four months ago. Her trial is expected to begin in February.