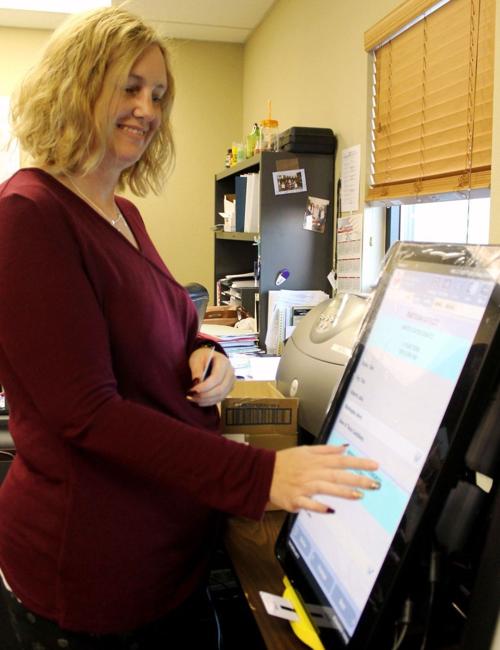 ELKO — Voters will register their selections for elections on different machines next year after the Elko County Commissioners approved contracts for new voting machines and voter registration software Dec. 6, in accordance to state direction.
"This is mandated by the state," Commissioner Cliff Eklund said.
The Legislature appropriated funds for all Nevada counties to purchase voting machines and related equipment through Assembly Bill 519. Elko County's state reimbursement totals $183,905 plus a $32,697 equipment credit, leaving $253,767 to be paid with county net proceed and capital fund money.
The commissioners approved contracts with VOTEC Corp. for software and services and Dominion Voting Systems Inc. for equipment.
One hundred large tablet computers capable of receiving software updates will replace the county's 13-year-old electronic voting machines, and additional equipment will replace the handwritten sign-in logs. The equipment will not be connected to internet or any network, and votes are tabulated locally before being sent to the Secretary of State in a secure document. For backup and verification, related equipment prints receipt-like forms that the county keeps in its records.
"Technology is growing," said Elko County Elections Clerk Becky Plunkett. "We just have to grow with it."
Residents who do not want to use the electronic system can still opt to use the absentee ballot, as does Thomas Burney, who aired his concerns during the commissioners' meeting.
"I resent the fact that the state can mandate, or the federal government can mandate, an electronic recording system that inarguably they cannot guarantee the security of," Burney said. "I don't get this on a moral and ethical level."
The tablets are expected to save space and time, and improve the voter experience. A touchscreen will allow a voter to tap their elections, and options such as large font size are designed to improve usability.
"I think it will be easier all around," Plunkett said.
Get local news delivered to your inbox!
Subscribe to our Daily Headlines newsletter.