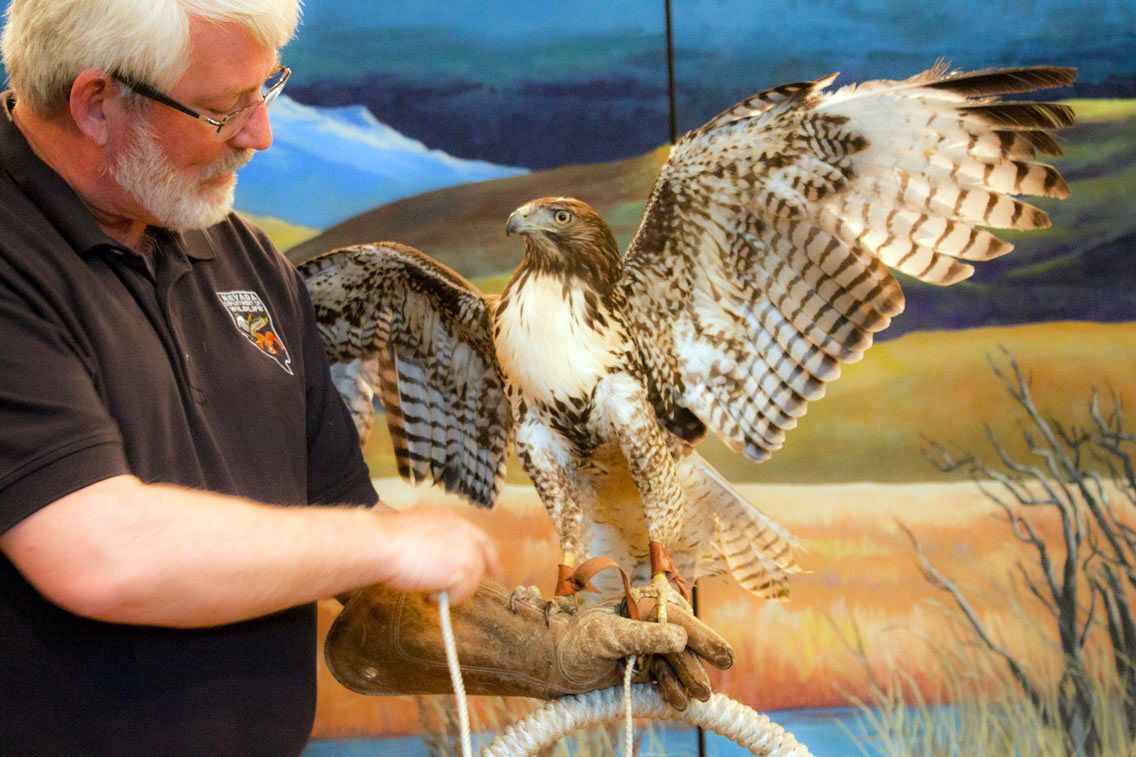 ELKO — While 2020 has been filled with questions, doubts, trials and tribulations, we are learning more about COVID-19.
Joe Doucette — conservation educator for the Nevada Department of Wildlife the owner of Elko Fly Shop — learned about coronavirus firsthand and had no idea how he contracted the virus.
He took his granddaughter in for a coronavirus test on Oct. 23 due to a close contact she had with an infected coworker. While he was there, Doucette figured he may as well get a test also.
"She came back negative, and I came back positive," he said.
Doucette said — prior to the test — he felt no symptoms.
"Not before, it took six days for them to call me," he said. "Literally, the day after I tested I was in bed. It came on rather suddenly."
While Doucette did not suffer from some of the more common symptoms — loss of taste, loss of smell — he was "wiped out."
"The biggest thing was the fatigue. It was an effort just to walk around the house," he said. "I did have a sore throat. I had a slight headache. I didn't have really much of a cough. I have morning cough and have had it for decades due to allergies and other issues, so the morning cough was a little more pronounced than usual but it was primarily the fatigue. I was wiped out. I was in bed probably for about four days straight.
Doucette was not hospitalized, electing to do everything over the counter and from home.
"My wife is an X-ray technologist but also a radiological practitioner assistant. She has all the external thermometers, the oximeters for measuring your oxygen. So, she was kind of keeping an eye on it," he said. "My oxygen levels got a little low, but not dangerously low. I bet I slept 20 hours a day."
His wife did not get the virus, but Doucette noted that she was "really sick in March" and that she was going to get tested for antibodies.
However, his grandchildren both contracted the virus and experienced different outcomes.
"The 12-year-old didn't get real sick, but now he has stomach problems so we need to see if those are related," he said. "The 17-year-old was really sick for about a week but seems to be fine now."
Doucette's recovery was not immediate but he did get better after a few days. However, some of his issues have lingered.
"It was static for about three days and on the fourth day it started to get better. I am going to be honest, by about seven o'clock at night I'm still pretty wiped out. I'm pretty tired now, and this is what — 20 days after I was done with it," he said.
"I get extremely tired. Normally, I get by on about six, seven hours of sleep max. Now, I'm sleeping eight, nine hours a night minimum. I have some aches in some joints I didn't have before, either. I do have arthritis in my right leg, but I've got a real bad ache in my left shoulder that came on in the middle of it. Whether it's something I had coming on that it just aggravated or if it's something that it did, I don't know.
"I've got a doctor's appointment in about a week and a half and we're going to talk about some of those things."
As for how he became infected, Doucette was unsure and could not pinpoint a reason why.
"I was talking to one of the contact tracers, and we don't know. I go shopping for groceries, obviously, fill up the tank with gas. I own a small business, but I only let one person at a time in. They do have to wear a mask. I sanitize everything afterward," he said.
Doucette said the tracers told him most of the positive cases at the time were due to community spread.
"She said probably the reason I didn't get it worse than I did was probably due to the fact I wear a mask and if I caught it from somebody coming into my store, them wearing a mask, me wearing a mask ... keeps the amount that gets transmitted. Masks are not the cure-all, but they do minimize your exposure. Considering I'm in my 60s, it could have been a whole lot worse," he said.
As for advice to avoid getting coronavirus and what to do if a positive test result should arise, Doucette offered some insight.
"Social distancing and masks, I firmly believe in it. People say 'at first they said not to' but science changes. That's part of what science is. As you learn things, you adapt to what you learn," he said. "Keep politics out of it and just listen to the scientists. Even if you don't think it helps, wear the mask anyway, because even if there's just a slight chance it helps — who knows — you could keep someone from getting sick or keep yourself from getting sick. To me, it's worth it.
"Social distancing, we're coming into the holidays. It's going to be hard for a lot of people, I get that. Rather than travel, have big groups, we're doing the Zoom Thanksgiving with my mother, who's kind of in lockdown in a senior condo. Be real careful, keep your distance and listen to science."
Doucette said much of what it takes to remain safe and virus-free relies on common-sense principles such as washing your hands and avoiding going out as much as possible.
He also wanted to express ways to still support local businesses during difficult economic times.
"We have a couple favorite restaurants, and we do takeout rather than eat in. We give the normal tip as if we were dining in. People say 'we're all wearing masks and it's not working out' but honestly if you look around there's a good chunk of people in Elko County that are not wearing masks, so that's where the community spread may be coming from.
"I'm not a scientist, I can't tell you," he said. "If you don't get a certain percentage wearing masks, it does very little good. You can go into almost any store around here and — anecdotally — I'm going to say 25% easily are not wearing masks and a lot of those who are wearing masks are not wearing them correctly."
Doucette spoke about seeing people wearing masks under their noses — adding that some of the neck gaiters offer very little protection — and that disposable masks are not made to be worn every day.
"Change them out, probably daily. The cloth masks that we wear should be — again — changed daily and washed. I now have a mask for every day of the week. Wear it one day, then I wash it. When you take your mask off, you really need to wash or sanitize your hands. If you're going wear masks, do it correctly," he said. "Just think of others. Think of it as something for your community. We have all sorts of laws that restrict us, whether it's wearing seat belts or not being allowed to smoke in a restaurant. This really isn't that different than those. Right now, a lot people are hospitalized. We've had more cases in the last seven weeks than we did in the first seven months."
Doucette also encourages everyone to get a flu shot — noting he took his about a week before he tested positive — adding that may have built up his immunities somewhat.
"Eat healthy. To me it's a lot about attitude. Your kids are going to reflect the attitudes of their parents. I realize schooling is difficult right now. If all you do is complain about it, your kids are going to complain and say it's not worth it. This hybrid stuff is hard on the kids and those who are doing it from home like my grandkids are, that's as well — but your children are going to reflect that attitude that you have," he said. "Even if you don't always get up for things, put on a little bit of a game face for them. Just respect your neighbors and the people you're out in the community with."
Concerned about COVID-19?
Sign up now to get the most recent coronavirus headlines and other important local and national news sent to your email inbox daily.