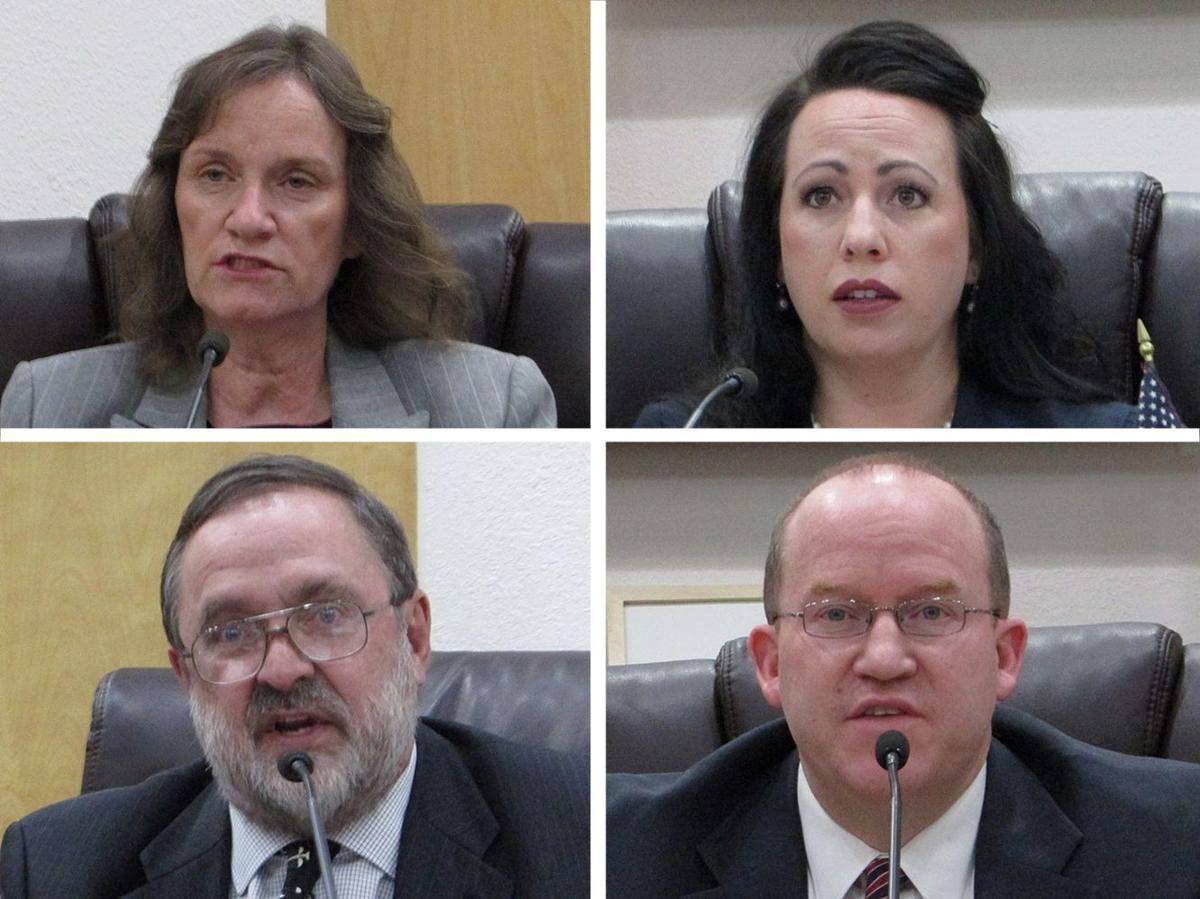 ELKO — Candidates for two departments in Elko District Court shared ideas and expressed thoughts about judicial matters in the county during a forum Thursday evening at Elko City Hall.
The forum, which was broadcast live on The Elko Daily Free Press Facebook page, welcomed incumbent District Judge Nancy Porter, Elko Township Justice of the Peace Mason Simons, Public Defender Kriston Hill and attorney John Muije to share their ideas for the county's court system.
In Department One, Porter is being challenged by Elko County Public Defender Hill, while both Simons and Muije are seeking the newly created Department Three court.
Questions were accepted from the public and chosen by the Elko Area Chamber's Government Affairs Committee.
After opening statements, the first question of the evening was "District Court judges are responsible for deciding what cases would be tried in what order, how would you split the court's time between criminal calendar and civil calendar."
Hill was the first to respond, stating that there is a statute in place that "indicates that criminal cases take precedent in addition to the constitutional rights of those charged with crimes.
"So while criminal cases, especially for those who are incarcerated take precedent, I will do my very best to ensure that everyone else's cases are resolved in a timely matter," she said.
The topic of alternative sentences for non-violent offenders also came up early during the forum, with Judge Simons being the first to explain his thoughts on the topic.
"I have been a proponent in this community for a very long time of the need for the creation of a department of alternative sentencing on the Justice Court level of the court. It is one of the only levels of the court that doesn't have some entity that will supervise defendants who have been sentenced and placed on some sort of probation, and we really need that to happen.
Simons said a lot of members of the community have expressed their concerns to him about a "revolving door" of people who go in and out of jail, and go on to commit additional crimes.
"One of the things we need to make sure we are doing, if a person is out of custody pre-trail, we have a mechanism in place so those people can be supervised appropriately in the community," he added.
Muije said the criminal reform act passed by the Nevada Legislature in 2019 is part of the problem facing courts today.
"While it may be well intentioned, I think it was not well thought out," he said in response to a question. "They drastically reduced the length of probation available on various crimes."
Muije said that while the Legislature is aiming to clear non-violent offenders out if the jail system, it can become a revolving door for some people.
"If you release somebody on a drug possession charge to an automatic probation and they are going out to get more drugs, at some point if they want that heroin or that crystal meth, they are going to commit a violent offense," he said.
The moderator asked if there is such a thing as a "victimless crime."
Porter said there are some.
"I am thinking of some very minor crimes … that are victimless," she said. "Having a taillight burned out, that is a victimless crime but it is a crime …"
"The crimes that the District Court sees are not victimless crimes," Porter added.
Porter said she sees individuals in her courtroom "all the time" that have a drug addiction, and it has destroyed their health and causes other problems for the court system, such as child support cases and custody cases.
"Many, many, many of the guardianship cases that I have are because parents are addicted to substances and cannot raise their children," she said.
Porter said there are crimes that are morally wrong, and there are crimes that are legally wrong but not morally wrong.
Hill argued that she does not believe a victimless crime exists.
"Many people in the judicial system say, oh, it was just a simple drug case, there is no victim involved, nobody was harmed," she said. "That is simply incorrect and not true."
Hill said addicts have an addiction, which is harmful to their family, so when they participate in a drug deal or continue to use illegal drugs, there are in fact victims.
After just over an hour, the live forum, sponsored by the Elko Area Chamber's Government Affairs Committee and the Elko Daily Free Press came to a close with the candidates making final statements.
Next week, four candidates for Elko City Council will appear Sept. 16. They are incumbent Mandy Simons, Elko City Planning Commissioner Gratton Miller, former Elko police chief and undersheriff Clair Morris, and registered nurse Rowena Smith. The top two vote-getters will be elected in November.
Finally, on Sept. 17, four candidates for two Elko County School Board seats will field questions on topics impacting parents and children throughout the county. In District Two, incumbent Tammie Cracraft-Dickenson is being challenged by businessman Robert Leonhardt. For the District 4 seat, incumbent Teresa Dastrup is being challenged by engineer and consultant Greg Brorby.
To participate in these local forums, everyone is invited to submit their questions to moderator matthew.mccarty@gbcnv.edu. Questions must be received by Sept. 16 for city council and school board.
"My predecessor was able to move just 71 to 74 percent of cases through the court in a year. Judge Kacin and I move 97 percent of our cases in a year. … There is no backlog in the district court."
"I sentence as many people to prison as any other judge in the state."
"I am the only qualified candidate in the race for this position."
"I have received endorsements from a wide range of a bipartisan group of respected Elko County citizens."
"My opponent … has failed to become … qualified to handle death penalty cases. This fact will ultimately cost the taxpayers of this county hundreds of thousands of dollars to pay private attorneys."
"I have very serious matters pending in my court right now, including three murder cases. An experienced judge on the bench has never been more important."
Public Defender Kriston Hill
"I clerked for Judge Memeo, where I learned how an effective and efficient court should be ran."
"In 2015 I became one of the youngest women in the country to lead a public defender's office."
"When elected, I will institute self-imposed deadlines so that uncontested matters are resolved within three judicial days, not many months. I will hold in-custody arraignments within 10 days of the filing of criminal information ..."
"I'm endorsed by the Nevada Game Wardens Association, the City of Elko Police Protection Association, the West Wendover Police Officers Association and the Elko County Deputy Sheriffs Association."
"Judge Porter is soft on crime, as we have seen on countless occasions."
"During my judicial service I have presided over thousands of cases: criminal, civil, family law matters and juvenile cases."
"It is critical that this newly created judicial position be filled by someone who has the demonstrated ability to process and dispose of cases quickly, efficiently and competently."
"I'm proud of my deep roots in the Silver State. My family first arrived here in the Territory of Nevada in the 1860s, before Nevada was even a state."
"My promise to you is that I will thoroughly and thoughtfully consider the public safety implications of each decision that I make. Defendants that pose an ongoing danger to the citizens of this community, whose behavior demonstrates that they will put your homes, your children, your health and welfare at risk should not be walking the streets of our community."
"I ran a business and I am very pleased to say it was financially and morally rewarding. I've represented literally thousands of individuals and companies, both plaintiff and defense, primarily in district court."
"I've argued cases in the 9th Circuit Court of Appeals and in our state Supreme Court."
"It comes down to Elko really needing a change. There have been problems in the system. … The attitude that the local, good old boy network is going to take care of their own and God help you if you are not in that good old boy network."
"My success is not measured by how many boards I can sit on or how many commissions I'm appointed to, it's measured by whether I make money and stay solvent and win cases."
This article has been amended to correct a statement from Judge Porter about crimes that are morally or legally wrong; and the percentage of cases completed by her predecessor, which she misstated at the forum.
Get local news delivered to your inbox!
Subscribe to our Daily Headlines newsletter.