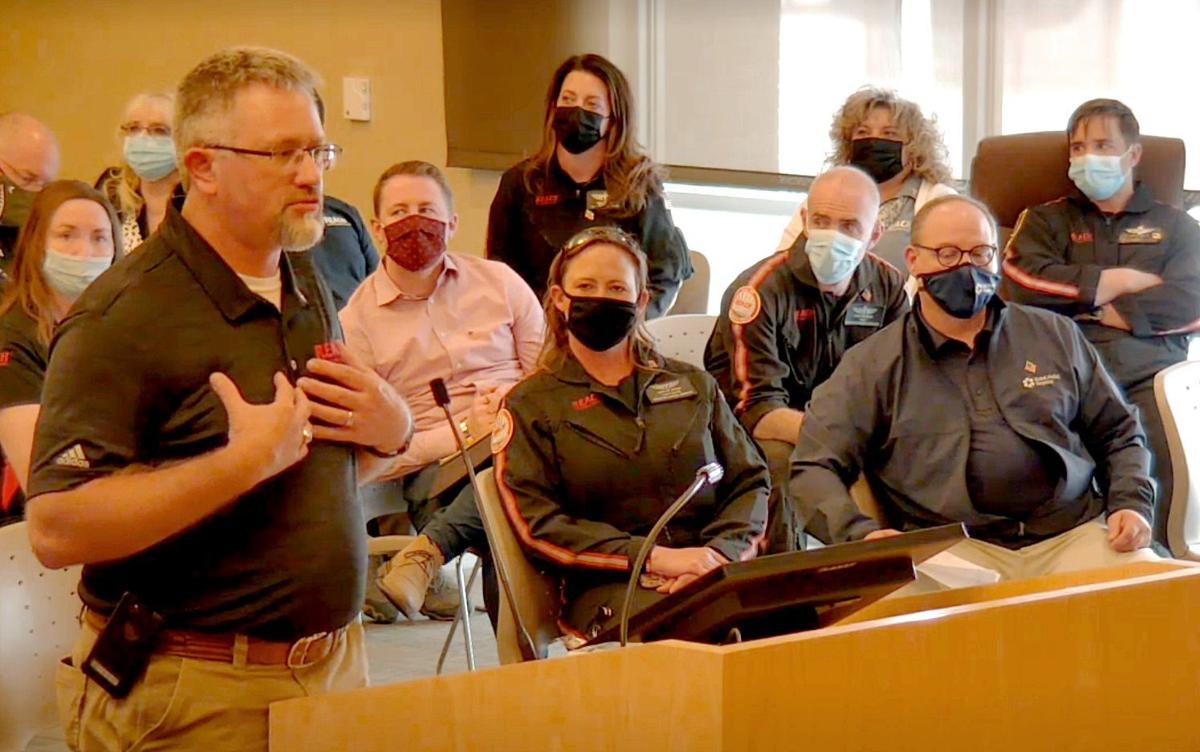 ELKO – REACH Air Medical Services is asking Elko County to again renew its longtime franchise, but the company may be in for a bumpy ride toward that goal with the potential for competition.
REACH's northern Nevada regional director, Tom Liebman, said the company has had an agreement with Elko County since 2000 and is planning a $1 million "super base" at Elko Regional Airport. REACH also will be carrying blood soon on its helicopter to provide immediate help to patients. There will be no extra money made from the blood service, but this is "a life-saving measure, and the right thing to do for patients," Liebman said.
"REACH is patient-focused, patient-centered," he said.
REACH's seven-year contract with Elko County gives the company priority to cover accidents and health emergencies throughout the county, and Elko County Commissioner Rex Steninger said the county initially offered the franchise to attract an air ambulance service.
Competitor MedX Air One, meanwhile, has a contract with Northeastern Nevada Regional Hospital to transport patients from the Elko hospital to big-city hospitals.
Elko County Commissioner Delmo Andreozzi would like to see the two air ambulance companies compete for the franchise.
"I've given this whole issue a lot of thought," he said, praising both companies for working together after a rocky time, but "patients are Elko County citizens. I want what is best for them." He said he wants a fair and equitable process and proposed the companies both apply for the franchise agreement.
"I think we can do a great job controlling costs going forward," Andreozzi said.
Paul Ward, executive director of MedX, said there are "two very professional organizations in this county" that used to have "fractured" relations, and now the competition has resulted in better service.
He said the mine bus crash in August 2019 north of Carlin was an example of the cooperation between air ambulance and ground ambulance services. That crash resulted in two fatalities and five people injured who required hospitalization.
ELKO – Two medical flight services competed at an Elko City Council auction for the winning bid to lease 1.13 acres of city land at Elko Regio…
Ward read a letter to the county in which he asked commissioners to consider the "unintended negative consequences of hindering a competitive marketplace with a decision to franchise.…"
He said one reason MedX came to Elko was that Northeastern Nevada Regional Hospital asked them to come because there is "no surprise balance billing" with MedX, which has served Elko County since 2015.
REACH is affiliated with AirMedCare Network that offers memberships for air service, but memberships are not required, according to Stacey Ingram, REACH program director for northern Nevada. She said in an April 8 interview that her company has not received any billing complaints from the hospital.
Ward told commissioners at their April 7 meeting that personal choice of service is important.
Ingram said that should MedX win the county's franchise plus hold the hospital's contract, REACH would find it "difficult to remain viable."
She said the franchise "from my perspective is extremely important," and without an agreement, the county loses the ability to hold anyone responsible.
The current agreements that REACH has with the county and MedX has with the hospital provide a "fair and equitable playing field," Ingram said.
Elko County Commissioner Cliff Eklund said he is a "free market person. I like to see businesses compete, but on a fair playing field. He suggested eliminating the franchise and having both companies rely on 911 emergency dispatchers to send them out.
"I feel like you do, Cliff. We have two great services here, and I don't think it is our job to pick," said Steninger, who later in the April 7 meeting said he believed the county should "let them compete freely."
Ingram said that if the county decided to drop the franchise and both companies would be sent to scenes on a take-turn basis through emergency dispatch, this would "add stress to the dispatchers."
Linda Bingaman, speaking for the Carlin Ambulance Service, said Elko County needs both air ambulance services, and the county should make it "fair for both." She retired as Elko County's fire district administrator in November.
County commissioners will have time to mull over options regarding REACH's renewal request. County Manager Amanda Osborne said the company's contract expires July 1.
The April 7 agenda called for a presentation by REACH, and no action.
"I think we've gone beyond what the agenda said," Commissioner Wilde Brough remarked.
Andreozzi said he appreciated and valued the opinions of those on the board but also pointed out that the agreement is for "scene runs" rather than hospital transfers, and not many accident victims make the call of which air ambulance service to use "while they are lying on the highway."
REACH data shows that the company did 112 transports in Elko County in 2020, including 22 from Elko, 30 from Carlin, seven from Spring Creek, 18 from Wells, 12 from Montello, six from West Wendover, seven from Owyhee and 10 others.
Fifty-three of the transports went to the Elko hospital. The other patient transfers were to hospitals in Salt Lake City, Reno and Twin Falls.
The company has eight pilots, two aviation maintenance technicians, 13 critical care flight nurses and paramedics and two local leaders, according to a slide presentation. REACH has one helicopter that is good for operating at high elevations and hot weather, one fixed-wing airplane in Elko and one plane each in Ely and Reno.
During REACH's presentation to the county, Liebman said the Elko service has paid Elko County $7,000 a year as reimbursement for supplies and services by the Elko County Ambulance Service at scenes. The company's agreement with the county was last extended in 2014.
He also said REACH is the only air program in Elko County accredited by the Commission on Accreditation of Medical Transport Systems, which is the highest level of accreditation available.
Jared Sherman, vice president of REACH operations out of Salt Lake City, told county commissioners that the national company can move people to any location when help is needed.