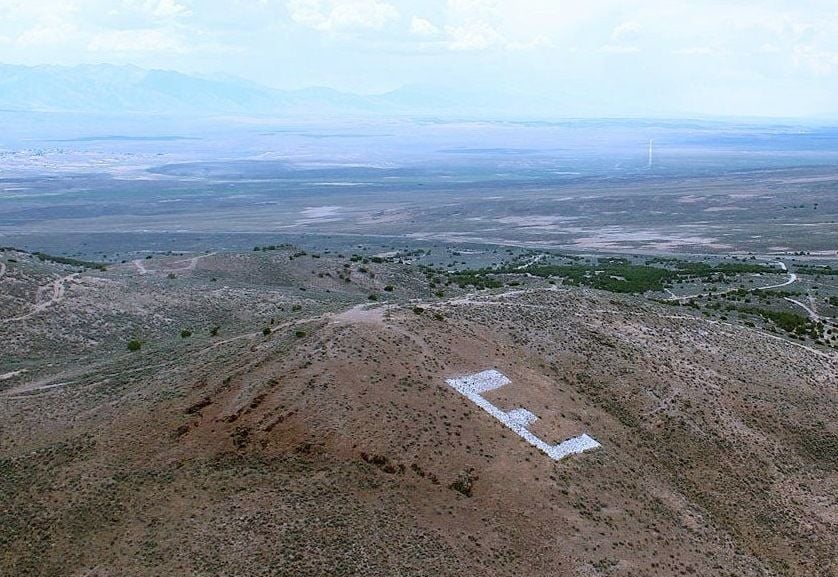 Polar Plunge at the pool
ELKO – Special Olympics Nevada will host the 2020 Elko Polar Plunge fundraiser beginning at 11 a.m. March 7 at the Elko Community Pool.
The Polar Plunge invites brave residents to take a chilly winter dive into the pool to raise money and awareness for SONV. The family-friendly event will include festivities, raffles, awards, games and meet-and-greets with members of local law enforcement from Elko County Sheriff's Office, a department that has chosen Special Olympics as their charity of choice.
Participants must raise a minimum of $125 to take "the Plunge" and enjoy the full festivities, which include an official Polar Plunge long-sleeve T-shirt. Additional fundraising incentives are available at different monetary levels. Guests are invited to watch their friends or family take "the Plunge" and may enjoy the post-Plunge festivities for an additional cost.
St. Mark Lutheran Lent services
ELKO — St. Mark Lutheran Church, 277 Willow St. will be having midweek Lent services on the following days:
Ash Wednesday: Feb. 26: Misjudging Eyes—Mark 14:1-9—(The Imposition of Ashes and Holy Communion)
Lent 1: March 4: Betraying Eyes—Mark 14:10-21, 32, 41-46
Lent 2: March 11: Sleepy Eyes—Mark 14:32-42
Lent 3: March 18: Denying Eyes—Mark 14:26-31, 66-72
Lent 4: March 25: Murderous Eyes—Mark 14:1-2, 53-65
Lent 5: April 1: Worldly Eyes—Mark 15:1-20
A soup supper will be held each night at 6 p.m. and worship service is at 7 p.m.
Maundy Thursday: April 9: More Than Meets the Eye—Mark 14:22-25
Good Friday: April 10: God's Eyes—Mark 15:21-39
There will be no supper during Holy Week. Worship service is at 7 p.m.
Easter Sunday service will be held at 9 a.m. April 12 with Holy Communion.
Square Foot Gardening
ELKO – Join the Elko Garden Club as master gardener Patrick Prickett gives a demonstration on square foot gardening.
The club meets in the Elko County Library Meeting Room from noon to 1 p.m. March 6. This class will be presented in two parts with the second session taking place April 3.
Jam On!
ELKO – Join a musical jam session at the Western Folklife Center's Pioneer Saloon, 501 Railroad St. The event takes place from 6- 8 p.m. March 11. Bring your favorite tunes to share, your instruments and your friends and fans. Southwind will facilitate the event. The bar is open for business.
Let's Dance!
ELKO – Dance at the Western Folklife Center's Three G Bar Theater from 6-8 p.m. March 12 and 26, 501 Railroad St. Dance lessons are $5 and begin at 6 p.m.
Open dancing starts at 7 p.m. Adults and teens are welcome. No partner or experience is necessary. For information on lesson specifics contact wfcdance@gmail.com.
Foster families needed
ELKO — Nevada Division of Child and Family Services seeks foster families for critical need areas in Elko County.
Children want to stay home and stay in their communities, where they're usually happiest. By recruiting foster parents in Elko, DCFS aims to ensure that children who need to be in foster care can at least stay someplace familiar.
DCFS will host several training sessions in 2020 to let prospective foster parents — who can be single, married or in a domestic partnership, stay-at-home or working — learn more and ask questions.
These sessions will be held from 9 a.m. to 6 p.m. Feb. 28 through March 1 at The Terrace at Ruby View, Senior & Active Lifestyle Center, 1795 Ruby View Drive. Learn more at www.dcfs.nv.gov, or by calling 888-423-2659.
Art Connect Elko slated this spring
ELKO — The Elko Arts and Culture Advisory Board, along with the Nevada Arts Council, will host Art Connect Elko at 5:30 p.m. March 4 in the upstairs ballroom at the Stockmen's Casino and Ramada Hotel.
Art Connect will be a bi-annual public meeting that strives to bring Elko's arts, cultural and entertainment partners together for collaboration, recognition and connection. Every artist, actor, writer, musician, muralist, dancer, writer, arts educator, member of an arts or cultural organization, employee of the arts or fan of the art community in Elko is encouraged to attend.
You have free articles remaining.
"This will be the second meeting of a grassroots effort to bring Elko's art community together to make our community's art and cultural future strong," said Catherine Wines of the advisory board.
Art Connect will begin with an opportunity for any individual and organization to tell the audience about their work and ideas for the future. A continued discussion will follow about ways and methods the art community can continue to come together and increase visibility and support for all art entities in our community. For more information contact Shelley Petersen at the City of Elko at 775-777-7210 or email s.petersen@elkocitynv.gov.
Library book club selection
ELKO — Elko County Library Book Club will discuss the 2020 Nevada Reads fiction selection "Severance" by Ling Ma at 6 p.m. March 16 in the library meeting room.
Copies of the book are available for check-out. All are welcome to attend. Call Patrick Dunn at the library for more information, 738-3066.
Loud as Folk in Elko
ELKO – "Loud as Folk" is a monthly music showcase based in Reno, but in March they have decided to take a trip down I-80 to Elko for a show at the Western Folklife Center.
"Loud as Folk" founder Spike McGuire will host the March 21 show which will feature performances from Buffalo Moses and Rachael McElhiney (from Buster Blue), Greg Gilmore (from Silver), and Lorin Walker Madsen, with headliner Leroy Virgil, who's band Hellbound Glory just finished recording their next album with producer Shooter Jennings.
Call for artists in residence
WINNEMUCCA – The Bureau of Land Management, Black Rock Desert High Rock Canyon Emigrant Trails National Conservation Area, along with the Friends of Black Rock High Rock, announces the Call for Artists for the 2020 Artists in Residence Program.
The deadline for applications is April 22. Submission packets can be sent to Friends of Black Rock-High Rock at 320 Main Street, P.O. Box 224, Gerlach, NV 89412.
Artists working in any medium will be selected for a residency from May-July in Gerlach, the gateway to the NCA. Artists will have an opportunity to spend time learning about the NCA and creating artwork in the beautiful Black Rock Desert. Lodging for the residency and a stipend to cover food and supplies will be provided to the selected artists.
Three showings of the artwork produced will be exhibited in Winnemucca, Gerlach and Reno following the program. Artwork may also be sold at the discretion of the artists. Posters of a selected work will be produced and distributed to other NCAs around the country.
An applications and additional information are provided on the FBRHR website at blackrockdesert.org or by calling Stacey Wittek at 530-6137.
Southwind at the Pioneer Saloon
ELKO – Drop by the Western Folklife Center's Pioneer Saloon from 6-8 p.m. March 17 at 510 Railroad St. to enjoy Americana, folk and Celtic music with Southwind.
Archery Club hosts indoor shoot
ELKO — The Elko Archery Club will be hosting their annual Indoor Safari Shoot at the Spring Creek Horse Palace on March 21.
Shooters of all ages are welcome. There will be food, awards, and fun for all ages. Details are available at elkoarchery.com.
Homeschool support info session
ELKO – An academy providing "a classical hybrid education in the Catholic tradition" is proposing a private, independent tutoring center with pre-school through 12th grade classes meeting twice per week in Elko.
Regina Caeli Academy helps students in knowing, loving and serving God and providing an education so they can learn how to think critically and become lifelong learners.
Kari Beckman, executive director of the program, will present an information session from 6:30-8:30 p.m. March 26 at St. Joseph's Catholic Church in Mater Dei Hall, 990 Highland Drive.
Charter school open enrollment
ELKO — Elko Institute for Academic Achievement, Elko's free public charter school, is accepting applications for the 2020-2021 school year.
EIAA serves students in kindergarten through eighth grade. Open Enrollment for the 2020-2021 school year opened Feb. 3 and will close April 17. The week of April 27-May 1, EIAA will hold a lottery to place students in classrooms and on the waiting list. EIAA caps classroom sizes at 22 kids.
Applications can be filled out at the school located at 1031 Railroad St., Suite 107. All applications submitted during open enrollment remain eligible for lottery the entire school year of that application period. Siblings of current EIAA students are given preference. Every child without a current sibling, who has submitted a completed enrollment packet, will have an equal opportunity to be drawn for any available spots. In the event that there is a vacancy, any student who applies will be enrolled upon completion of the application process.
To learn more about the school stop by 1031 Railroad St. Suite, 107 or call 738-3422.
Bowhunter's Classic
ELKO — The Elko Archery Club presents the 33rd annual Bowhunter's Classic June 6-7 at the Spring Creek Shooting Range and Campground. Registration is from 3-5 p.m. June 5 and from 7-9:30 a.m. June 6.
Pre-Registration must be received by May 31. There is an early bird raffle for all shooters that pre-register.
Exhibits in Wiegand Gallery
ELKO — Experience "I'm Gonna Take My Horse" in the Wiegand Gallery and take an artful and educational journey from South to West. The exhibit is installed until June 13.
Quilts from the Marion Coleman, "Blacks in the West" art series, "Vintage Black Heroes: The Chisholm Kid and Rory Doyle's Southern Riders" photography exhibition, and saddles from the Western Folklife Center collection are also on display.