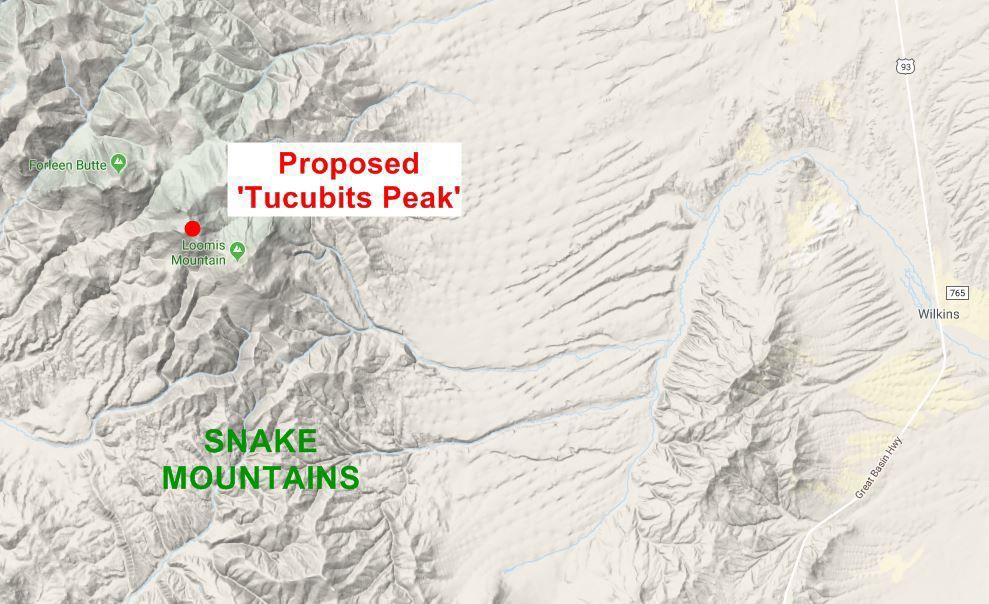 ELKO – An 8,800-foot peak north of Wells could be added to Nevada's growing list of place names derived from the Shoshone Indian language.
A proposal from the Nevada State Board on Geographic Names will seek feedback from Elko County Commissioners on May 1 to rename Black Butte to Tucubits Peak. It is located in the Snake Mountains at the Tabor benchmark.
Discussion and consideration by the county commissioners of this and other such proposals are a regular part of the surveying process, said Christine Johnson, NSBGN executive secretary.
"We serve only as an advisory to have a survey of our institutions," Johnson said. "The state does not determine names. Only the U.S. Board on Geographic Names [can do that]."
The NSBGN meets three times a year and sifts through name change applications. After research by the board, the requests must be approved in three hearings before advancing to the federal level for final approval. Comments from the public and governing entities are encouraged at every step of the process, Johnson said.
The application to change Black Butte's name was submitted to the board by Ron Moe of Carson City, an avid hiker and peak-bagger, according to Jan. 8 meeting minutes. It passed the first hearing that day, and it was advanced to a second hearing scheduled for May 14.
You have free articles remaining.
Tucubits — meaning "wildcat" — could join the list of other Shoshone names that are sprinkled throughout the state.
Jarbidge and Pequop are two well-known Shoshone names in Elko County. Jarbidge is derived from one of two words – Jahabich and Tswhawbitts – that describe "a mythical crater-dwelling giant who roamed the Jarbidge Canyon for many years," according to Helen S. Carlson 's 1974 book, "Nevada Place Names."
The mountain range between Wells and West Wendover has less of a fanciful origin story, according to Carlson, as Pequop is a Shoshone word applied to a band of Indians.
Elsewhere in the state, other Shoshone words are well-known. Toiyabe translates to "mountain" and is one half of the Humboldt-Toiyabe National Forest, the largest national forest in the U.S. outside of Alaska. Tonopah, the county seat of Nye County, means "spring" in Shoshone.
Interestingly enough, some Elko County names that may seem Shoshone-based are not. Carlson writes that Owyhee comes from the original name of the Owyhee River which was once known as The Sandwich Islands River. When the maps correctly identified the islands as Hawaii, the name was rewritten phonetically.
Tuscarora has roots in the Iroquois-language family, Carlson wrote, which actually translates to "hemp gatherers." Descendants of the Tuscarora bands are living in North Carolina, New York, and Ontario, Canada.
James Beard, a North Carolina native, named the historic mining site and living ghost town, Carlson said.