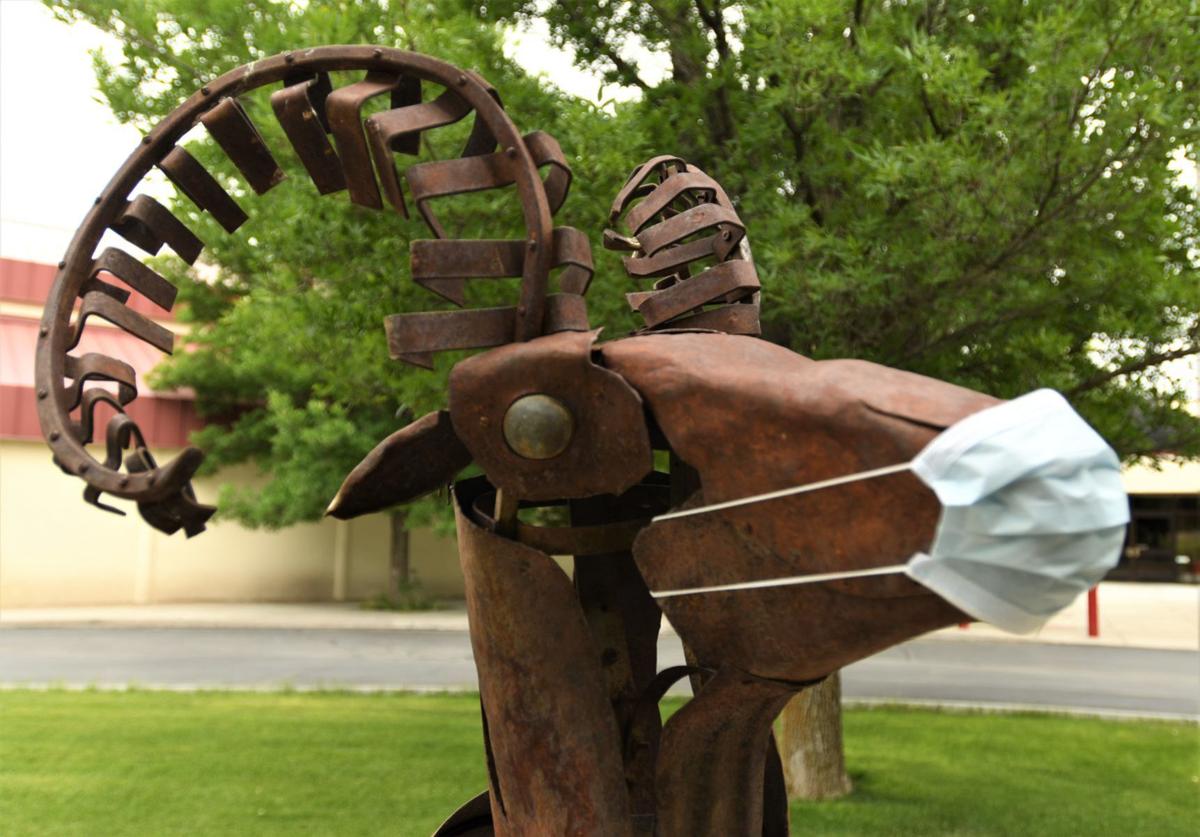 ELKO – On Thursday, the day before Gov. Steve Sisolak's coronavirus mask mandate goes into effect, area locals and officials discussed the pros and cons of mask wearing in the community.
"On June 24th, Governor Sisolak signed 'Emergency Directive 024' and announced the state of Nevada would remain in Phase 2 of the 'Roadmap to Recovery Plan,'" wrote Elko City Manager Curtis Calder in a press release. "Due to increasing trends in COVID-19 public health data, Gov. Sisolak has also ordered individuals to wear face coverings when occupying public spaces, starting Friday, June 26, 2020. As certain exemptions apply, please visit elkocity.com to review 'Emergency Directive 024' and corresponding guidelines."
Businesses operating during Phase 2 shall ensure that all patrons, customers, patients, or clients utilize face coverings, Calder said. The governor has directed NV OSHA and state licensing boards to enforce violations. Local, city and county governments, law enforcement and state agencies, including the Office of the Attorney General, have been authorized to enforce violations.
"Nobody is happy about having to wear masks," said Elko Police Chief Ty Trouten. "But, what I would have the public understand is that business owners, especially, are under some pretty tough circumstances. If they don't comply, they could lose their licenses. Be understanding of that and [know] they do have the right to refuse service. They are merely doing what they have to do keep their business going. It's been difficult enough as it is with the restrictions on how many people can be in there and the shutdown and everything else."
"We [the police] are under the same mandate," Trouten said. "Our officers in all circumstances where it's possible are going to be wearing the mask."
"Considering the recent impact, [with] cases up from 21 to 81 in Elko County, I think we all should start caring," wrote Nory Kay Greer-Guitar on Facebook.
"Today (Wednesday) I listened to Gov. Sisolak discussing the mandatory wearing [of] the face mask beginning this coming Friday," wrote Sheriff Aitor Narvaiza on Facebook. "It's my opinion that this order is unenforceable and the Sheriff's Department will not make any attempt to enforce the governor's order on businesses and/or individuals. Stay safe."
EDFP attempted to contact the sheriff directly but received no reply by deadline.
According to a blog post in lasvegasliving.com, Elko once required that everyone must wear a mask while on the streets. This law probably dates back to the 1918 Spanish Flu pandemic. The city was hit hard with the disease and the mask law was created to help slow the spread of the virus. Although the law is no longer enforced, it has not been eliminated.
"With universal mask wearing, we could virtually eradicate COVID-19 in only 28 days," commented Les Madigan. "Wear a mask, save a life."
"My opinion, if masks were the solution and cure, scientists and health workers would all be healthy and well," said Brenda Jackson. "Wear it if you choose. No Mandated Mask."
"If people could set politics aside, be patient and wear a mask because they care about the community we would see our numbers go down," said Rachel Pittario. "We are learning how to treat the virus better every day, to save lives we need to be patient and compassionate."
"I think we, as a community, need to get together and make sure everyone is safe," wrote Tony Odeh on Facebook. "It's up to us to wear a mask or not. We decide who gets the virus, so let's make sure if a mask is needed because we know we're close to people who can get sick easily, then fine, wear it so we show others respect. If you're coughing? Be respectful and wear a mask so you don't get others sick. Like I've said, it is all up to us as a community to unite and get this thing gone from here."
Concerned about COVID-19?
Sign up now to get the most recent coronavirus headlines and other important local and national news sent to your email inbox daily.