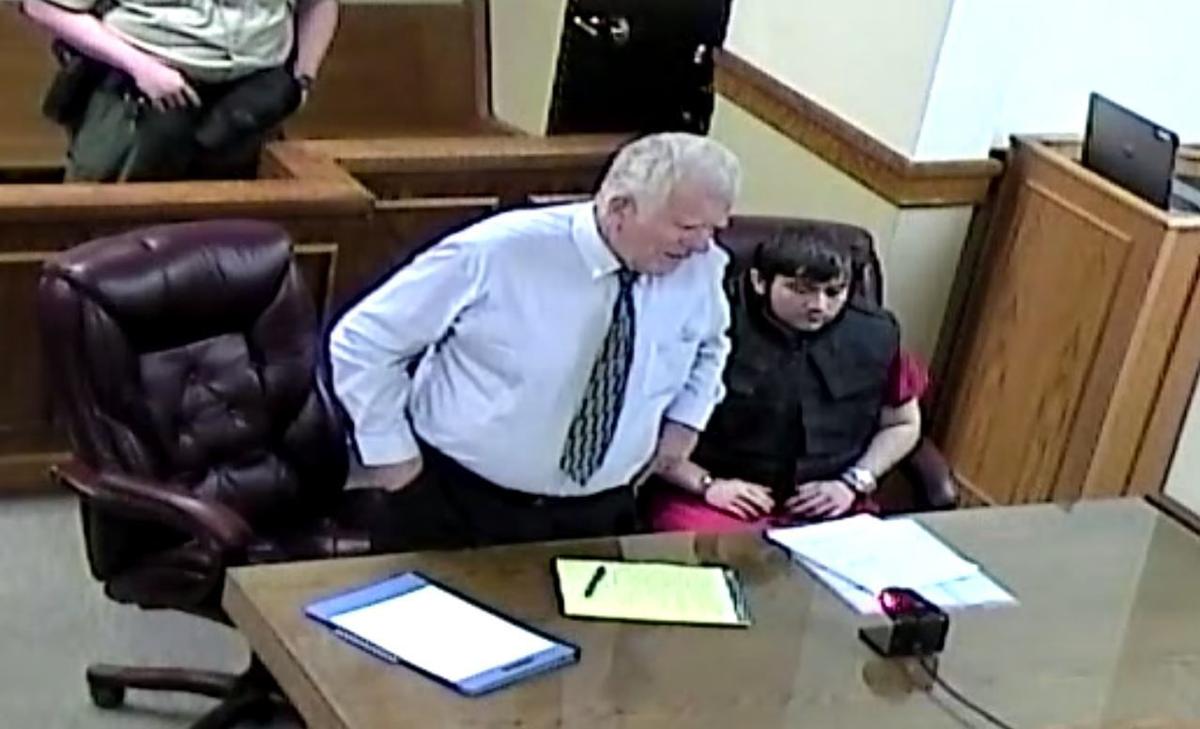 ELKO – The first in-court appearance for a murder suspect was also the first to be broadcast electronically to the public since coronavirus forced the courts to find ways of conducting hearings with up to 10 people in a courtroom.
Bryce E. Dickey, 18, was transported from Elko County Jail on Tuesday to appear before Justice of the Peace Mason Simons to set a date for a preliminary hearing.
Dickey is charged with open murder with the use of a deadly weapon, or in the alternative, felony murder during a sexual assault or attempted sexual assault with use of a deadly weapon in the death of 16-year-old Gabrielle "Britney" Ujlaky.
The teen was reported missing March 8. Her body was found three days later in Burner Basin.
During the 15-minute hearing, Dickey sat shackled next to attorney Gary Woodbury with an Elko County Sheriff's deputy sitting behind them.
Dickey said, "Yes, your honor" three times when asked by Simons if he understood his rights, if he understood what he was charged with in those two counts, and the elements of each charge to be found guilty of those offenses.
When asked if he had any questions regarding his rights, he answered "No, your honor."
According to court documents, Dickey told authorities he saw Ujlaky get into a green pickup truck driven by a male wearing a cowboy hat. Investigators later found contradictions in statements he made to Elko County Sheriff's deputies and Elko Police detectives.
On March 19, Dickey was confronted by investigators with evidence from where the girl's body was found and video surveillance that contradicted his earlier statements. He was arrested at that time.
District Attorney Tyler Ingram reserved the option of seeking the death penalty if Dickey is convicted.
Attorney Gary Woodbury was assigned to defend Dickey because of his previous experience with felony trials, including murder and death penalty cases.
According to the Nevada Supreme Court, in matters where the death penalty may be sought or imposed, special defense counsel must meet three requirements: The attorney must have been the lead attorney in five felony trials, including one murder trial tried to completion; acted as defense co-counsel in one death penalty trial; and be licensed to practice law for at least three years.
"It is my understanding Mr. Woodbury meets these qualifications," Simons said as he appointed him to defend Dickey.
The court set the two-day preliminary hearing for April 7 and 8, where Dickey will enter his plea to the charges.
The hearing could include approximately 15 witnesses, Ingram said.
Although the court set a date for the preliminary hearing, Ingram and Woodbury agreed it could be pushed back to allow forensic evidence and DNA testing to be completed.
Woodbury called the case "complicated" and stressed the need to have more evidence to prepare for the preliminary hearing.
"I have no idea the complexities involved, and I won't until I receive the discovery," he told Simons.
Woodbury was district attorney when Elko County prosecuted its last death penalty conviction. Kelly Rhyne was sentenced to death in 2000 for the murder of Donald "Lobo" Brown outside an Elko bar in 1998.
Ten years later, Rhyne's sentence was vacated.
Woodbury once said the Rhyne case would be the last death penalty case he would ever try, because of the high cost compared with a life imprisonment case.
Since then, other district attorneys have prosecuted death penalty cases, but they ended in life sentences under plea agreements. These cases included the 2016 murder of a Spring Creek woman by her husband, and the 2011 murder of a 16-year-old West Wendover girl by two 18-year-old students.
The hearing in Elko Justice Court was the first to be broadcast electronically through the Zoom online video conferencing platform since an administrative order was enacted March 19, limiting in-person court appearances to maintain safety precautions to reduce the spread of coronavirus.
Essential cases outlined in the order include in-custody criminal hearings and trials, along with protection orders and eviction hearings. Jury trials were suspended and rescheduled for a later date.
Simons explained to the Elko Daily Free Press that before Dickey's appearance in justice court, the court's regular video conferencing system had been used to conduct in-custody proceedings from the Elko County Jail to prevent transporting inmates out of jail and to the courthouse.
He acknowledged the public interest in the case, saying the court would continue to make future proceedings available to everyone, as well as abide by social distancing guidelines.
"Similar to what we've done today with the COVID-19 outbreak, we will probably try to transmit proceedings in electronic format," Simons told the court. "We want to reduce the possibility of a large group of people congregating together as much as we can while still respecting the right of the public to participate."
Although some Zoom plans offer a limited amount of participants, Simons told Elko Daily the court would upgrade to allow as many people to watch remotely as possible.
About six people were visible during the hearing, including Simons, Ingram, Woodbury and Dickey. Sheriff Aitor Narvaiza and a sheriff's deputy accompanied Dickey to the courthouse.
Dickey remains in custody at the Elko County Jail without bail.