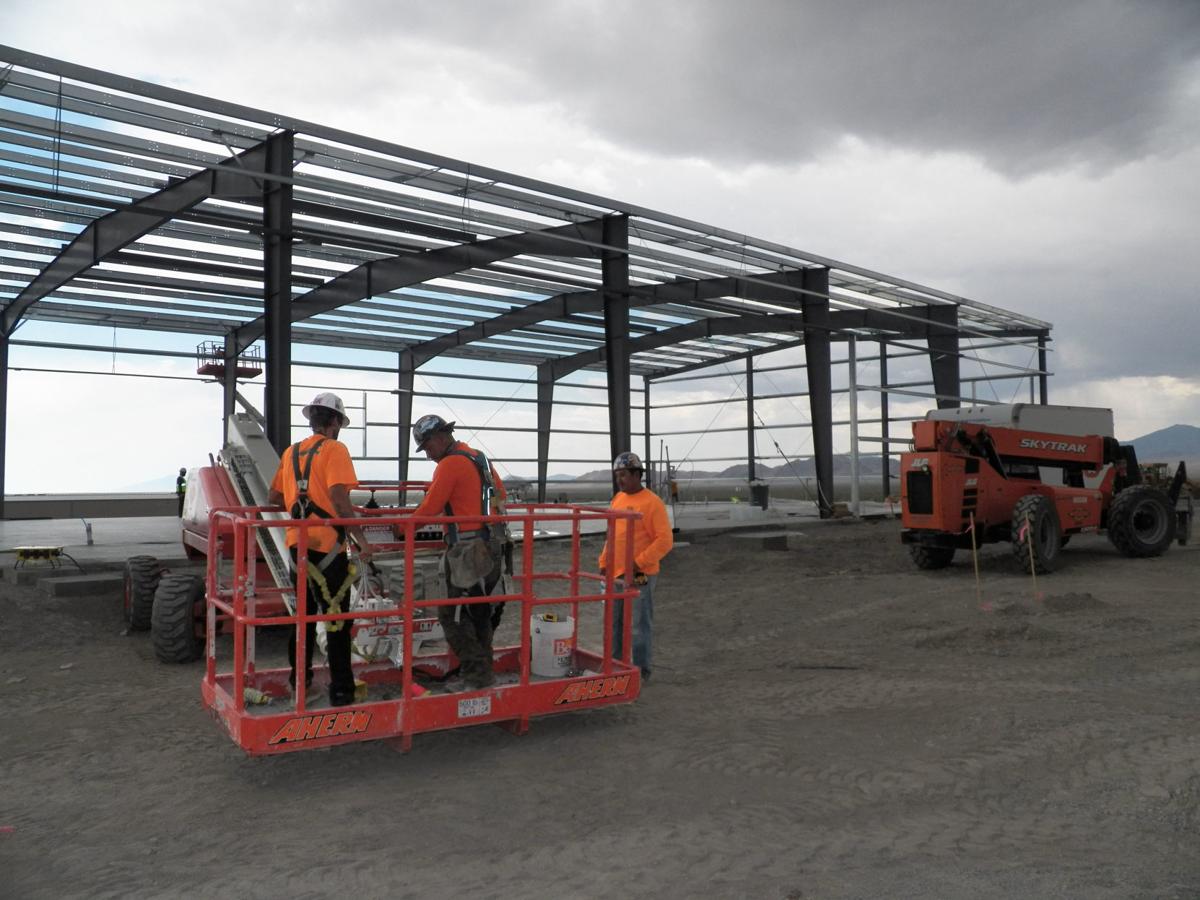 WEST WENDOVER – Although it is already legal, marijuana for recreational or medicinal use won't be sold in West Wendover until later this year when the dispensary is completed.
"There are so many regulatory hurdles, but we're hoping to open by November," Jon Marshall, chief operating officer of Mesquite-based Deep Roots Harvest, said on July 9. "We're very excited to bring recreational and medical marijuana to the community that voted us in."
He said that the community has been very supportive.
The West Wendover City Council approved recreational sales last December in a close vote, but the city is only licensing one company to sell the marijuana, which means there will be no sales until Deep Roots opens its doors.
"We have people ask all the time when it will be opened," West Wendover City Manager Chris Melville said.
Deep Roots Harvest is building at 10,000-square-foot dispensary on three acres at the city's industrial park, and the steel framing is going up now. Ascent Construction is the general contractor. Subcontractor SPR Steel Erectors is on site now.
The facility will include 3,000 square feet of sales floor. Deep Roots will be initially selling marijuana from its growing and production facility in Mesquite and from other wholesalers, but may be building a growing and production facility in West Wendover later.
The company has production and cultivation licenses already for West Wendover, "and we hope to activate them in the future," Marshall said.
The retail sales are expected to be a financial boost to the city from excise taxes, providing "a revenue stream we haven't had," Melville said.
He said the city "didn't budget much" for the fiscal year that began July 1 for revenue from marijuana sales, but the potential is there for more revenue once the dispensary is in full operation. The money will go into the general fund.
Elko County also should see financial gain from the marijuana sales through its share of sales taxes that would be charged on the marijuana, according to Cash Minor, the county's assistant manager and chief financial officer.
You have free articles remaining.
"All the local governments in the county will share a piece of the pie," he said.
The state government's share of revenue from marijuana sales in Elko County stays with the state, however, Minor said.
Still, Nevada legislative action provided $5 million statewide to go to counties to mitigate the cost of regulating marijuana sales for a couple of years, and that money wasn't tied to dispensary licenses, he said.
Minor said Elko County received "roughly $78,000 last year and the year before." That money was used for a new detective position at the Elko County Sheriff's Department, but the county didn't budget for the state money for this new fiscal year.
The new dispensary in West Wendover also will create roughly 25 jobs, and Marshall said the company has been "getting a lot of calls about employment." Those interested in jobs can look under the careers button at the Deep Roots Harvest website.
There is a manager position open now, and the other positions will be posted in a couple of months, he said.
Deep Roots also is in the process of becoming part of a bigger company. Acreage Holdings is acquiring Deep Roots Harvest's seven dispensaries and related licenses in Nevada, Marshall said in a telephone interview.
In addition to leasing land for nearly $20,000 a year to Deep Roots, West Wendover City Council approved the sale last year of 10 acres in its industrial park to BRLS NV Properties, also known as Harvest of Nevada, for nearly $719,000 for a wholesale marijuana growing and production facility.
Construction of that facility hasn't started, but Melville said the national company told him the West Wendover project is still planned.
West Wendover will be the first and at this point the only city in the county to legally sell marijuana for recreational and medicinal purposes. Elko City Council rejected calls to legalize medical sales.
Wells approved the location of a wholesale marijuana growing and processing facility in its industrial park, as well, but construction hasn't started.
"They have submitted remodel plans and are working on it," Wells City Manager Jolene Supp said in an email last week.