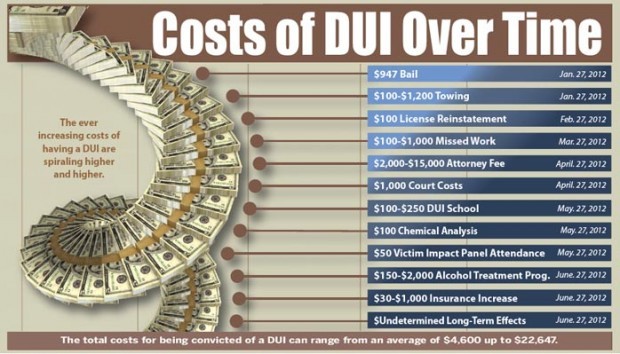 ELKO — Rachelle Smith really wishes she still had that extra $3,200 in her bank account. Smith was saving up for a new car and the money would've really come in handy for the payments on it. All it took was a fun day drinking at a golf tournament in Spring Creek, and one DUI arrest, to make it all disappear.
"It's stupid because I got a ride home from the golf tournament and I was home for a couple hours," Smith, which is not her real name, said. "I thought I was fine because I hadn't been drinking for a few hours. I had showered and eaten and I went to go to the Red Lion and I got pulled over. It's an expensive lesson."
The DUI she got last year will cost Smith $3,200 from the time she was arrested to the time she finishes paying an increased insurance rate three years after the incident. Smith's DUI cost is actually on the lower end of the costs investigated by the Free Press. The average cost for a first-time offender in Elko is about $4,600, or more if the person hires a private attorney or if the judge assigns treatment for alcohol abuse.
"It's not just the financial stress, but the emotional effects," Smith said. "I haven't driven after having one drink since."
More than 500 people were arrested for DUI by police, sheriffs and highway patrol in Elko County in 2011. If the average cost for each of those is $4,600, that's more than $2 million that offenders paid for DUI in Elko in 2011. That's a lot of money out the door for a problem that is entirely preventable.
Expenses included in the average first-offense misdemeanor DUI cost calculation include:
• license reinstatement ($100)
• missed work for court, DUI school, jail time ($100)
• court fines and fees ($1,000)
• victim impact panel ($50)
• insurance increase ($1,000 over five years)
The court can also order alcohol treatment for an offender and any short-term outpatient program will cost someone more than $1,000. That takes the total cost closer to $6,000 for a misdemeanor offense.
While some assistance is available for offenders whose income is low enough to qualify, these costs depend on the frequency of the court-ordered treatment.
The standard sentence for a first-offense DUI is two days in jail. Usually, offenders get credit for any time served at the time of arrest. If there was a crash, a child in the vehicle, drugs were involved, or if the offender's blood alcohol level was 0.18 or more, the judge commonly imposes additional jail time and monetary punishment. Second-offense DUIs will usually serve 15 days in jail and pay higher fees.
These jail sentences usually amount to missed time at work in a delicate economy. Job loss is common, said sources at the Vitality Center, a drug and alcohol treatment center in Elko. And that's in addition to a three- to 12-month driver's license suspension for the offense, which makes it difficult to get to work in the first place.
You have free articles remaining.
In the United States, the public cost of alcohol-induced traffic incidents is estimated to be about $114.3 billion. This includes $51.1 billion in monetary costs and roughly $62.3 billion in life losses, according to the DUI Foundation.
The driver is not the only one financially affected in these situations. People other than the drunken driver pay around $71.6 billion for alcohol-related crashes, according to the DUI Foundation.
When a drunken driver crashes into another vehicle or injures someone else, the costs are often absorbed by the victims or the community. Shabonya Dutton, who owns a State Farm insurance agency in Elko, sees that as a large cost for the community.
"What happens when someone driving drunk injures someone? What happens if they're out of work or they don't have any money? What happens if they're not insured? There really is no recourse for someone victimized by a drunk driver in that situation," Dutton said. "That puts others at risk financially."
Dutton says she gets about five calls a week from people asking if they can be insured by State Farm if they've had a DUI, and she turns them away. Most traditional companies, including State Farm, won't insure DUI offenders for five years after the incident.
Smith said her insurance will only increase about $30 per month, but other offenders noted a doubling or tripling of their insurance after a DUI. That's if they can get insurance at all. Once a driver's license is reinstated, an offender is required to carry special SR-22 insurance for three years, and it has to be clear of their record for two years before a traditional company will consider insuring them.
"Not all companies will insure you if you have a DUI," Dutton said. "State Farm won't help you if you carry an SR-22. Only a few companies out there will. And once you do get insured, that cost is going to be higher, sometimes much higher, because of the DUI."
Dutton remembers one client who was hit by a drunken driver. They had a luxury vehicle and the drunken driver's insurance didn't cover all the repairs for their car's damage. Dutton's company had to pick up the difference.
When someone gets hurt, the costs for DUI skyrocket. More than 1,300 people were transported to a hospital after a vehicle accident where the driver had been drinking in 2007, the most recent year statistics are available. The average charge for these hospital stays was $83,959, according to the Nevada Department of Public Safety. This cost was more than $8,000 higher than the hospital charges for an accident where the driver was not identified as using alcohol.
The financial cost to the community is even greater. To try a DUI case in Elko, the district attorney's office commonly pays about $2,500 to fly expert witnesses in from the Washoe Crime Lab. That's $1,100 per plane ticket and $200 per diem for each witness, and two witnesses are required to verify the chain of custody for a blood sample at the lab, says the district attorney's office manager, Liz Watson, who organizes these experts. While the DA's office commonly uses video conferencing to bring expert testimony into the courtroom for free, it's not always available, especially in a jury trial.
So far in 2012, the district attorney's office has filed 199 DUI cases and they have 64 pending.
The police, sheriff and NHP also bear a huge brunt of the cost of processing DUI offenders. The Elko Police Department alone pays about $10,000 per year to retain the Washoe Crime Lab for blood analysis, said police Capt. Will Lehmann. The common nature of the crime also ties up much of the department's personnel when they could be doing other patrols.
Repeat offenders are also a unique, costly problem. Not just in financial cost, but in preventative cost. The Vitality Center provides treatment for alcoholism and works to treat offenders before they get another DUI.
"We are here to treat alcohol-related problems, but our other job is to help the judge ensure the public's safety," Vitality Center program coordinator Barbara Caskey said. "If you got caught for three DUIs you've probably driven in that impaired condition at least 1,800 times. When people talk about all the costs, the public's safety is the heaviest cost."
Caskey points to house arrest and ignition interlock devices as particularly costly for repeat offenders, but they're also particularly effective. She sees a standard cost of $15,000-$30,000 for a third-offense DUI, which requires a three- to five-year treatment program after conviction. Lost jobs and family system breakdowns, such as divorce, also weigh heavily on repeat offenders.
"It takes three years for someone to begin to recover from alcoholism," Caskey says. "With about 10 percent of the population having a proclivity towards substance abuse, that's a lot of years needed for recovery, and that can be a huge societal cost. But it's a privilege for them to be working through these issues in treatment instead of in prison."
What would it take to prevent the sky-high cost of DUI in the first place? The cost of a taxi from one side of Elko to the other, according to an Elko Taxi Company dispatch, is only $8. For Smith, that's $3,192 cheaper than what she paid for her DUI.
"Besides the obvious financial effect it has on me, it has the potential of harming someone or killing someone," said Smith. "I have to live with that the rest of my life."
The Elko Daily Free Press DUI series will run every Saturday for six weeks. Next week's section, Part IV in the series, will look at the cultural reasons for DUI in Elko and why it is so common.