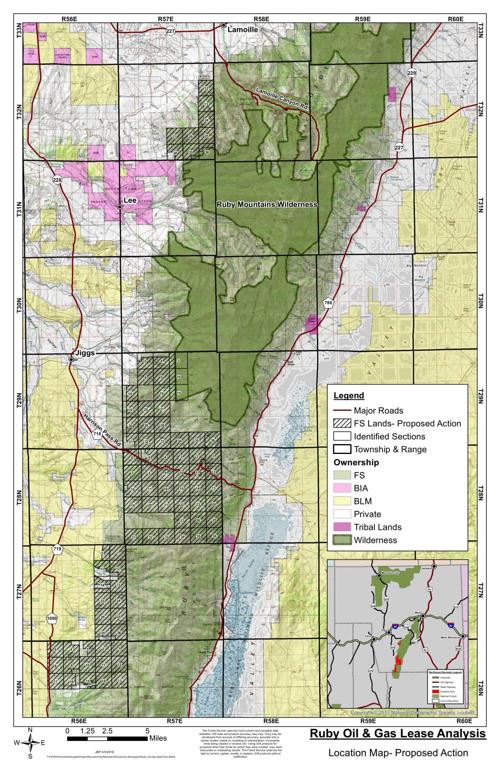 ELKO — High public interest in the Ruby Mountains oil and gas leasing availability analysis project prompted the Forest Service to offer an additional comment period ending April 23.
"The Forest Service is offering an additional comment period to submit and resubmit comments to ensure that the public's comments are heard and considered," the Forest Service's Mountain City, Ruby Mountains and Jarbidge Ranger District announced in an April 6 letter.
More than 8,000 comments were submitted during the initial public comment period last fall.
The Forest Service is analyzing the impacts of making available for lease approximately 54,000 acres of National Forest system land in the Ruby Mountains. The agency is conducting the analysis because the Bureau of Land Management received an expression of interest for an oil or gas lease on the lands.
The area under consideration is north of Sherman Creek and south of Lamoille Creek within the Ruby Mountains. They are covered by a 1986 management plan that designates them as open to leasing.
Through the analysis, the Forest Service will decide if all or a portion of the lands are available and identify stipulations to avoid or minimize impacts to resources. If made available, the lands may be proposed for oil and gas leasing by the BLM in a future BLM lease sale.
You have free articles remaining.
The analysis is an administrative decision and does not authorize any ground disturbance. If the lands are made available for leasing, detailed environmental analysis would be conducted for any ground disturbance proposal submitted by a future lease, the Forest Service explained in a statement.
Cooperating agencies are the Nevada BLM, Nevada Department of Wildlife and Elko County.
Public comments can be submitted to Josh Nicholes, acting district ranger, at 660 S. 12th St., Ste. 108
The opportunity to comment ends April 23.
The Center for Biological Diversity is compiling photographs and stories for submission to the Forest Service before the deadline. They can be sent to rubymountains@biologicaldiversity.org by April 22.
"We want the public to share their personal experience of this special mountain wilderness," said Shaaron Netherton, executive director at Friends of Nevada Wilderness. "Hikers, hunters, mountain bikers, fisherman, birdwatchers and other public-lands users all have important stories to tell. The Forest Service should consider this as they decide whether to turn the Rubies into an oil patch."